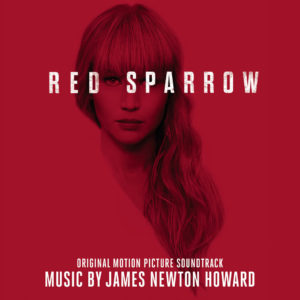 Some movies are not really on my agenda to watch, but somehow I ended up watching Red Sparrow, with music by James Newton Howard. Apparently, Howard was asked to write a twelve-minute musical piece for a ballet in this movie, and as soon as the movie starts, you realize why. The first couple of minutes of the movie include some astoundingly gorgeous music. It can be heard in "Ouverture," which is a beautiful classical piece. It contains wonderful melodies flowing into each other. Disappointingly, after about eight minutes the piece changes to less interesting long lines. Almost all the tracks that follow mainly have a supporting role for the images on the screen. "Take Off Your Dress" is a good example of what can be expected of the rest of this score. It starts with some long lines, which get tenser in the middle because the scene needs it. "Arrival at Sparrow School" contains a beautiful choir. "Blond Suits You" contains one of the themes, which is a repeating pattern of three notes and ends with more long lines. This theme returns in "Ticket To Vienna" as well.
The rest of the score is pretty forgettable. I have listened to it a couple of times and without the images on the screen to give the music context, it misses melodies and themes to make it interesting. Most of the music is played by an orchestra, but there are also some hints of electronics added subtly to some of the tracks. At the end of the album we are surprised by "Didn't I Do Well," which is, in my opinion, one of the most beautiful pieces Howard has ever written. Like "Ouverture," it sounds like a classical piece. The lines are beautiful and a choir gives it even more emotion. During the last minute, brass enters for a fantastic climax. The album ends with "End Titles," where some of the beautiful melodies, which can be heard throughout the score, return in a compact nine-minute suite of beautiful music.
While I was watching the movie, I caught myself looking at my watch to see if the intermission was near: the movie dragged on a lot. That is exactly how I feel about this score: It has a fantastic opening, a not so interesting middle and a wonderful ending. It really makes me wonder how much the music affected the pace of the movie. It was announced that the classical pieces were not conducted by Howard, but by Esa-Pekka Salonen, who is well known for conducting classical music. I am convinced that he really helped to add extra emotion to those pieces. In summary, it is very hard for me to recommend this score. If you were to make a playlist of the "Ouverture," "Didn't I Do Well" and "End Titles," you would get a fantastic suite of classical music of about thirty minutes. Whether that makes buying the CD worthwhile is up to you. I have made up my mind: I will add these three tracks to my playlist.
Listen or buy
Tracklist
The highlights are in bold.
Overture (11:34)
The Steam Room (2:19)
One Night is All I Ask (1:29)
Take Off Your Dress (6:20)
Arriving at Sparrow School (2:50)
Training (1:42)
Anya, Come Here (2:44)
When Did You First Notice the Tail? (1:04)
There's a Car Waiting to Take You to Moscow (1:49)
Follow the Trail Wherever It Leads You (2:29)
Blonde Suits You (4:59)
Searching Marta's Room (2:22)
Ticket to Vienna (1:45)
Telephone Code (1:10)
Searching Nate's Apartment (1:04)
Can I Trust You? (3:06)
Switching Disks (5:59)
So What Next? (3:45)
Didn't I Do Well? (8:48)
End Titles (9:30)