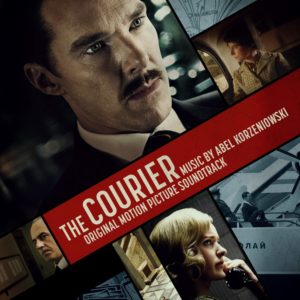 One of the amazing composers that I have discovered in the last decade is Polish composer Abel Korzeniowski. The music he has written in the past is an absolute pleasure to listen to. Regrettably, he does not write a lot of film music. The last movie he has written the music for was The Nun and I wrote a leit review for it – before I had even introduced leit reviews – simply because I cannot handle horror movies very well. I was planning to write a leit review about his most recent music for the movie The Courier as well, which is a historical drama set during the cold war with Benedict Cumberbatch in a leading role. The reason for this was that I am not able to see that movie either, since the theaters in the Netherlands are still closed. But then it hit me: While I own six excellent scores by Korzeniowski, I have never seen any of his movies or television shows. Apparently, I like his music so much as a stand-alone experience that I do not even need the corresponding scenes. Given that fact, I decided to give this soundtrack a proper review.
One of the reasons I like Korzeniowski's music so much is that he likes to write pure orchestral pieces with a focus on the piano and the strings. You can also hear other instruments from time to time, but they are mostly to provide extra color. Each track on this album fits this description, as I will explain in more detail for some of them. The first track "Spies and Typewriters" is a perfect example of what to expect from this film music. This piece starts with only the strings working together, with a bit of percussion in the background, and halfway through the piano is introduced. In "Iron Curtain" the strings are used for a darker sounding piece with long low lines.
"Prelude" is a cue that could have been composed two centuries ago. It has the sound of a classical piece by composers from that era, with the melody played by the violins and the woodwinds, together with plucking double basses for support. "It Has To Be You" is a delightful waltz that could also have been written during that same time period. As a tuba player, I have a great fondness for my instrument's role in this particular piece, making the waltz sound even more cheerful.
"Eyes of the State" is a mysterious-sounding track where the strings play together wonderfully. After two tense-sounding tracks, "Cigarettes" and "Cuban Missiles," you can listen to "One Last Trip to Moscow," which is a fast-paced piece with rapid patterns by the strings and piano. Halfway through the track things slow down a bit, with an excellent piano part in the middle, until the music starts to pick up the pace again through the drums, with the support of the strings and the piano.
As far as I can tell the score does not contain any themes, but there are two successive tracks that contain the same melody played on the piano. It is a mysterious-sounding melody with a wonderful flow to it, as can be heard in "Cold Soup." In "Breakdown" the same melody is slower, making it sound a bit sadder and darker. The last track "Maybe We Are Only Two People" is a gorgeous conclusion to the score. It is an exquisite piece where the strings and piano play melodic lines together, creating magnificent music in Korzeniowski's unique style that I love so much.
When I received the news of a new soundtrack by Korzeniowski, I got my hopes up for another terrific score, and I was definitely not disappointed. His distinctive melodic style and choice of instrumentation are a perfect fit for me. I also have the impression that his music always brings the best out of the musicians that are performing it, taking the quality of the music to a level that touches the heart. If you are not familiar with Korzeniowski's music I can definitely recommend his work. It is a shame that I am not able to see his music in action in the movie itself. Hopefully, I will be able to in a couple of months.
Listen or buy
Tracklist
The highlights are in bold.
Spies and Typewriters (2:23)
Iron Curtain (2:22)
First Contact (2:01)
Greville (1:34)
Secret Meeting (2:15)
Prelude (1:30)
It Has to Be You (3:06)
Eyes of the State (2:07)
Cigarettes (2:08)
Cuban Missiles (1:05)
One Last Trip to Moscow (4:02)
I Have a Light Day (1:18)
Trenchcoats vs. KGB (3:04)
Arrested (2:25)
Cold Soup (2:11)
Breakdown (1:32)
When You Come Home (1:04)
Maybe We Are Only Two People (4:40)
Total length: 40 minutes
Lakeshore Records (2021)