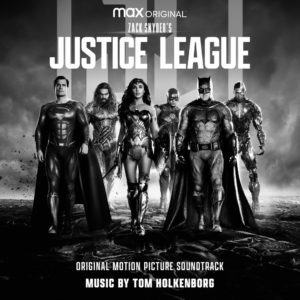 This may be one of the strangest reviews I have written, because in 2017 I wrote a review about Danny Elfman's music for Justice League, and now I am back with another review for basically the same, but also different, movie: Zack Snyder's Justice League, also known as the Snyder Cut. Zack Snyder was the original director and the mastermind behind the Justice League movie, but after the shooting phase, he had to step down because of a tragic incident in his family, and director Joss Whedon had to take over for post-production and some additional shooting. The end product was apparently not exactly what Snyder envisioned, so the director created a new movie based on all the existing footage he shot, while adding new visual effects, and did additional shooting for several new scenes.
Not only have the scenes and the story been altered significantly, the score has been completely rewritten as well. One of the interesting facts about the 2017 movie is that, when Whedon took over, Tom Holkenborg was replaced by Elfman, while he had already written about half of the music. With the Snyder Cut, Holkenborg was asked to return to write music for the four-hour movie, and he took this opportunity to scrap all the old material he wrote and to start over from scratch.
If you have read my review of Elfman's take on the music for Justice League, you should know that I was a bit underwhelmed by it, except for the nods to John Williams's Superman theme and Elfman's own original Batman theme. I also wrote the following in that review: "However, I am very happy to hear an orchestra instead of music with lots of percussion and synthesizers, which is getting common for action-oriented movies," and since I know what kind of music Holkenborg writes for action movies, I knew what to expect.
You only need to listen to the music of the Snyder Cut for a couple of seconds to hear the unmistakable 'Holkenborg'-sound, blending heavily processed orchestral sounds with synths and containing a lot of percussion. If you want to have an impression of the music, I suggest listening to the last seven tracks of this four-hour album. These are suites that have been incorporated into the movie. In those you can hear Holkenborg's new Batman theme, the theme for the League itself and his adaptation of the Wonder Woman theme that has been used in other movies in the DC Universe.
Because I keep track of Holkenborg's career, I know that he has a broad fan base that really likes his bold and raw sounds, and for all those fans he totally delivered. For me personally, these sounds just don't quite cut it. I prefer an orchestral score to be more natural, where you can still hear the musician playing the instrument. I also like to hear all kinds of subtle patterns in subsections of the orchestra, but on this score the focus is on four heavily processed sound groups consisting of percussion, brass and the strings, with occasional choir sounds for extra support where it is needed. I know that there are more musical details within the music, but they are just blown away by the massive sounds. I am happy that the Holkenborg fans have new music to enjoy. However, if I am in the mood for some Holkenborg music, I would rather return to White Lines, Brimstone or Alita: Battle Angel instead.
Listen or buy
Tracklist
The highlights are in bold.
Song to the Siren (3:17)
A Hunter Gathers (7:56)
Migratory (0:56)
Things Fall Apart (1:03)
Wonder Woman Defending / And What Rough Beast (7:19)
World Ending Fire (9:22)
Middle Mass (1:18)
Long Division (1:12)
No Paradise, No Fall (4:10)
The Center Will Not Hold, Twenty Centuries of Stony Sleep (8:56)
As Above, So Below (2:27)
No Dog, No Master (8:13)
Take This Kingdom by Force (1:44)
A Splinter from the Thorn That Pricked You (1:09)
Cyborg Becoming / Human All Too Human (10:35)
The Path Chooses You (2:11)
Aquaman Returning / Carry Your Own Water (8:22)
The Provenance of Something Gathered (1:14)
We Do This Together (12:57)
The Will to Power (5:20)
Smoke Become Fire (1:39)
I Teach You, the Overman (4:18)
A Glimmer at the Door of the Living (1:00)
How We Achieve Ourselves (1:42)
The Sun Forever Rising (1:30)
Underworld (5:49)
Superman Rising, Pt. 1 / A Book of Hours (2:40)
Beyond Good and Evil (4:24)
Monument Builder (2:29)
Monument Destroyer (6:07)
Urgrund (1:49)
So Begins the End (4:49)
The House of Belonging (2:37)
Earthling (3:23)
Flight Is Our Nature (1:54)
Indivisible (2:32)
And the Lion-Earth Did Roar, Pt. 1 (5:22)
And the Lion-Earth Did Roar, Pt. 2 (5:32)
Superman Rising, Pt. 2 / Immovable (1:55)
At the Speed of Force (4:20)
My Broken Boy (2:15)
That Terrible Strength (1:51)
An Eternal Reoccurrence of Change (1:44)
We Slay Ourselves (5:52)
Your Own House Turned to Ashes (3:16)
All of You Undisturbed Cities (6:15)
The Art of Preserving Fire (1:27)
The Crew at Warpower (6:49)
The Foundation Theme (from Zack Snyder's Justice League) (2:07)
Batman, a Duty to Fight / To See (5:29)
Batman, an Invocation to Heal / To Be Seen (8:36)
Wonder Woman, a Call to Stand / A World Awakened (5:09)
Flash, The Space to Win / Our Legacy Is Now (11:13)
Hallelujah (6:10)
Total length: 3 hours and 53 minutes
WaterTower Music (2021)