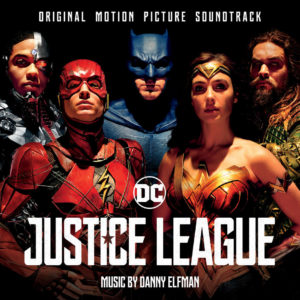 "You haven't made it in Hollywood as a composer until you get replaced on a project", is what Tom Holkenborg wrote on Twitter when it was announced that Danny Elfman would compose the music for Justice League instead of him. When I heard the news, I was very excited: Elfman's music for Batman in 1989 helped to make me aware of of film music. Elfman also told the media that there was only one batman theme. That sparked my interest even more.
The score starts with a song called "Everybody knows" performed by Sigrid. I am usually not fond of songs in movies, however, this one for some reason fit very well during the main titles. The first track that really interested me on this the album is "Hero's Theme," the main theme of this movie. While it is solid and contains some good melody written for the horns and other brass, in my opinion that is about it. The other tracks contain a lot of heavy brass sounds, mainly played by horns and trombones with support from strings and an occasional choir. The music contains a lot of patterns and melodies as well.
The highlight of the score for me are hints of other themes. Elfman's own Batman theme occasionally peaks around the corner. "The Final Battle" is a good example. His version of the Wonder Woman theme, originally composed by Hans Zimmer for the movie Batman v. Superman, is very well interwoven in an action cue and can be heard in "Wonder Woman Rescue." This version is a bit cleaner than the original because only orchestral instruments were used next to a tiny role for an electric guitar. In the movie there was also a hint of the Men of Steel theme written by Zimmer, which as far as I can tell is not on the album. But my favorite theme not composed for this movie, is the theme from Superman written by John Williams, which has an eerie version in "Friends and Foes." I was hoping for themes for Aquaman and Cyborg, but could not really find them. Maybe they are present but then they are a bit too subtle for my ears. It appears that The Flash has a theme though: it is a pattern of violins and flutes, with strong brass lines on top of it, which can be heard at the end of "Spark of The Flash." Another track I like to mention is "Anti-Hero's Theme," which is a piece where you can really recognize the style of Elfman's music.
There are a couple of tracks where the brass were not the focus and the other instruments have time to shine. They are "Home," "Bruce and Diana," and "A New Hope." They are beautiful melodies, although I miss a bit of cohesion with the rest of the score. Also, the album has two additional songs, next to the "Everybody knows," that are pretty forgettable. Finally, the album contains extended versions of "The Tunnel Fight" and "The Last Battle."
I am in two minds about this score. On one hand I am very happy that it is a traditional orchestral score with a lot of melodies and sound effects using musical cues. On the other hand, it is not a score I will be enjoying by itself. This score is in my opinion very well written in service of the film, but while I can still enjoy scores like Elfman's Spider-Man or Batman without the images. I do not think this score will do the same for me. However, I am very happy to hear an orchestra instead of music with lots of percussion and synthesizers, which is getting common for action-oriented movies. In my opinion we need more of such scores in these kind of films.
Listen or buy
Tracklist
The highlights are in bold.
Everybody Knows – Sigrid
The Justice League Theme – Logos
Hero's Theme
Batman on the Roof
Enter Cyborg
Wonder Woman Rescue
Hippolyta's Arrow
The Story of Steppenwolf
The Amazon Mother Box
Cyborg Meets Diana
Aquaman in Atlantis
Then There Were Three
The Tunnel Fight
The World Needs Superman
Spark of The Flash
Friends and Foes
Justice League United
Home
Bruce and Diana
The Final Battle
A New Hope
Anti-Hero's Theme
Come Together – Gary Clark Jr. and Junkie XL
Icky Thump – The White Stripes
The Tunnel Fight (Full Length Bonus Track)
The Final Battle (Full Length Bonus Track)
Mother Russia (Bonus Track)
Total length: 1 hour 41 minutes
WaterTower Music (2017)