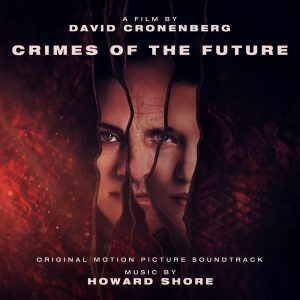 When you think of music by Howard Shore, his work for The Lord of the Rings probably comes to mind. His music for this trilogy is masterfully orchestral, containing many thematic ideas and leitmotifs. He won two Oscars for it: for the first and the last movie in the trilogy. It may be surprising that this music does not actually reflect his typical style of composing. His musical style is more about atmospheric soundscapes than the use of a full orchestra with themes. Especially his music for the movies by director David Cronenberg, with whom Shore has collaborated a lot, is very well regarded, including the music for Videodrome, The Fly, M. Butterfly and Crash.
Cronenberg's movies are one of a kind, with strange, disturbing stories and horror and fetish elements. His latest movie, Crimes of the Future, is not any different. It tells the story of a near future in which pain does not exist anymore. This is helpful for those who want their original organs replaced with exotic new synthetic ones without having to use anesthetics. It was again up to Shore to provide musical support for such a gruesome story, and he did it by returning to his old style of composing for Cronenberg movies. Instead of a full orchestra playing themes and leitmotifs, Shore has created soundscapes using electronics and a handful of strings.
While the album, in general, is not a pleasant listening experience without the context of any visuals and the story, there are two essential musical concepts that appear from time to time that I would like to highlight. The first is a simple melody laid over an interesting and recognizable chord progression. The second cue worthy of note is a descending pattern that gives the music a futuristic feel. You can hear both of these elements in the first track, "Crimes of the Future."
The music that Howard Shore wrote for Crimes of the Future is probably not worthy of an Oscar. Still, Howard Shore's music has always been a good fit for Cronenberg's unusual movies. I love that Shore keeps making these unconventional scores for directors like Cronenberg after his success with The Lord of the Rings and I welcome it. He could have kept writing orchestral music, but he chose to try different styles instead. It is refreshing.
Listen or buy
Tracklist
The highlights are in bold.
Crimes of the Future (2:10)
A Novel Organ (1:28)
Caprice (2:07)
Sark Lust (0:30)
Body Is Reality (2:58)
Brecken (2:46)
Klinek (3:17)
Primordial Rapture (2:47)
Router & Berst (1:22)
Inner Beauty Pageant (1:18)
Deviant Digestive System (1:33)
Surgery Is The New Sex (0:53)
Odile (1:16)
The Old Sex (1:11)
First Autopsy (6:22)
Time To Try (3:18)
The Future (2:56)
Total length: 38 minutes
Decca Records (2022)