A film music festival is held in Southern Spain for many years, it had been hosted in Cordoba and Ubeda before settling in Malaga under the name Movie Score Malaga (MOSMA). This was MOSMA's third edition. The festival has always had very well-known guests and this year's announced guests were of high caliber as well: Jeff Russo, Jeff Beal, Marco Frisina, Christophe Beck, Taro Iwashiro, Victor Reyes and none other than John Powell.
Concerts
MOSMA lasts five days and consists of seven concerts divided over three theatres in the old city center of Malaga, with the Teatro Cervantes being the main location. None of these theatres are very large: Cervantes, being the largest, houses less than 1000 attendants, making each concert quite a personal experience.
July 3rd – Symphonic Prelude: Marco Frisina Concert
The first concert was what the festival called a "prelude." This was probably because the guest composer Marco Frisina, a Catholic priest, did not participate in any other festival activities, like the meet and greet panels and master classes. I only discovered his music last year. His background as a priest makes that he mainly composes music for religious movies and TV series. His music is not very complex, often having a melody played by one part of the orchestra while the rest is providing support with long lines. This lack of complexity did not make it less gorgeous since the melodies are just absolutely stunning. After each suite Frisina turned around in his priest clothes to address the audience in Italian with some Spanish words to tell something about the next piece. I could not understand a word. The crowd, however, loved it and responded when he asked a question, and there was always a huge smile on Frisina's face while he was speaking. The highlight of the evening for me was the suite from San Pietro, with its wonderful theme and some beautiful choir chants. After the concert Frisina seemed to enjoy posing for pictures and signing autographs. The whole evening was just a joyful experience for everybody.
Concert information
Orchestra: Orquesta Filarmónica de Málaga
Conductor and guest: Marco Frisina
Choirs: Coro de la Catedral de Córdoba conducted by Clemente Mata and "Pueri Cantores Sanctissimum Corpus Christi" de Málaga conducted by Antonio del Pino
Program
"Come le stelle del cielo" from Abramo
"Zippora" from Mosè
"Il cuore e la spada" from Tristano e Isotta
"Antonio entra in cielo" from S. Antonio di Padova
"Una nuova Pompei" from Pompei
"Tema di Maria" from Callas e Onassis
"Una gioia nuova" from Don Bosco
"Trionfo di Michele" from Il corriere dello Zar
"Morte di Francesco" from Chiara e Francesco
"Un incontro" from Fatima
"I quattro Cavalieri" from S. Giovanni. L'Apocalisse
Suite from Puccini
"Crocifissione di Pietro" from S. Pietro
"Open the doors" from Giovanni Paolo II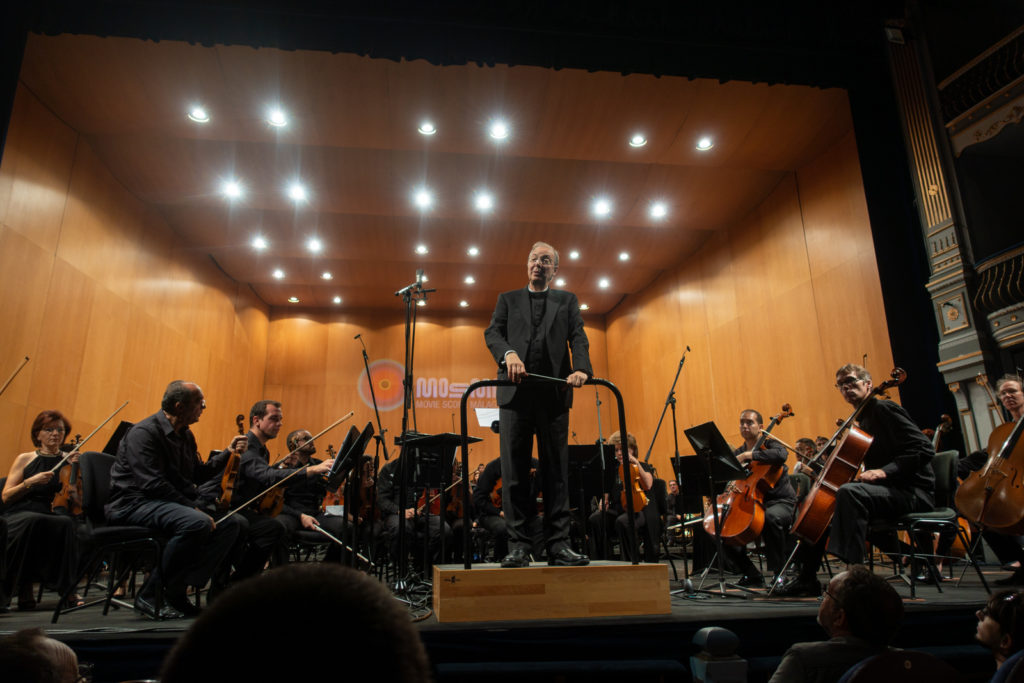 July 4th – John Powell Concert
"In Homage to the Heroes – Prussian Requiem"
This concert consisted of two pieces, which were actually not film music at all. The first piece was "A Pastoral Symphony," the 3rd Symphony by Ralph Vaughan Williams, which was performed beautifully by the orchestra but was not really my cup of tea. The main focus of this evening was the second piece of the concert: John Powell's "A Prussian Requiem," a long classical piece he wrote recently. While I am not really fond of classical music, this requiem definitely has its moments, with, for example, "'Let the Rails Roll" where the orchestra had to play very rhythmically with magnificent choir support. The beauty of this piece lies in the end with "The Gift," which was also performed in Hamburg a week earlier. Especially the part with two singers answering each other in combination with the choir was absolutely magnificent. During this performance the soloists turned their backs to the audience and sang their parts to the choir, giving their sounds an extra dimension. Even though this was a concert without film music, it was still quite enjoyable – especially the second half.
Concert information

Orchestra: Orquesta Sinfónica Provincial de Málaga
Conductors: Pablo Urbina (Williams) and Arturo Díez Boscovich (Powell)
Choir: Coro Ziryab conducted by Albano García
Soloists: Luis Pacetti (tenor) and David Lagares (baritone)
Guest: John Powell
Program
Ralph Vaughan Williams – Symphony No. 3 "A Pastoral Symphony"
Intermission
John Powell – "A Prussian Requiem"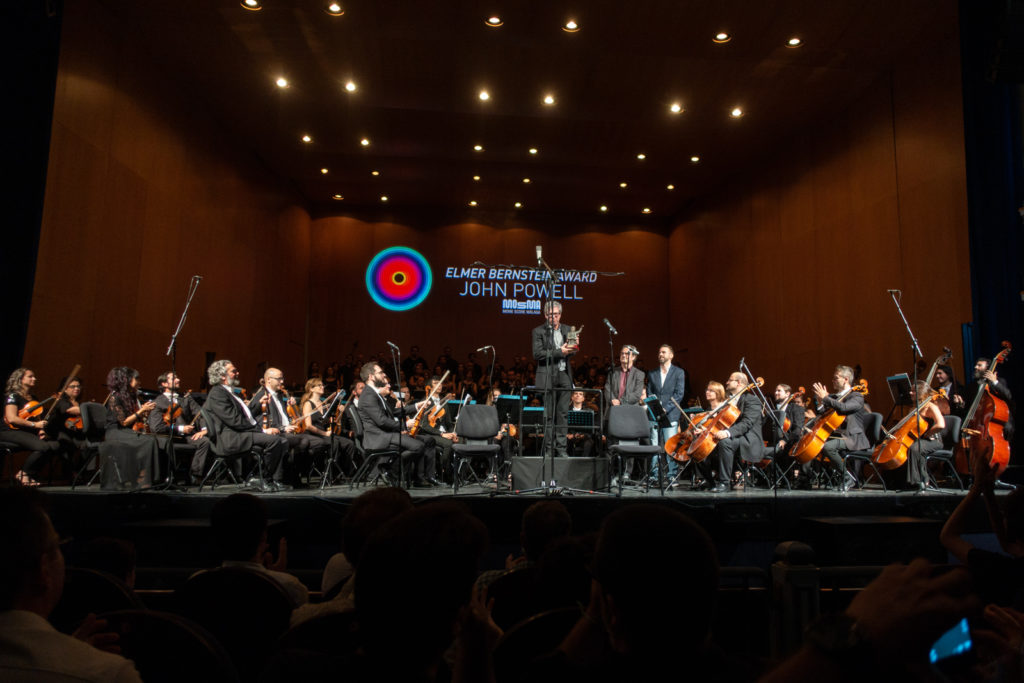 July 5th – The Best of Taro Iwashiro
This concert was held in a smaller venue: Teatro Echegaray. On stage we could only see a string orchestra, who together with the conductor played the beautiful melodic music of Iwashiro. Like with Frisina's music, the beauty of Iwashiro's work lies in its melodies and not in its complexity. For the second part of the concert, Iwashiro himself came on stage, accompanied by a translator, to introduce himself to the audience. Afterwards, he conducted the rest of the concert. He had a beautiful flow with his hands, and he was not using a baton. The most impressive thing was his score in front of him: all handwritten, and it hardly contained any notes. Instead, it contained small symbols and lines that he used to guide the orchestra. The encore was also quite special, it was called "Dear J.," which was dedicated to his contact within the festival who was quite honored. After this concert, everyone left the venue in good spirits.
Concert information
Orchestra: Orquesta Cabildo Catedral de Córdoba
Conductors: Clemente Mata and Taro Iwashiro
Violin : Rafael López Velasco (concertmaster)
Program
"The Elegy No.1 ~ No.3 for Strings Orchestra" from 12 Vox
"Hymn No.1 for Strings Orchestra" from Yoshitsune
Blood and Bones (selection) from Blood and Bone

Adagio Elegiaco
Andante con amore
Adagio molto e cantabile

Songs Without Words
To Be Ourselves from 12 Vox
"Dear J." (encore)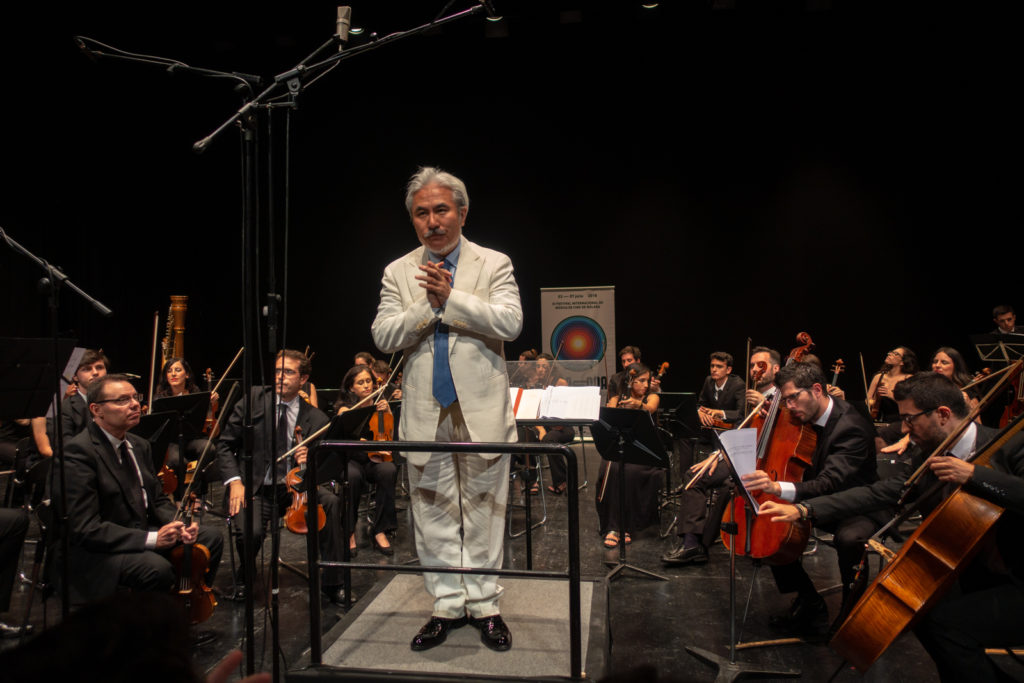 July 5th – The Best of TV Music – Vol. 1
That night, there was a second concert, with free admission, if you had collected a ticket at the Cervantes theatre. The location for this concert was a beautiful long and narrow concert hall, where we were treated to the music of the two Jeffs: Jeff Russo and Jeff Beal. On stage was a smaller symphonic orchestra, with extra musicians playing the drums and guitars. Both Jeffs have an extraordinary reputation as composers for film and television but with very different styles. Russo performed in the first part of the concert where he conducted short pieces of some his scores for TV that did not need a big orchestra, and he also used a screen that showed images of the appropriate series. Wearing comfortable jeans and a jacket, he conducted most of his music and introduced each piece himself. For some Legion tracks, he sat behind the drums to give quite a show with his flamboyant style. He ended his performance with a modification of Ravel's Bolero, which he had written for an episode of Fargo.
Jeff Beal's half was completely different. As a Jazz musician, he is a born entertainer. He played a selection of music for TV shows he wrote, but also from documentaries and some small independent movies. He had brought his flugelhorn along, which is a kind of trumpet, to play improvised solos when he was not conducting the small orchestra. Where Russo used a screen with images of the series, Beal needed none of that. It was just him and his fun introductions where he tried to use as many Spanish words as possible. For the last piece, The Good Breast, he invited his wife Joan on stage to sing the soprano solo.
Overall, I thought this was a fun late night performance where we caught a glimpse into the minds of both composers. I hope a lot of people in the audience who went to this free concert shared the same feeling.
Concert information
Guests: Jeff Beal and Jeff Russo
Soprano: Joan Beal
Program
Jeff Russo
The Night Off

Main Title
Say The Words For Me
Stone and Crisco Theme
Stone On Train

Legion

The Shift
The Dance
174 Hours

Fargo

The Robbery
Nikki to Bus and Wrench
Funkalicious
Fauxlero
Jeff Beal
Monk: Main Title Theme
Jesse Stone Themes
House Of Cards: Portrait of a Marriage
The Sweet Life
An Inconvenient Sequel, Arc of History
Last Call at the Oasis
Generation Wealth
The Queen of Versailles
Blackfish
The Good Breast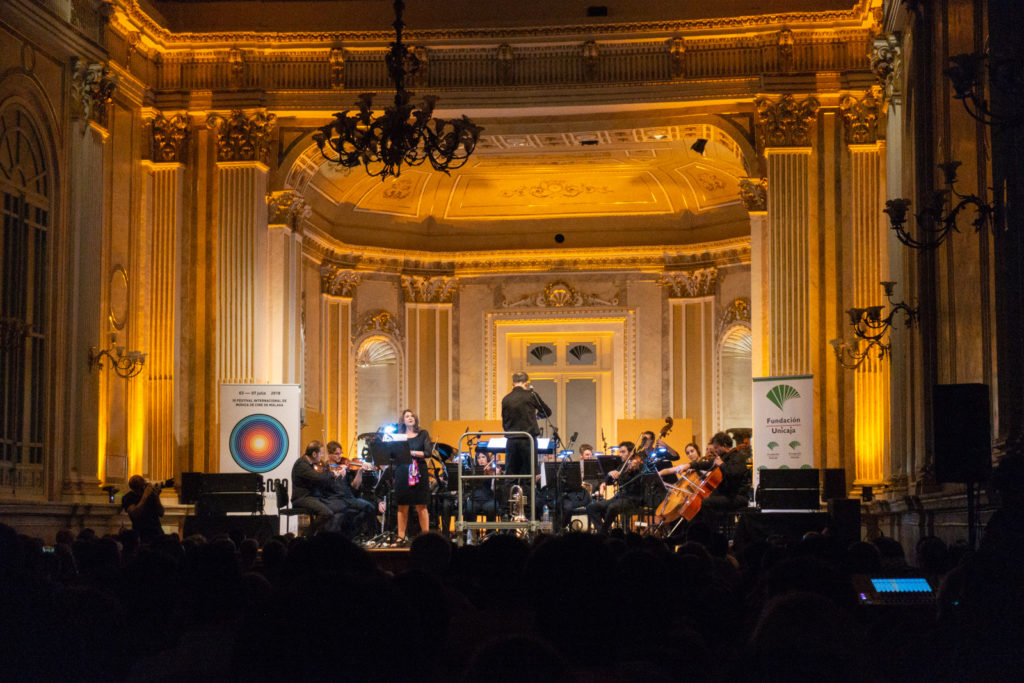 July 6th – The Best of TV Music – Vol. 2
We enjoyed some music for TV the day before, but now it was time to celebrate music from television with a bigger orchestra in the main theatre. Apart from Beal and Russo, Christophe Beck and Spanish composer Victor Reyes were present for this evening. The first half started with a suite of themes from old TV cartoons that one of the conductors, Òscar Senén, had arranged himself. Christophe Beck conducted his own music from Buffy the Vampire Slayer in a black suit with red socks. But before he started conducting, he made a small joke about the retro game Galaga while he was in Malaga, which landed pretty well with the audience of which many do not speak a word of English. Jeff Russo also conducted his own music. Suites from Fargo, Legion and from Star Trek: Discovery were performed, all of which were world premieres. Before the intermission started, the orchestra treated us to a suite from Genius: Picasso with a solo for saxophone.
The second half started with a suite from The Night Manager from Victor Reyes. Afterwards, Jeff Beal again entertained the audience with his music. He had prepared two blocks: One contained suites with music from his TV series, which he had never performed before. The other consisted of the main themes of some of his movies. Overall, it was a fantastic concert. Every composer had his own style, making the whole evening very fresh and entertaining.
Concert Information
Orchestra: Orquesta Sinfónica Provincial de Málaga
Conductors: Òscar Senén and Joan Martorell
Choir: Coro de la Catedral de Córdoba conducted by Clemente Mata
Sopranos: Joan Beal and Concepción Martos
Guests: Christophe Beck, Jeff Beal, Jeff Russo and Victor Reyes
Program
Òscar Senén (arr.) – Best of cartoons on TV suite
Christophe Beck – Buffy the Vampire Slayer

Suite from Hush
Sacrifice from The Gift

Jeff Russo – Fargo

Orchestra for Nikki
Gloria's Theme
Main Title

Jeff Russo – Legion

Young David
Tea and Memory

Jeff Russo – Star Trek Discovery

Main Title
The Rebels
Tardigrade In Reaction
Kasillion Opera
War is Over
Incoming Transmission
End Credits

Lorne Balfe – Suite from Genius Picasso
Intermission
Victor Reyes – Suite from The Night Manager
Jeff Beal – Suite from Rome
Jeff Beal – Suite from Long Road Home
Jeff Beal – Suite from Carnivale
Jeff Beal – "Fire and Fury Suite" from House of Cards
Jeff Beal – Main Theme from Appaloosa
Jeff Beal – Main Title from Pollock
Jeff Beal – Main Theme from Bigger
Jeff Beal – Main Title from Boston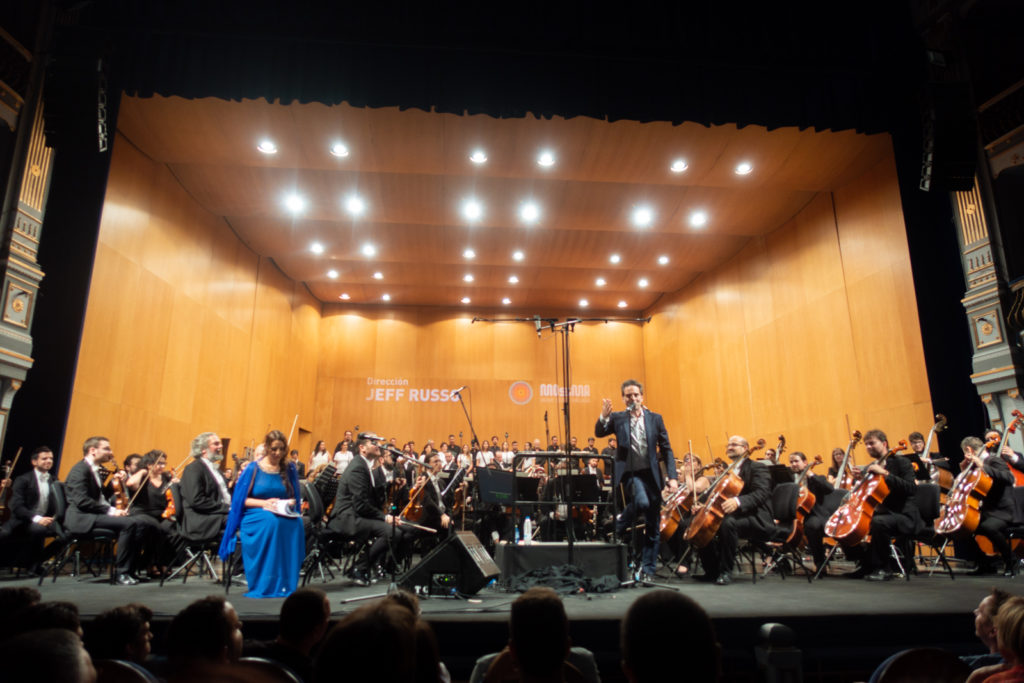 July 6th – Distant Worlds: "A Song for…. Live!"
There was a second, invitation only, concert on the 6th of June. Two DJs and a singer, called Oblique & Carlos Bayona, performed music from their album A Song For.., which contained music inspired by movies from the 80's. It was quite an interesting and unique performance that you do not often experience at film music festivals. The audience could dance the night away, instead of sitting in a chair and listening to musicians on stage.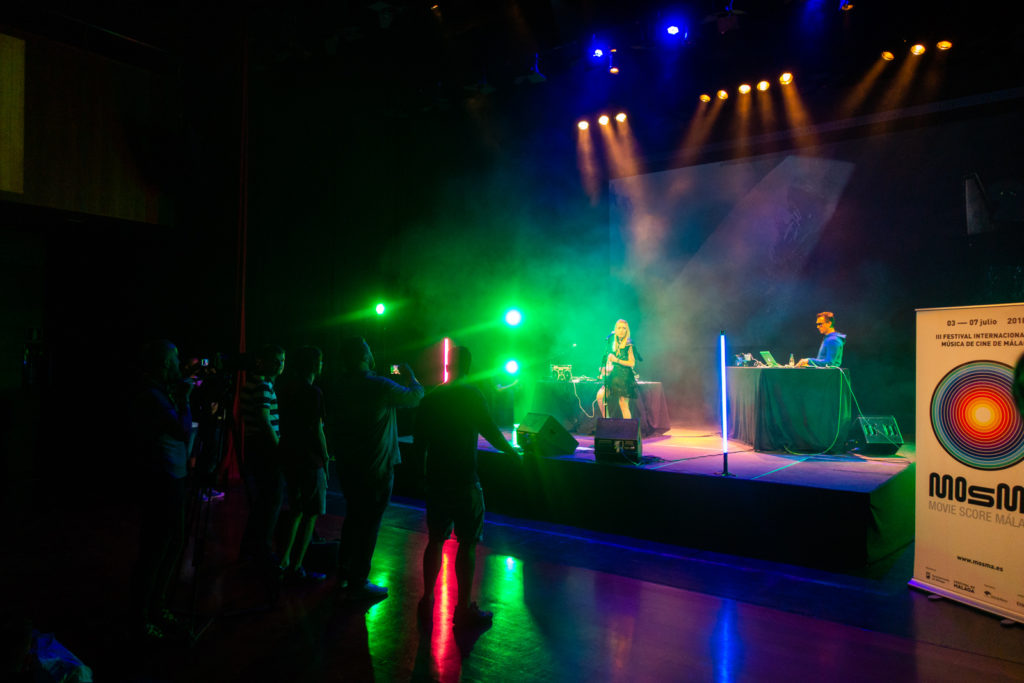 July 7th – Closing Concert
The final concert consisted of compositions from Victor Reyes, Christophe Beck, Taro Iwashiro and John Powell. In the first half, music from the first three composers was performed, starting with Blackwood from Victor Reyes. Under the Tuscan Sun, Edge of Tomorrow, Ant-Man and Frozen from Beck were performed next. Beck himself came on stage to conduct music from We are Marshall, since, according to him, it was the easiest to conduct. This half of the evening was closed with Iwashiro coming on stage to conduct his own music. This time he had a full orchestra at his disposal. After the intermission, we enjoyed music composed by John Powell, starting with the suite from X-men: The Last Stand and ending with Chicken Run as the encore. Since I had been to Hamburg the week before, it was a bit of a déjà vu. As with the TV series concert a day before, the diverse range of guests made it a very enjoyable and refreshing concert. Being a huge fan of Powell's music, I always find it a treat to hear his music live – especially if he is attending.
Concert information
Orchestra: Orquesta Filarmónica de Málaga
Conductor: Arturo Díez Boscovich
Choir: Coro Ziryab conducted by Albano García
Guests: Christophe Beck, John Powell, Taro Iwashiro and Victor Reyes
Program
Victor Reyes – Suite from Down a Dark Hall
Christophe Beck – Under the Tuscan Sun

Buyer's Remorse
End Titles

Christophe Beck – "Live. Die. Repeat (End Titles)" from Edge of Tomorrow
Christophe Beck – Frozen
Christophe Beck – Ant-Man

First Mission
Theme from Ant-Man

Christophe Beck – Theme from We Are Marshall
Taro Iwashiro – Spring Snow
Taro Iwashiro – Memories of Murder
Taro Iwashiro – Brightness of Soul, together with F
Taro Iwashiro – The Red Cliff
Intermission
Music of John Powell (arr. Batu Sener)

Suite from X-Men: The Last Stand
"Lando's Closet" from Solo
Suite from Ferdinand
Suite from How To Train Your Dragon 2
Suite from Pan
"Building the Crate" from Chicken Run (encore)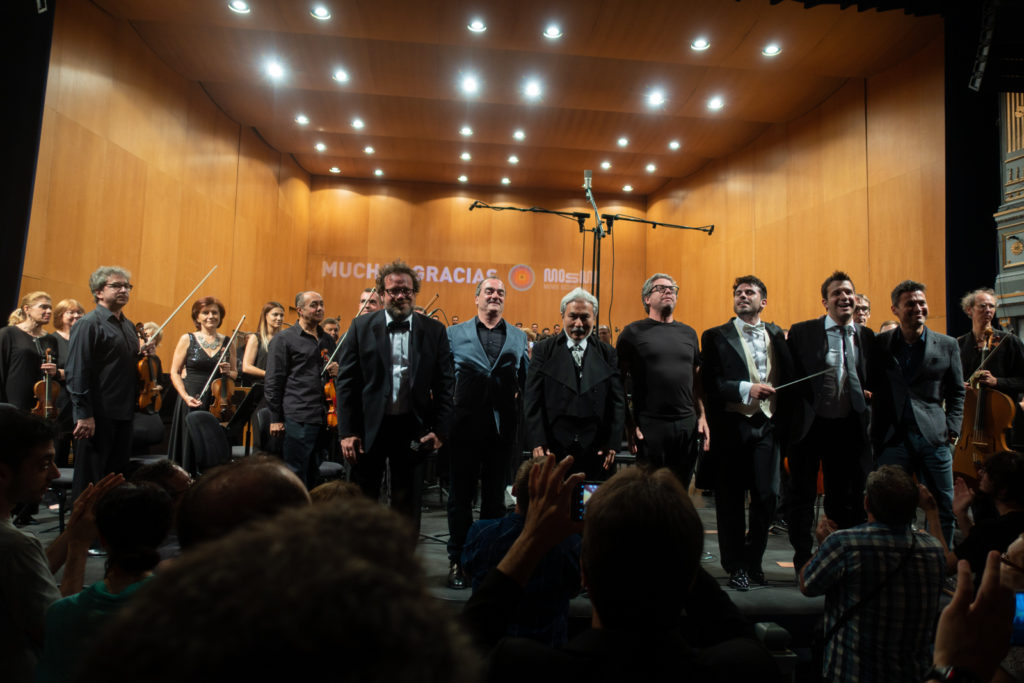 Panels (Meet and Greets)
What I liked a lot about this festival were the meet and greet sessions. There were a handful other panels with people in the industry, but the main focus were Q&A panels with a composer. During the first hour, the host interviewed the guest. Personally, I was hoping for more questions from and interaction with the audience, but often there was only room for one or two questions in the last five minutes. I had the impression that the most interesting topics the audience was curious about were not touched enough, which would have been solved by more questions from them. All the guests, except for Marco Frisina, had their own panel. Most of them were very interesting: it was amazing to hear how a composer thinks about his work and all his experiences. After the first, the composer was giving three markers (black, gold and silver) and a sheet of paper where he, or a fan, could write his name, while the rest of the attendees lined up for autographs. I really loved this setup: there was still some personal space left for the composers and the fan, who could say a couple of words to the composer while he was signing the maximum of three CD booklets. After a gaze to a nearby camera with the composer, it was the turn of the next in line. The whole process was a cheerful experience with everyone smiling and having fun with each other.
The highlight for me was, of course, the meet and greet with John Powell. I admire him a lot as a composer, and it was just a pleasure to share a couple of simple words with him. The room was packed with people, so there was an extra rule in place that the photos had to be taking while the autograph was signed. None of us really mind it that much, since he is such a huge name in the film music industry. After the full second hour was done, everyone had their signatures and Powell probably had signed more than 300 CD booklets. It is an experience I will treasure for a very long time.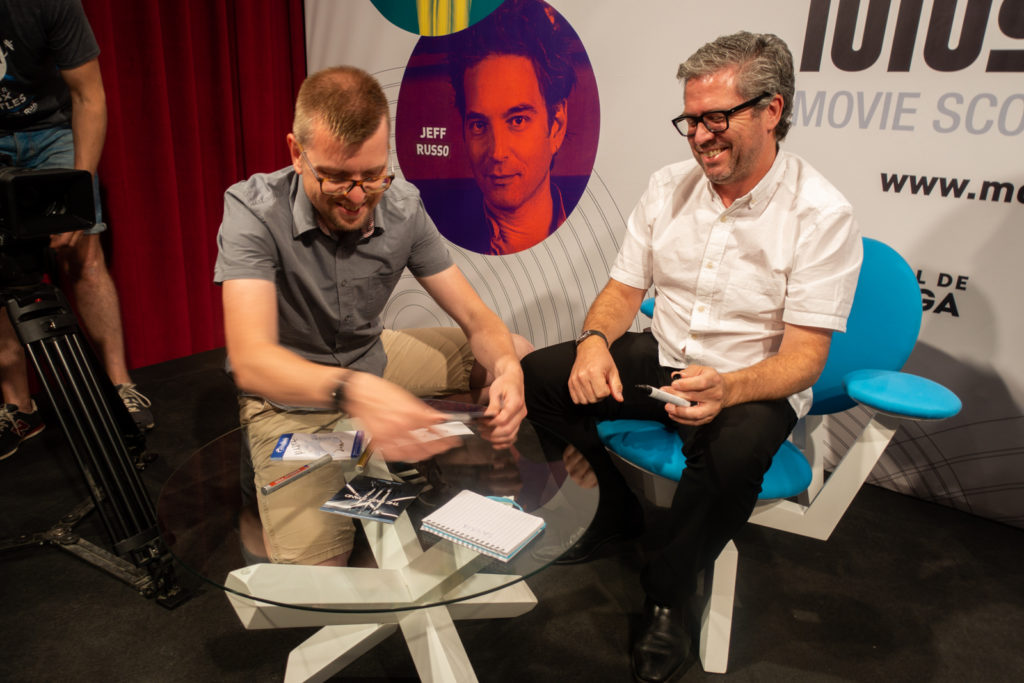 Conclusion
I had heard good stories about this festival, so when John Powell was announced as a guest I knew that I had to go. The whole atmosphere of the festival was amazing. I loved the concerts, the city and the people. But most of all: I enjoyed the guests. The meet and greets were fantastic, largely due to the awesome attendees of this festival. Everyone was patiently waiting to get their photo and autograph. Since everyone knew that he or she would get their chance to meet their composers later, they did not bother the composers too much during and after the concerts earlier in the week. I really have to give a shout out to these attendees: A group of around 20 Spanish film music fans who have attended almost all the previous editions of this festival, had very kindly taken me in their group since I do not speak a word of Spanish. Next to great talks, tapas and beers, they were also very helpful in guiding me through the whole festival. The festival itself was amazingly organized, but it had one small drawback: it is completely in Spanish. I would like to thank this group of Spanish film music fans, and also to the website SoundtrackFest for being a great English source of information about this festival. I had a great time, mostly thanks to these kind people. MOSMA is definitely a festival I would like to return to someday.
Photos