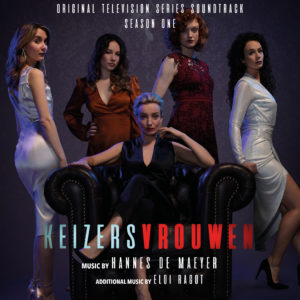 What I love most about film music and music for other media, is its diversity. There is so much music to explore. While most of the popular film music is from Hollywood blockbusters, each country has its own media productions with their own music, including my own country, the Netherlands. When I was looking for a new score to review, I came across the music for the TV show Keizersvrouwen (English: Women of the Night), which is airing on Dutch television at the time of writing this review. The series is about a married woman with a dark past, who is pulled into running an escort service as well as getting involved in some criminal activities, while her husband has an important job in the government of Amsterdam. While Keizersvrouwen is a Dutch production, the music is composed by Hannes de Maeyer from Belgium, with the help of Eloi Ragot from France. 
As with each television show, catchy music for the main titles is required. In "Main Titles" you can hear a woman singing in a sultry voice over a layer of electronics. While the track progresses, the music gets firmer in sound and starts working towards a climax. The style of music in the main titles is a good introduction of what to expect from the music in the show. The majority of the score provides a background texture of mostly electronic sounds, together with some piano and guitars elements.
I watched two episodes of the show to get a sense of the use of the music, and it is definitely not one of the priorities. There is a lot of dialog going on without any music in the background, but sometimes an occasional electronic soundscape can be heard in the distance. Examples of these can be heard in "For Old Time's Sake" and "Night Swim." In "The Whole Truth" you can also hear a hint of the melody from the main titles.
Luckily, Keizersvrouwen does have some moments where the music is allowed to shine. There are some tracks on the album where multiple guitars play together to create a beautiful piece. "Partner" is the best example, but there are more tracks like that, such as "I'm in Packaging" where the guitars are playing over a foundation of electronic droning. This concept of a drone sound can be heard quite often on the score. A good example of it can be found in "Set-Up," in which the electronic droning keeps going, while extra layers are added and removed again, ensuring that the track does not become boring. One of these layers is an unnerving sound, done by using a bow on a string of some kind of device or instrument, which is another detail that can be heard a couple of times on the score.
There are two characteristic tracks I like to mention explicitly. The first is "Family," which is a delicate and emotional piano piece that really stands out between all the electronic music and electric guitars. The other track is "Recap," where you hear electronics and guitars together with drums and another unnerving sound on that specific string instrument. While these tracks are very different from each other, they are the most melodic next to the main titles.
My main focus when reviewing soundtracks lies on orchestral scores. As music with a strong electronic focus is not really my cup of tea, it is rather difficult for me to say if this is a good soundtrack or not, especially when there is a strong focus on creating an ambient atmosphere during scenes. From what I have seen of the series, the music did a good job, and while there was a lot of ambiance to it, De Maeyer and Ragot made sure the music did not become boring. One of the things that really stuck with me was the unnerving string sound. I thought that it was a nice touch for adding tension. The highlights for me are the more melodic pieces though, but that is probably just my personal preference. Reviewing this score was a wonderful opportunity for me to check out music outside of my comfort zone, but also to explore more soundtracks from the Dutch media. If you like ambient and electronic soundtracks, you should listen to this soundtrack at least once, just to see if you like it or not.
Listen or buy
Tracklist
The highlights are in bold.
Keizersvrouwen Main Titles (1:09)
For Old Time's Sake (1:50)
Boxing Backroom (2:45)
Partner (2:02)
The Whole Truth (1:31)
Set-Up (5:45)
Women of the Night (1:58)
I'm in Packaging (4:21)
Night Swim (2:11)
Rushing to the Airport (1:13)
I Don't Work for You (8:08)
I'll Get You Out of Here (2:45)
Sylvia's Guys (2:12)
Family (1:23)
Exquisite Intermezzo (3:04)
You Here (1:40)
Michiel Is Cornered (1:49)
Recap (1:58)
Total length: 47 minutes
Pennies from Heaven d.b.a. Rinkel Music / Riva Media Records (2019)