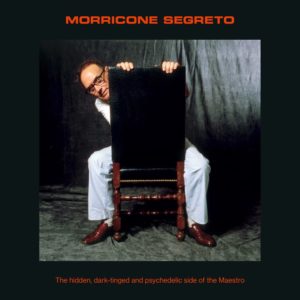 November 10 would have been Ennio Morricone's 92nd birthday. Sadly he passed away on July 6 earlier this year. Being one of the high-profile film music composers in the world, with more than 500 soundtracks written by him throughout his long career, he will be greatly missed. Many of us thought that it would be the end of listening to new music from maestro Morricone, but, to the surprise of many fans, a brand new album was announced with the title Morricone Segreto. This album contains a curated selection of pieces he has written between the late '60s and '80s, including some unreleased music.
In these 20 years, Morricone has written a lot of interesting, innovative and experimental music, and on this album you can hear a well-curated collection of mostly light-hearted pieces. There are quite some tracks which really have the '60s and 70s style, and they are almost like songs with guitars, bass guitar and drums, like for example both tracks from L'automobile. Some other tracks have quite a jazzy vibe to them like you can hear for example in "18 Pari" from Un uomo da rispettare. This may sound a bit demeaning, but that is absolutely not what I mean, because Morricone's choice of instruments and melodies makes them all a genuine pleasure to listen to.
There are also some tracks on the album where we can hear the experimental and sometimes even a little whacky side of Ennio Morricone. The track "Eat It" is an interesting example, with its screams and strange melodies, and "Ore 22" is also excellent, with a low bassoon and whistles.
All in all, this album is a superb showcase of Morricone's ability to write magnificent music, which is perfectly suited for film. One of its strengths is that the music showcases that a handful of instruments are enough to create an amazing soundtrack. This album is just perfect for a dark evening filled with candlelight, where you put the vinyl version on, pour yourself a nice glass of whiskey and enjoy the music.
Listen or buy
Tracklist
1 New release 2 New on vinyl
The highlights are in bold.
Vie-Ni – From "Quando l'amore è sensualità" (4:35)1
Fantasmi grotteschi – From "Stark System" (1:48)2
Vita e malavita – From "Storie di vita e malavita" (2:40)
Tette e antenne, tetti e gonne – From "La smagliatura" (5:11)
Patrizia – From "Incontro" (2:02)1
Per Dalila (I) – From "Il Bandito Dagli Occhi Azzurri" Soundtrack (2:42)
18 Pari – From "Un uomo da rispettare" (3:16)
Psychedelic Mood – From "Lui per lei" (3:06)1
Fuggire Lontano – From "L'automobile" (3:51)2
Jukebox Psychédélique – From "Peur sur la ville" (3:06)
Fondati timori – From "La smagliatura" (1:31)
Edda bocca chiusa – From "Lui per lei" (0:13)1
Non può essere vero – From "Mio caro assassino" (1:48)
Eat It – Versione singolo / From "Eat It" (3:50)
Nascosta nell'ombra – From "Quando l'amore è sensualità" (1:09)
Dramma Su Di Noi – From The "Spogliati, Protesta, Uccidi" Soundtrack (1:35)
Lui Per Lei – From The "Senza Sapere Niente Di Lei" Soundtrack (3:08)2
Beat per quattro ruote – From "L'automobile" (0:50)1
Stark System – From "Stark System" (2:13)2
Tema No. 5 – From "Il clan dei Siciliani" (2:36)1
René la Canne – From "René la Canne" (2:57)
Ore 22 – From "San Babila ore 20: Un delitto inutile" (2:59)2
Sinfonia di una città (IV) – From "Copkiller" (2:48)
L'incarico – From "Un uomo da rispettare" (2:03)
L'immoralità – From "L'immoralità" (3:08)
Inseguimento mortale – From "La tarantola dal ventre nero" (1:27)1
Macchie solari (The Victim) – Versione singolo (2:37)
Total length: 1 hour and 9 minutes
Decca Records (2020)