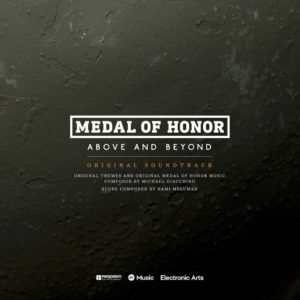 Virtual reality is one of the technological concepts that has seen a revival in the last decade. While it has not taken the world by storm, there are some neat things you can do with it, and one of them is playing immersive video games. One of the latest games that can be played on these kinds of devices is the most recent addition to the World War 2 game series Medal of Honor with Medal of Honor: Above and Beyond. I assume that many of my readers have not heard of Medal of Honor before, but composer Michael Giacchino should be more familiar to you. As a composer he has been responsible for the music for many high-profile movies like the Jurassic World movies, the Spider-Man movies, Star Trek, Star Wars: Rogue One, but also for Up, for which Giacchino has won many awards including an Oscar.
Giacchino has been a composer for media for many years, and he has received most of his fame for the music for the television shows Lost and Alias. My first introduction to his music was for the first Medal of Honor game, which was one of the first soundtracks he wrote. I still remember how much I loved the orchestral music for that game, which was released more than 20 years ago. I was quite excited when the announcement came that he would be back on board for Above and Beyond after all these years.
When I explored this score, I found out that Giacchino was only responsible for the themes for this game, including an absolutely gorgeous main theme. In addition, the album also contains some of his music from three previous Medal of Honor games. The woman who was responsible for blending all this together was Israeli-Dutch composer Nami Melumad, with whom Giacchino has collaborated before on the movie An American Pickle.
What I love about the original Medal of Honor score, which drew my attention to Michael Giacchino 20 years ago, is the orchestral music, which has some tranquility to it, honoring the heroism of the soldiers during that war. I was very happy to hear that Medal of Honor: Above and Beyond has kept that tradition. Each track is a wonderful orchestral piece in the same style of the excellent main theme. With the exception of the themes at the start of the album, I am not sure which piece of music has been written by Giacchino or Melumad, but all of them sound amazing. I already knew that Giacchino is a fantastic composer, but I need to keep an eye on Nami Melumad, with whom I apparently share half a nationality and who has won many awards already. I think she has a bright future ahead of her
Listen or buy
Tracklist
Track 1-5 are themes composed by Michael Giacchino. To others are co-written by both composers.
The highlights are in bold.
Medal of Honor: Above and Beyond (Main Theme) (4:22)
Juliette's Theme (4:46)
Marcel (1:30)
Louis (2:11)
Dr. Gronek (1:48)
Chatsworth Girl (2:13)
The Vino Brothers (2:03)
Dubuisson 1943 (3:20)
The Hotel Dubuisson (2:49)
A Daring Plan (4:13)
First Class Ticket (2:24)
Combat Drop (2:56)
Black Forest Express (3:52)
World's Worst Landing (2:26)
House To House (3:01)
Armored Chess (3:26)
U-Boat Pens (2:37)
Inside Scuttle (3:09)
Dive Dive Dive! (4:01)
Alpine Approach (3:09)
Sneaky Penstocks (3:07)
Set Final Charges (4:04)
After the Crash (2:37)
Capturing Dr. Gronek (3:30)
Pennemünde (3:09)
Bonus Track: Stingers (3:02)
Total length: 1 hour and 19 minutes
Electronic Arts Music (2020)