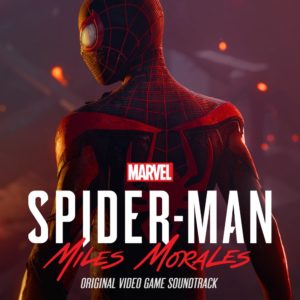 The year 2018 was magnificent for video game soundtracks, especially if you like orchestral scores. Bear McCreary's God of War was one of my favorites and it made it onto my personal list for best track of 2018. The best full score from that year, however, went to John Paesano's Marvel's Spider-Man, as can be read in my Favorites and looking back on 2018 article. Not only are the soundtracks fantastic, but the games themselves are considered to be very good as well. While a sequel to God of War has only been announced, a new Spider-Man has already been released. Marvel's Spider-Man: Miles Morales is not a full sequel, but a smaller game reusing many elements from the first Spider-Man edition, and Paesano has written the music for the new installment.
As the title Marvel's Spider-Man: Miles Morales suggests, the game is about a character named Miles Morales: Another Spider-Man, who has to defend New York, while Peter Parker, the Spider-Man from the first game, has to go abroad for a while. Morales has the same Spider-Man powers as Parker, but with some extra Parker does not have. He is also a different kind of person, since Morales is only a teenager in the game and is of immigrant descent, while Peter Parker is an adult from a traditional American family.
One of the strong points of the first soundtrack is the magnificent main theme Paesano has written for Peter Parker's Spider-Man. As can be expected, this new smaller game has its own main theme as well, and it can be heard in full in "Don't Give Up." The fact that Miles Morales is a different Spider-Man is reflected in the new theme. It has the same orchestral and heroic vibe as the original, but with a different melody. A further common trait with the first game's score is the integration of the theme within the rest of mostly orchestral music. You can hear it on the new album: big orchestra tunes together with melodic battle music, some hip hop elements – perfectly suited for Morales – and a handful of emotional melodies.
The game is shorter than its predecessor, but that does not really reflect in the amount of music on this album, with more than an hour of new material. If you like the music from Marvel's Spider-Man, you will probably like this one as well. The musical approach is the same for both games, but with the extra added hip hop elements to put a bit more focus on Miles Morales. It is another excellent score composed by John Paesano and since the game is a success, a further sequel is probably in the making already. Hopefully, Paesano will stay on board for another wonderful score.
Listen or buy
Tracklist
The highlights are in bold.
Don't Give Up (4:10)
Rhino Rampage (4:05)
New York's Only Spider-Man (2:53)
Spider-Training (2:56)
Best Friends (5:16)
Be Yourself (4:18)
Confession (6:40)
The Underground (2:42)
Thicker Than Water (4:55)
On the Case (2:42)
All In (3:53)
Trying to Protect You (2:28)
We're Here for You (3:24)
Worst Enemies (4:07)
Make It Right (5:57)
Won't Give Up (2:21)
I'm Ready (performed by Jaden) (3:09)
Where We Come From (performed by Lecrae) (2:29)
This Is My Time (performed by Lecrae) (2:15)
Total length: 1 hour and 10 minutes
Hollywood Records (2020)