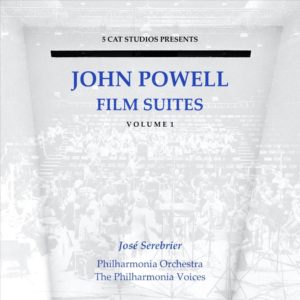 Before the pandemic started, I had attended quite a few concerts that were completely dedicated to the film music of a single composer. While the most prominent example is Hans Zimmer, who is able to sell out sports arenas, other composers have also been giving fantastic concerts in smaller venues, of which James Newton Howard and Michael Giacchino are wonderful examples. Concerts of some composers I have attended even more than once: I have seen Joe Hisaishi multiple times, but I have also traveled to Spain, Germany and the Czech Republic to hear, and hopefully meet, John Powell, who is one of my favorite composers.
Because I have attended quite some John Powell concerts, I have heard a lot of John Powell's music in the form of musical suites, which are well-suited for concerts. Instead of keeping the sheet music locked away for the next concert, Powell decided to give them to the Philharmonia Orchestra together with the Philharmonia Voices, conducted by José Serebrier. The music was recorded by them and released as a digital album with the title Film Suites Vol. 1.
The music on this album is from a wide range of Powell's earlier repertoire. You can listen to suites of his music from live-action movies, with X-Men: Last Stand, The Bourne Identity and Mr. & Mrs. Smith, but also from animation movies with the first two How to Train Your Dragon movies, Ice Age: The Meltdown and Chicken Run. In addition you can also listen to the romantic side of Powell, with "Love Theme" from Two Weeks Notice. "The Great Tree" from Endurance rounds out the album, a piece from one of his first soundtracks, which was rather unknown to me. It contains melody lines from all kinds of instruments flowing into each other.
The tracks on this album sound different from the original versions, because a lot of post-processing is done to the music for a film after it has been recorded by an orchestra. These suites have been adapted perfectly for the recordings on this album, and they give a good impression of how Powell's superb music would sound in a concert hall. If you look at the programs of the concerts I have attended, you will notice some suites are missing on this album. This sounds like excellent news to me, because there will be a good chance we will see a Volume 2. I have enjoyed all of his concerts that I have attended, and the music of Volume 1, and hopefully a Volume 2 in the future, is a fantastic way to bring wonderful concert versions of Powell's music to a larger audience.
Listen or buy
Tracklist
The highlights are in bold.
"Building the Crate" Suite from Chicken Run (3:48)
"Assassin's Tango" from Mr. & Mrs. Smith (5:17)
Suite from How to Train Your Dragon (10:01)
"Love Theme" from Two Weeks Notice (4:42)
"Main Title" from The Bourne Identity (4:26)
Suite from Ice Age: The Meltdown (5:20)
Suite from X-Men: The Last Stand (4:47)
"The Great Tree" from Endurance (3:14)
Suite from How to Train Your Dragon 2 (7:32)
Total length: 49 minutes
5 Cats Studio (2020)