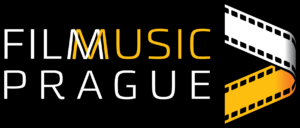 Prague is one of the cities in the world that embraces classical music. When you are walking in the city center you can see posters and signs for all kinds of classical concerts being held somewhere in a church or in another kind of venue. Next to classical music, film music concerts are increasing in number as well and the thing that I love most about the city is their annual film music festival, called Film Music Prague, which was held for the 8th time from February 1st to 4th. I have attended four editions, and I have written reports on three of them. Each year the organization, which is almost exclusively done by director Nikola Bojčev and his extremely small team, invites well-known composers. For previous editions these guests were, amongst others, Joe Hisaishi, Elliot Goldenthal, Daniel Pemberton and Harry Gregson-Williams. For this edition, the return of Harry Gregson-Williams had been announced, together with Stranger Things composers Kyle Dixon and Michael Stein and one of my favorite composers: John Powell. Unfortunately, on the morning of the first day of the festival, I received the bad news that at the last moment John Powell had to cancel.
Concerts
During this edition, we could listen to 4 concerts spread over 4 days. Two of them were highlighting the music from John Powell: both his film music and his classical works.
February 1st – Stars of Hollywood: John Powell
The first concert was held in the magnificent Rudolfinum concert hall and the program included film music by John Powell. If you are a regular visitor of this site, you may know that I have already attended two concerts of Powell in Hamburg and Malaga in the last months. Most of the music on the program was familiar to me, but being in this venue with the music of one of my favorite composers was a real treat. This concert also had some music that was new to me, like "Mine Mission Suite" from Solo and the world premiere of How to Train Your Dragon: Hidden World. It was also the second time the festival had a world premiere of a How to Train Your Dragon suite, because the world premiere of How to Train Your Dragon 2 happened during a previous edition of this festival. I really enjoyed the music of Hidden World. I had been waiting anxiously for this score to come out and to hear it live so soon after it came out was just amazing. Another highlight of the concert was "The Opening" from The Bourne Identity. The bassoon solo was excellent together with the percussion and the rhythmic patterns from the strings.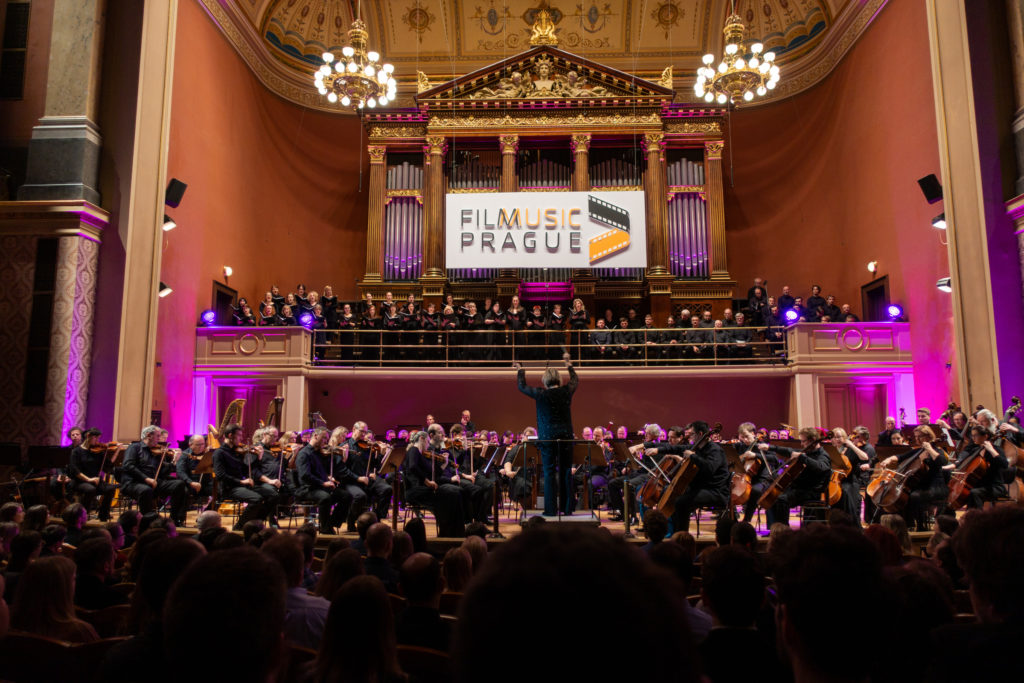 The suites, created by Powell's assistant Batu Sener based on the composer's material, were a pleasure to listen to. The music was amazing, but it could have even better, because I do think that the presence of a composer in the audience and definitely during rehearsals, where he shares his thoughts, passion and vision, can give a musician that little extra during performance to make the music sound even better. This was the second time Powell was not able to attend this festival. His reason was valid and no blame should come to him, but I still felt a bit sad, I would have loved to have seen him again. Third time's the charm, and I definitely would not mind attending another amazing John Powell concert.

Concert information
Orchestra: The City of Prague Philharmonic Orchestra conducted by Miriam Němcová
Choir: Kühn Choir of Prague led by Jaroslav Brych
Guest: Batu Sener
Venue: Rudolfinum
Program
Festival Fanfare (by Matthijs Kieboom)
Suite from How to Train Your Dragon
Suite from Ice Age 2: The Meltdown
Suite from X-Men: The Last Stand
"The Opening " from The Bourne Identity
Suite from Pan
"Mine Mission Suite" from Solo: A Star Wars Story
Intermission
Suite from How to Train Your Dragon 2
"Love Theme" from Two Weeks Notice
Suite from Ferdinand
"Assassin's Tango" from Mr & Mrs. Smith
"Forbidden Friendship" from How to Train Your Dragon
Suite from How to Train Your Dragon: Hidden World
"Building the Crate" from Chicken Run (encore)
February 2nd – Stranger Things
This concert was completely different from what I am used to. Instead of an orchestra, the stage consisted of two small keyboards together with other devices full of knobs and switches. The concert was music from the Netflix show Stranger Things, with the composer duo Kyle Dixon and Michael Stein performing. Without any drama, they walked on to the stage in the dark and started playing their music from the TV show.

Overall, their music for the show is not really melodic: it is minimalistic and more like sound design. The lighting of the concert was very minimalistic as well. The lightning construction that usually hangs all the way up to the ceiling of the stage was now lowered to just above their heads, with only some thin multi-colored light bars, which were red most of the time. Sporadically other spotlights and mist machines were used to add an extra dimension to their performance.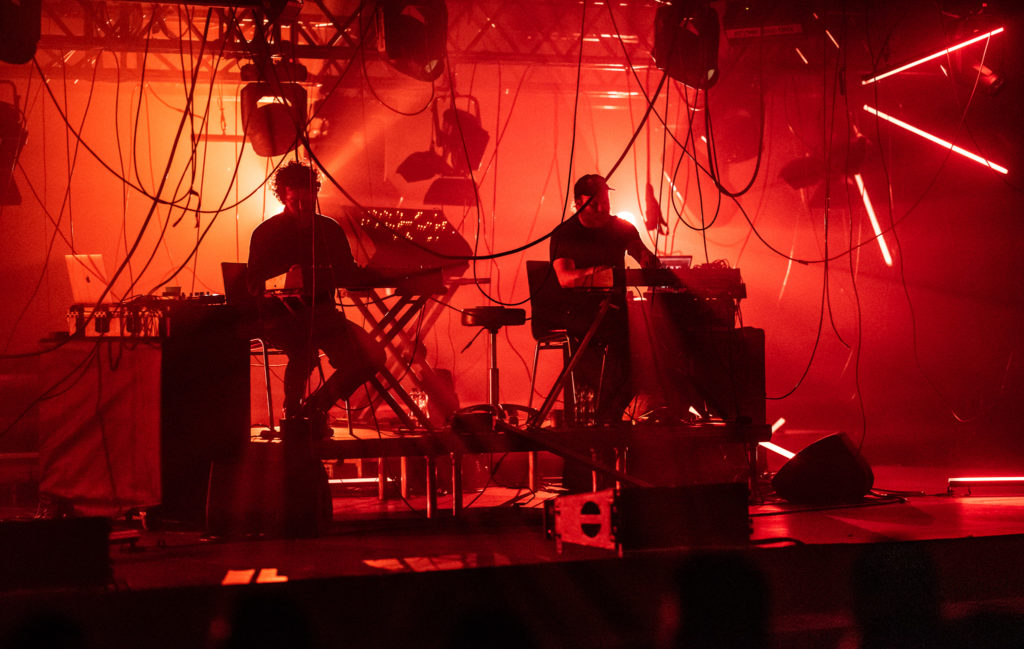 I have to admit, sound design music is not really my cup of tea. From the moment the composer duo entered the stage, a flow of music could be heard without any breaks. When a nice melody or percussion pattern surfaced between all the sound design parts, I immediately sat up straight and started to listen with more care. I was hoping for a long fleshed out version of the main theme, but only a small part could be heard in their show. I appreciate what Dixon and Stein were doing on stage, I liked a good chunk of their concert and from what I understand about their music, their performance was excellent. After an hour of a constant stream of music, the final note was played, and the duo left the stage the same way they entered it: without any drama.

Looking back at this concert, I have some fond memories about it, but experiencing it once was enough for me. The audience was full of young people, with a lot of them wearing Stranger Things t-shirts, and I think they were totally getting the concert they were hoping for. I really have to applaud the fact there is a place for such music at a film music festival, with a strong focus on orchestras.

Performers: Kyle Dixon and Michael Stein
Venue: Forum Karlín
February 2nd – Kebu: The Master of Synths
Officially, this performance was the after party of the Stranger Things concert, but since it was twice as long as the main concert, it deserves its own section. When I was younger, I listened to a lot of synthesizer music from Vangelis, Jean-Michel Jarre and many other synthesizer performers. Sebastian Teir from Finland probably did that as well and is now making this type of music under his stage name Kebu. His setup was located in front of the main stage, consisting of many synthesizers and other machines with knobs and switches: completely surrounding him. During his performance, I sometimes had the feeling Kebu would be very good at the game Twister, the way he twisted and turned to use different kinds of synthesizers during a song.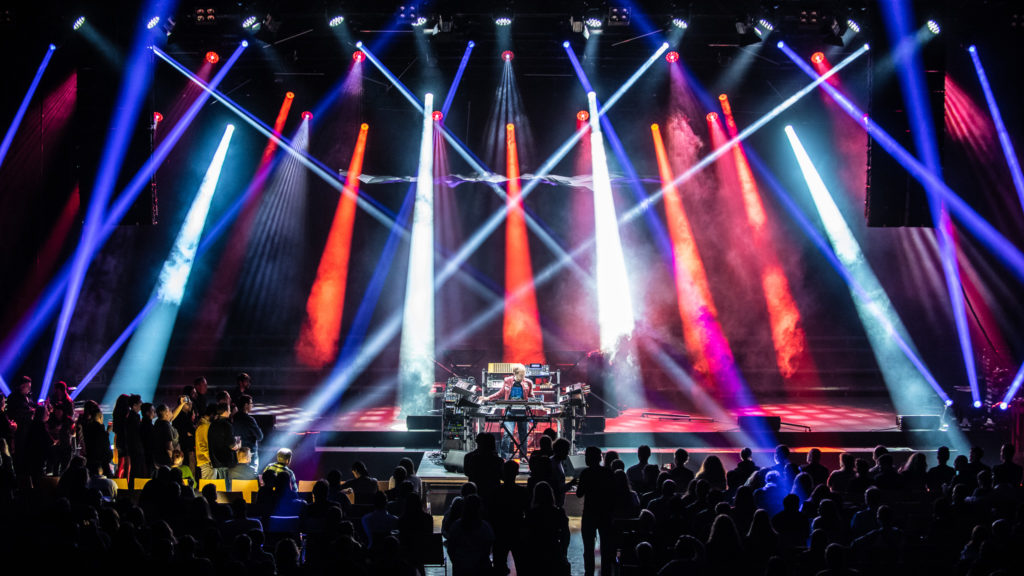 His music brought back a lot of youth memories of my old synthesizer days. During his two hour performance, he constantly had a smile on his face and you could see that he did not want to stop. I will be honest, this was the best after-party concert I have ever attended.

Performer: Kebu (Sebastian Teir)
Venue: Forum Karlín
February 3rd – Legends: Ridley Scott
This concert was in the same venue as where the Stranger Things concert was held, but this time there was a full orchestra on stage. During this event we could listen to music from the Ridley Scott movies, which I thought was an amazing idea for a concert. It was also the first time that there was a screen present to show scenes from the movies, or images based on them, adding an extra dimension to the music that was played on stage. Almost all of the music played during the first half had been composed by the main guest Harry Gregson-Williams, but first, we could listen to music from 1492: Conquest of Paradise by Vangelis, right after the festival opened with the "Festival Fanfare" composed by Dutch composer Matthijs Kieboom.

The music by Gregson-Williams was Prometheus, Kingdom of Heaven, The Martian and the world premiere of Exodus: Gods and Kings and they were brilliant as expected. Exodus was a ride down memory lane. I had only seen the movie once in the cinema, and I really need to listen to the music again. For The Martian Gregson-Williams walked on the stage to conduct. It was the first time that I saw him keeping his jacket on while he was conducting. To hear The Martian performed live with the orchestra and some electronics in the background was absolutely amazing.

We were in for another treat after the intermission. Kebu, the synths master from the day before, went to the side of the stage where his complete setup was placed and started to perform music from the original Blade Runner. His performance was just brilliant. To hear the music from Vangelis like it is meant to be was just an amazing experience that I have never had before. I hope I will see him again in the near future. He is a great asset for film music concerts, keeping these old synthesizers film music scores from the '80s alive.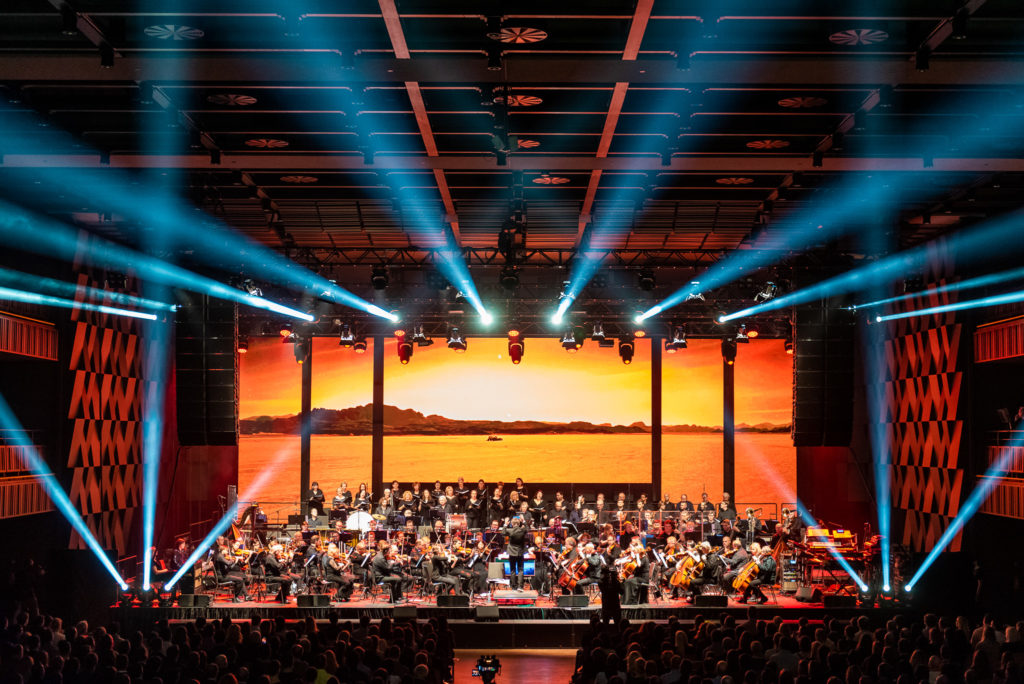 The second half contained music from Ridley Scott movies written by other composers than Gregson-Williams. For the music from Hannibal, a tenor and soprano entered the stage to sing a beautiful rendition of "Vide Cor Meum." We could also listen to two world premieres that were arranged specifically for this festival. One was a suite from Legend composed by Jerry Goldsmith and orchestrated by Leigh Phillips. The other world premiere was a suite from Alien, also by Goldsmith, orchestrated by Nikiforos Chrysoloras. This suite incorporated a lot of material written by Goldsmith but was not used in the movie. Both were amazing and the film music community should be grateful to have such talented orchestrators to keep the old scores alive. As the encore, we were treated to a well-known suite of Gladiator, which I have heard quite often, and this version was performed very well.

I really liked this concert. The venue was quite big and needs amplification, but the essence of the sounds were not lost. I also liked the music choices, a lot of the pieces were not that well-known, educating the audience on the brilliance of film music.
Concert information
Orchestra: Praga Sinfonietta conducted by Chuhei Iwasaki
Choir: Vox Pragae Choir led by Miriam Němcová
Performer: Kebu (Sebastian Teir)
Guests: Harry Gregson-Williams, Leigh Phillips and Nikiforos Chrysoloras
Venue: Forum Karlín
Program
Matthijs Kieboom – Festival Fanfare
Vangelis – Theme from Conquest of Paradise
Harry Gregson-Williams – "Life" from Prometheus
Harry Gregson-Williams – Suite from Kingdom of Heaven

Caravan Raid
Swordplay
Coronation
Everything (chorale)

Harry Gregson-Williams – Suite from The Martian

Making Water
Crossing Mars

Harry Gregson-Williams -Suite from Exodus: Gods and Kings

World premiere (arranged by Mark Graham)
Intermission
Vangelis – Blade Runner

Performed by Kebu (Sebastian Teir)

Jerry Goldsmith – Suite from Legend

World premiere (arranged by Leigh Phillips)

Howard Blake – Suite from The Duellists
Patrick Cassidy – "Vide cor meum" from Hannibal
Jerry Goldsmith – Suite from Alien

World premiere (arranged by Nikiforos Chrysoloras)

Hans Zimmer and Lisa Gerrard – Suite from Gladiator (encore)
February 4th – Remember Them
This concert was not a film music concert. The only thing it had in common with film music is the fact that the composers are well-known film music composers. This concert was also a charity event for UNICEF.

The first piece was "Song for World Peace" composed by John Williams. I had never heard it before, but elements of John Williams' style could be identified very well. Director Bojčev came on to the stage to prepare the piano for the second piece. After guiding piano soloist Valentina Lisitsa to her instrument, he sat down beside her and started turning the pages for her while she was playing the "Ruin & Memory" piano concerto by Howard Shore. During the difficult parts you could see her mouth moving with the music. I really love the fact that the director of the festival was so closely involved with the music that he was playing this important role himself.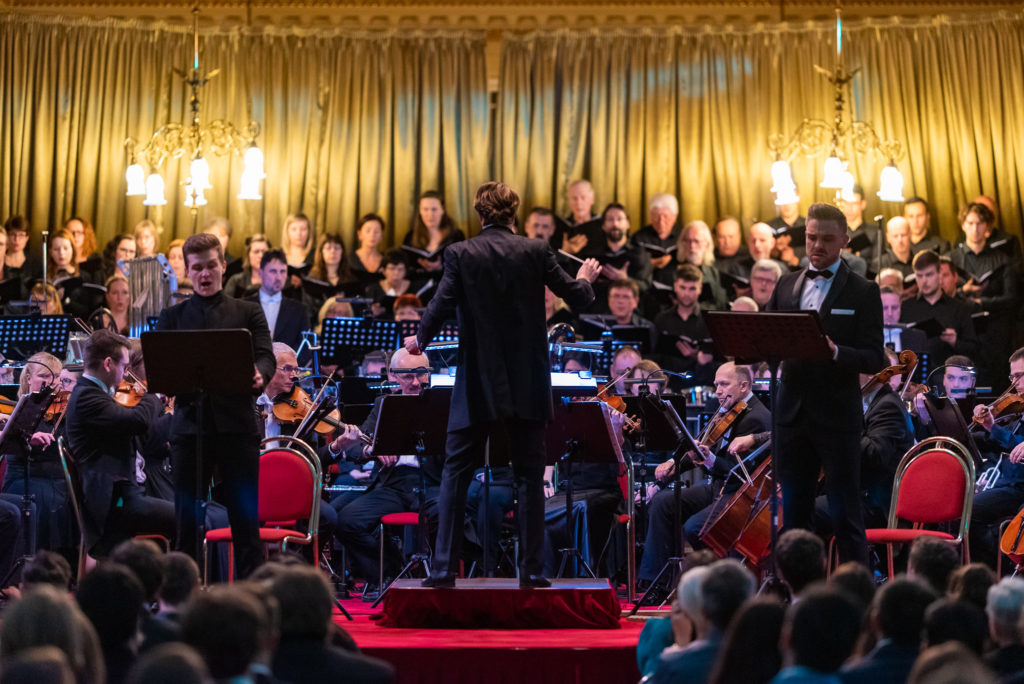 After the intermission it was time for A Prussian Requiem by John Powell, which I had heard a couple of months before during MOSMA. It is a piece that I felt indifferent about when I heard it for the first time but it really started to grow on me. The tenor Petr Nekoranec and baritone Boris Prýgl did a stellar job with their parts. Especially "The Gift" at the end where they turn around to face the choir gets me emotional. After the concert, director Bojčev came on to the stage to give a representative of UNICEF a check of 100.000 kc, which is around 3900 Euros. I love the fact that film music can also help to make the world a better place.

I am not that interested in non-film music concerts, but the pieces on the program were gorgeous. Žofín Palace is a venue that added to a great atmosphere as well, feeling very old and not so spacious, making the concert a bit more personal.

Concert information
Orchestra: Hradec Králové Philharmonic Orchestra conducted by Christian Schumann
Choir: Kühn Choir of Prague led by Jaroslav Brych
Performers: Valentina Lisitsa (piano), Petr Nekoranec (tenor) and Boris Prýgl (baritone)
Venue: Žofín Palace
Program
John Williams – Song for World Peace
Howard Shore – Ruin & Memory
Intermission
John Powell – A Prussian Requiem

Vocals: Petr Nekoranec (tenor) and Boris Prýgl (baritone)
Panels
Each edition of this festival introduces more panels about film music. These panels are a fantastic opportunity to have a peek into the creative minds of important people within the film music industry.
Master class with Harry Gregson-Williams
Harry Gregson-Williams has been teaching in his career and that showed during his master class. In front of a room packed with people, he told the audience about his career, but more importantly, about how he composes his music. He showed some scenes of movies and elaborated on the musical choices that he had made. He talked us through scenes from several Shrek movies, Man on Fire, The Martian – where he showed us two versions of the piece that he made for a scene – and then he talked us through a scene from Unstoppable. I have attended a Harry Gregson-Williams master class before, which was in Krakow a couple of years ago. During that class he only had a piano, but during this master class, he also brought a keyboard and more gadgets, which he used to demonstrate how he can combine all kinds of electronics patterns by simply pressing a key and how he can create the music from a specific scene of Unstoppable with that.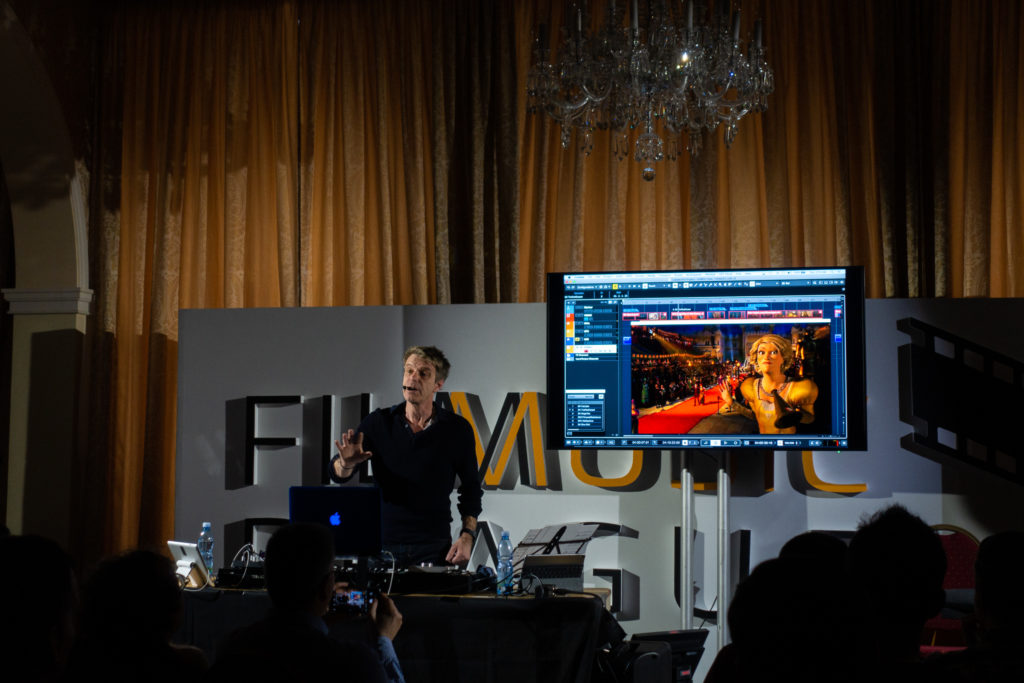 After his demonstrations he was kind enough to answer questions from the audience, and when the master class was done, he signed all the CD covers and took pictures with everyone who was interested.
Other panels
There were more interesting panels over a span of two days. There were talks with composers like Kyle Dixon, Michael Stein, John Lunn and Alex Harwood about their jobs, but also talks with orchestrators, agents and even Bojčev found time to sit down together with director Robert Piaskowski from the Krakow festival to talk about their work. If you are near Prague during Film Music Prague, I can recommend going to these panels: there is no admission fee and you can learn a lot about film music during these talks.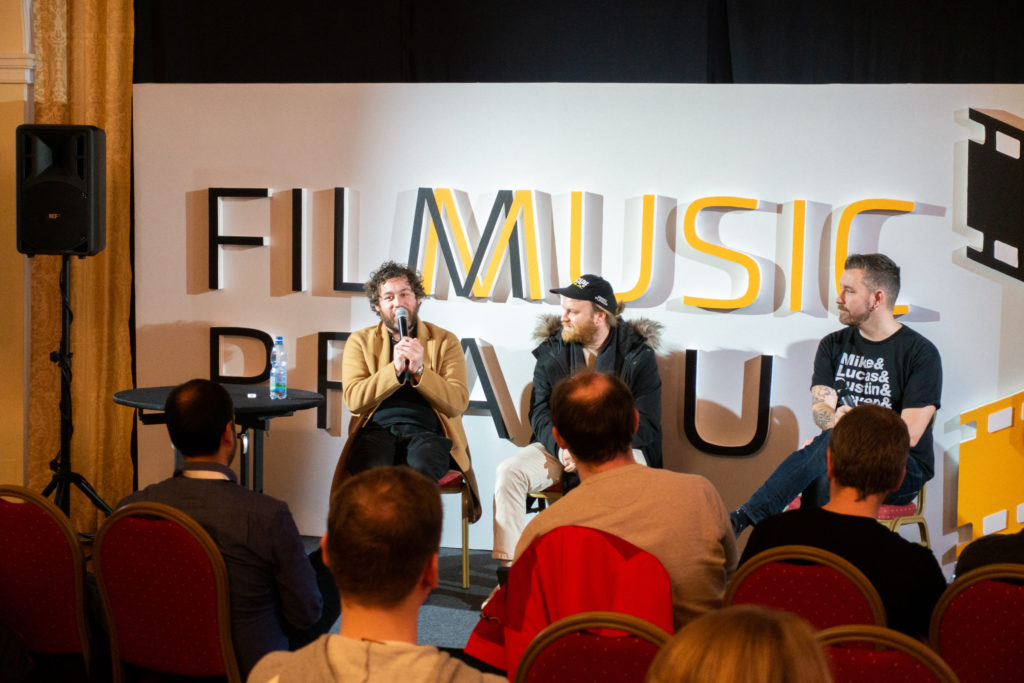 Conclusion
I always go to this festival with friends, and, during our final get-together after the last concert, we all concluded that this edition of the festival was the best we had ever attended. The quality of each concert was very high, and each had its own style. Stranger Things is not something I like to listen to a lot on my own, but it attracts an audience that is not that familiar with more traditional film music. This festival tries to broaden the film music genre with not so common film music concerts. Last year, this was the Two Steps From Hell concert and this year the Stranger Things concert attracted a lot of people. Also, the introduction of Kebu was amazing. He really stole the show at both the after party and when he performed his suite of Blade Runner. I hope we will see him more often in the near future.

I still cannot grasp the idea that a festival of this magnitude is organized only by a hand full of people. At the panel, Nikola Bojčev mentioned that this is still a hobby. Just let that sink in for a moment, a brilliantly produced film music festival is a hobby. I have attended big commercial concerts throughout Europe whose production value did not come even close to what he was able to do for this festival. I really hope Bojčev keeps his interest in this hobby. I will be attending the next edition, and I hope you will as well.
Photos