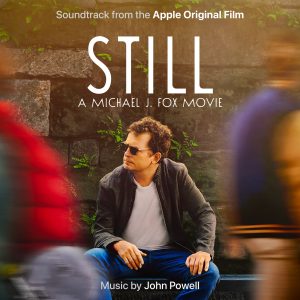 When many film music enthusiasts think about music composed by John Powell they will mostly think about the magnificent music he has written for adventurous movies – animated or not – with How to Train Your Dragon and Star Wars: Solo as the best-known examples. Some people who appreciate his music go back in time even further and have fond memories of his music for action movies like Paycheck and the Bourne trilogy. Last year Powell stepped away from these movie genres when he wrote excellent music for the drama Don't Worry Darling. This year he went even further into undiscovered territories by scoring the music for his first documentary, the Apple TV movie Still: A Michael J. Fox Movie.
Still tells the story of actor Michael J. Fox's life, his career path and, of course, his dealings with Parkinson's disease. His tale is told through interviews with him and using scenes from movies he was in. The documentary primarily features songs from primarily the '80s, but also Alan Silvestri's brilliant score for Back to the Future has a prominent spot. It was up to Powell to add his music to all the other scenes that needed it.
Still is everything but an adventurous movie, which means that there is no place for a grand orchestral score, one of Powell's strengths. Instead, the soundtrack is more intimate, and the music consists of a small string ensemble, some other additional instruments like guitars, percussion and piano, and there is support from some electronic sounds.
Parkinson's is a horrific disease, and what makes the score so unique is that this is not reflected in the music. Michael J. Fox, while extremely ill, still tries to make the best out of his life and still has his wits, which made him so successful in the '80s. The disease does not have a dark-sounding theme but is only a high-pitched sound that is simply present, just as the illness is. This sound is the first thing you hear on the album in the track "Pinky."
Powell has included some themes in this score. The main theme, representing Fox as the person behind the actor, can be heard in quite a few places in this 40-minute score, with the version in "Growing Up" as the most fleshed-out example. Another theme represents the struggles in his career. The scenes showing these struggles are – as with Powell's approach to the disease – not supported by dark emotional music, but by a gorgeous melody performed on a violin, which you can find in "A Chip & a Chair."
I have previously encountered quite some musical styles in Powell's film music, but I had yet to hear jazz-like music from him. The soundtrack album for Still contains two beautiful jazzy cues, and both "Hollywood Struggle" and "Becoming Michael J. Fox" are wonderfully uplifting. They are an excellent example of how versatile a composer John Powell is.
Every project Powell is involved in excites me. I adore his orchestral compositions, which are, in my opinion, one of the best scores in the current age of film music, but when he ventures into other musical genres, he can create masterpieces as well, with his contemporary piece A Prussian Requiem and his score for Don't Worry Darling as excellent examples. They showcase his versatility as a composer and if you listen closely to the music for Still, you can also discover this talent. Not only did Powell create gorgeous themes, but he also enriched each cue with small additional musical details that made me appreciate the music even more. The soundtrack for Still is a fantastic example that shows that Powell is able to tackle every movie genre.
Listen or buy
Tracklist
The highlights are in bold.
Pinky (1:58)
That's Boring (1:43)
Growing Up (1:37)
First Casting (1:05)
Hollywood Struggle (2:33)
A Chip & A Chair (1:22)
The Audition (2:38)
Becoming Michael J. Fox (2:29)
Tracy (2:54)
Being A Father (1:00)
Parkinson's Yeah! (2:47)
Feel It, Live It (1:25)
Late Night TV (1:20)
Drink and Disassociate (1:47)
Is This What You Want? (2:41)
Home to TV (1:35)
No Way Out (3:02)
Why Me? (1:17)
Life at the Beach (5:28)
Total length: 40 minutes
Lakeshore Records (2023)