One event I am looking forward to each year is the Krakow Film Music Festival. I have been attending this event since 2011, including their 16th edition last month. The Polish city of Krakow offers a lineup of excellent concerts over multiple days. In addition, they also invite well-known composers to the festival, not only to have their music performed, but also to let them participate in meet and greets for fans. This year these guests were none other than Simon Franglen, Steven Price, Patrick Doyle and Nanita Desai. Furthermore, the festival is also a good opportunity to catch up with people in the film music industry.
The concerts
May 25: Kaczmarek2Cinema
Each year one of the festival's concerts is dedicated to Polish composers or Polish cinema. This year's concert, Kaczmarek2Cinema, was mainly devoted to Oscar-winning composer Jan A. P. Kaczmarek. Unfortunately, the reason for this concert was not a happy one because the 70-year-old Polish composer has been very ill, and funds for his treatment were raised during this concert. During the first half of the evening, we could listen to music from other composers, written for different kinds of media, which were suites written for the video game The Medium, the movie Broad Peak and the 'metaverse' experience Everdome. The winner of the Polish Best Soundtrack of the Year Award 2022 was announced in this half of the program. The jury had voted for EO, composed by Pawel Mykietyn, and the Public Choice Award went to Bejbis, written by Marek Napiórkowski.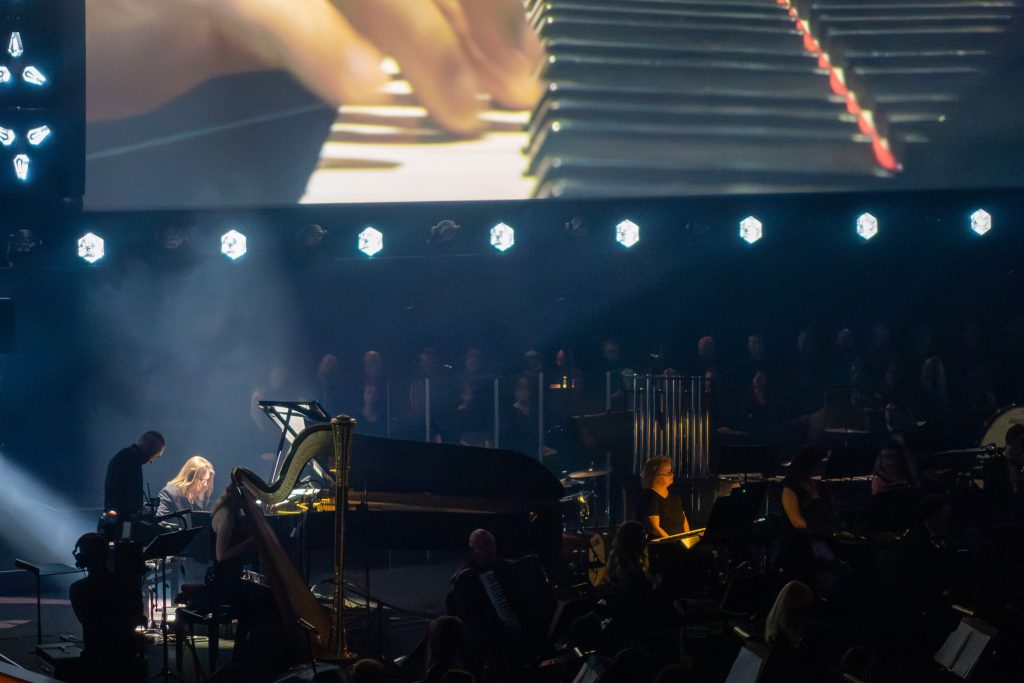 The second half of the concert was entirely dedicated to Kaczmarek's music. What I love about these Polish concerts is that there's always something new and unfamiliar to discover. While I know Kaczmarek's work for Unfaithful and Finding Neverland, the concert also contained many cues that I had never heard before, showcasing the remarkable skill of the composer. The highlight of the evening was the pianist Leszek Możdżer stepping behind the piano to improvise on the theme for Finding Neverland, as he had also done for the original end titles. The music he performed fitted perfectly with the unfortunate condition Kaczmarek is in. The composer was able to listen to the concert from his hospital bed, and every musician did their best to provide him some relief with their music.
Concert information
Orchestra: Sinfonietta Cracovia conducted by Dirk Brossé
Choir: Polish Radio Choir
Guests: Aleksandra Twardowska-Kaczmarek, Wojtek Urbański, Arkadiusz Reikowski and Łukasz Targosz
Artists: Michał Sławecki, Stanisław Słowiński, Krzysztof Łochtowicz, Anna Karwan, Veronika Vitazkowa, Jacek Tarkowski, Leszek Możdżer, Iwona Sobotka, Marta Maślanka and Janusz Wojtarowicz
Program
Wojtek Urbański – Everdome (Original Metaverse Soundtrack)
Arkadiusz Reikowski & Akira Yamaoka – The Medium
Łukasz Targosz – Broad Peak
Intermission
Jan A.P. Kaczmarek

Finding Neverland
Unfaithful
Hachi: A Dog's Tale
Evening
Anna Karenina
Total Eclipse
Quo vadis
Paul, Apostle of Christ
Emigra – Symfonia bez końca,
Magnesia
Kantata o szczęściu
May 26: Echoes of Space
The FMF remains open to experimentation, and this concept was taken to the next level in this edition. Composer and sound guru Gary Marlowe had been asked to create a musical experience that no one would forget. For this concert, we had to travel to the outskirts of the city to a smaller theater. There was a stage consisting of many keyboards, a theremin, guitars and big pieces of metal, meant for percussion. Marlowe, together with Laura B and Mirjam Skal, gave quite an entertaining performance, but the highlight of the show for me were the sounds they were producing. Not only were the synthy sounds exciting and unique, but the sound came from everywhere in the venue, because there were dozens of speakers installed all around.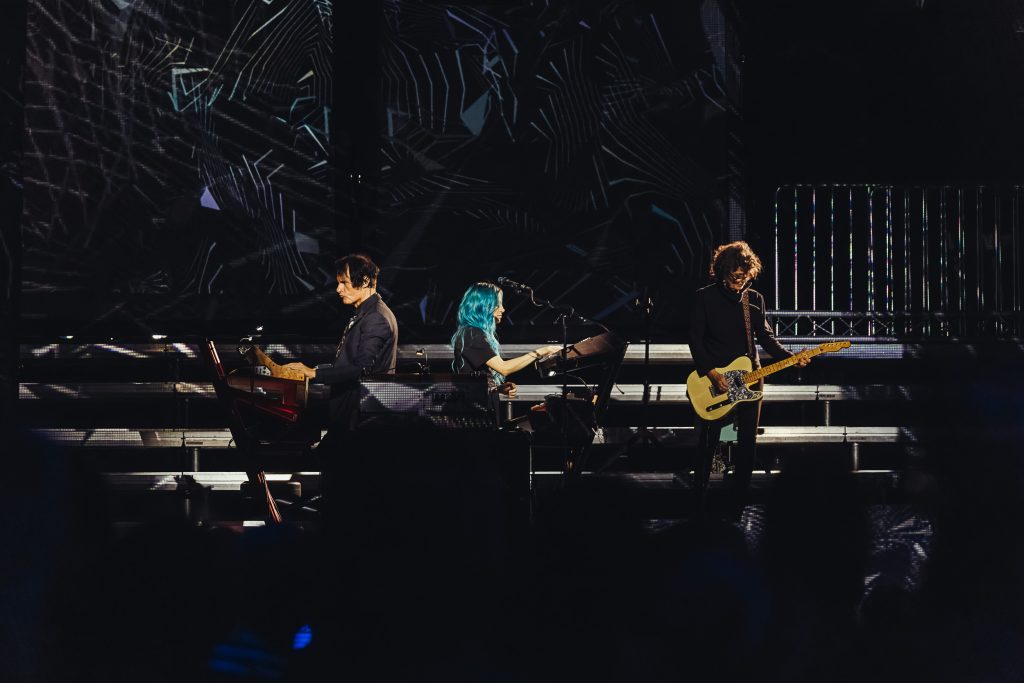 After Marlowe's performance, we were treated to a recording of a symphonic suite Simon Franglen has written for "The Highest Art Space In The World" in Shanghai. Unfortunately, with all new kinds of experiments, something went wrong halfway, and to stall for time, Franglen went onto the stage to tell the story behind the piece. In the meantime, the technicians were able to fix the problem and we could hear the exciting piece from start to finish.
Concert information
Artists: Gary Marlowe, Laura B and Mirjam Skal
Sound: Hans-Martin Buff
Guest: Simon Franglen
Program
Gary Marlowe

No Thanks
The Rites Of Spring
Natural High
A Very Clever Drug
A Fellowship Of Rebels
Bat Shit Crazy (Ode To Vangelis Papathanassiou)
Eden
End Of An Era
Escape
Monologue
Wysła

Simon Franglen

Symphonic Suite for "The Highest Art Space In The World"
May 27: Space Gala
This concert was one of the biggest concerts in this year's edition, with some well-known guests: Simon Franglen, Steven Price and Nanita Desai, but the evening started with music from the late Jóhann Jóhannsson. Two pieces by him were performed, Sicario and Arrival, both conducted by his collaborator Anthony Weeden. Afterwards, Diego Navarro came onto the stage to conduct his music for Mara la Luna and the rest of the program. The following piece was a medley with all kinds of music from Desai. She was also a judge on the jury for the FMF Young Talent Award, which was won by Szymon Sutor, who wrote quite an impressive piece for a scene from 14 Peaks: Nothing Is Impossible. The scene did not have much dialogue and events, making writing music for it not an easy task. The first half of the concert finished with a superb suite from Gravity by Steven Price.
After intermission, Cliff Martinez announced on the screen a suite from Solaris, as he, unfortunately, could not attend the festival himself. Each year a new FMF Ambassador is revealed, and this year that award went to Maggie Rodford, who has been an icon in the film industry for decades. Her friend Patrick Doyle congratulated her on screen before his music from Thor was performed. 
After listening to Benjamin Wallfisch's Hidden Figures, it was time for the highlight of the festival: a 17-minute suite with the music from Avatar: The Way of Water. To hear that fantastic score with a full orchestra and choir, together with images from the movie resulted in a well-deserved standing ovation, concluding this superb evening.
Concert information
Orchestra: Beethoven Academy Orchestra conducted by Diego Navarro
Choir: Krakow Philharmonic Choir
Guests: Simon Franglen, Nainita Desai and Steven Price
Program
Jóhann Jóhannsson (guest conductor: Anthony Weeden)
Diego Navarro – Mira la Luna
Nainita Desai – Medley: For Sama, Villeneuve, Pironi, Untamed Romania, Immortality
Szymon Sutor – 14 Peaks: Nothing Is Impossible (FMF Young Talent Award)
Steven Price – Gravity
Intermission
Cliff Martinez – Solaris
Patrick Doyle – Thor
Benjamin Wallfisch – Hidden Figures
Simon Franglen – Avatar: The Way of Water
May 28: E.T. Live in Concert
The festival tries to organize a concert for children each year, and this time it was a screening of E.T. the Extra-Terrestrial with a live orchestra. I had not seen the movie in many years, so it was a delightful experience to see it again, with a focus on John Williams's magnificent score. His music for that movie is a beautiful example of theme integration into a film. The movie was dubbed in Polish, but came with English subtitles as a bonus, so I was reminded of the awesome 'p-breath'  word that Elliott says to his brother in the movie.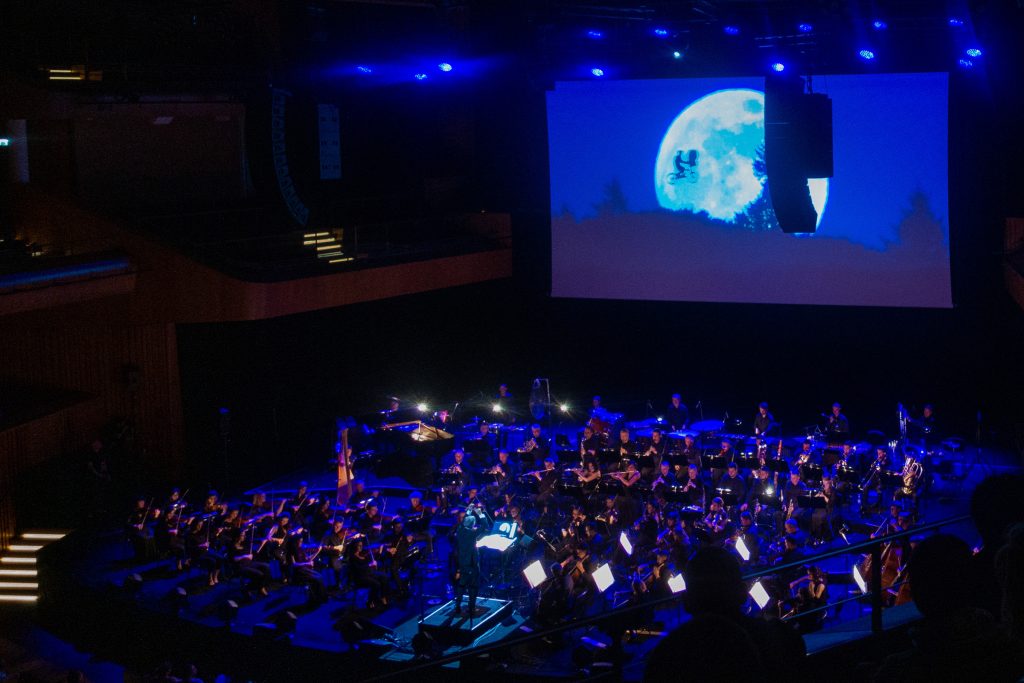 Concert information
Orchestra: Kraków Philharmonic Orchestra conducted by Ludwig Wicki
May 29: The Music of Patrick Doyle
The final concert of the festival, since the Hans Zimmer Live concert was canceled because of Zimmer having some kind of infection, was a concert fully dedicated to the music of Patrick Doyle. What makes this concert unique to me is that even though I have been attending this festival for many years, I've never had to leave Krakow for a show, but this concert was held in the gorgeous modern concert hall of the Polish National Radio Symphony Orchestra in Katowice, which lies about an hour's drive north-west of Krakow.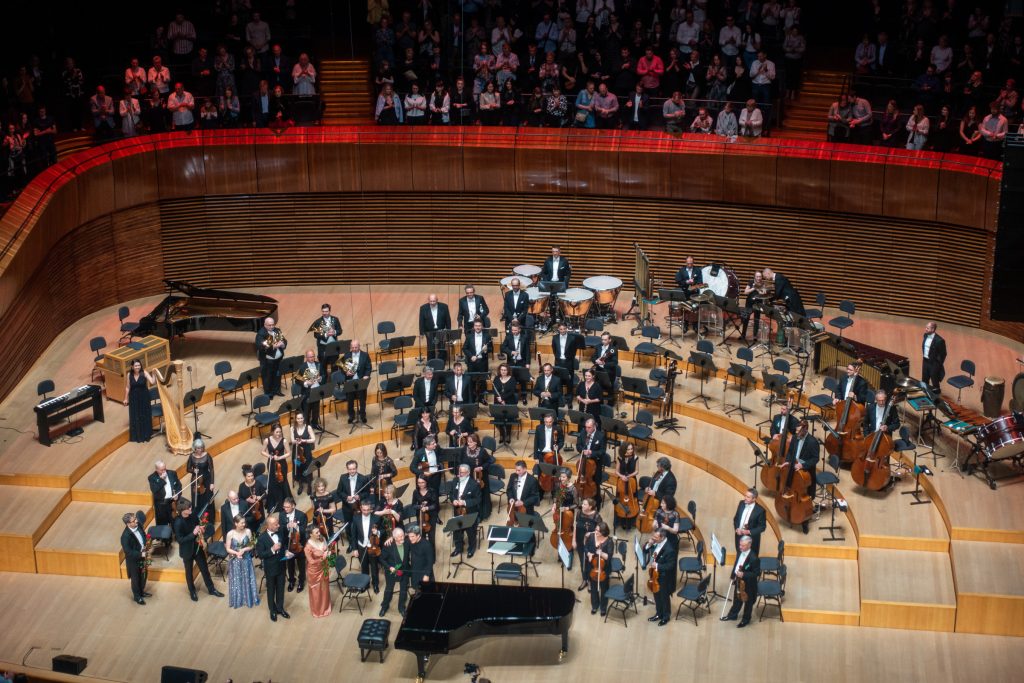 A wide range of Doyle's music was presented that evening, performed by the Polish National Radio Symphony Orchestra, which was conducted by Dirk Brossé, making it his second conducting job during this festival. I am fully aware of the brilliant music Doyle has written for film, but during this evening we could also listen to some of his gorgeous contemporary music, which I had not heard before. Doyle also received the Kilar Award during this concert, and, especially after experiencing this concert, it was well-deserved.
Concert information
Orchestra: Polish National Radio Symphony Orchestra conducted by Dirk Brossé
Guest: Patrick Doyle
Artists: Sylwia Olszyńska and Radosław Kurek
Program
Hamlet
Donnie Brasco
Cinderella
Sense and Sensibility
Harry Potter and the Goblet of Fire
Intermission
Much Ado About Nothing
Indochine
Bridget Jones's Diary
Jack Ryan
Corarsik
Gosford Park
Rise of the Planet of the Apes
Frankenstein
Piano Fantasia
"Potter Waltz" from Harry Potter and the Goblet of Fire (encore)
Panels
One of the fantastic things about this festival are the panels. Those consist of people from the film industry talking about their experiences, but sometimes they are meet and greet sessions with the guest composers. Some were at the festival headquarters on the main square of Krakow, but others were near a mall outside the city center in the sun for a larger audience to enjoy. They were quite informative as usual and gave the fans a chance to get a photo with and a signature from one of their favorite composers.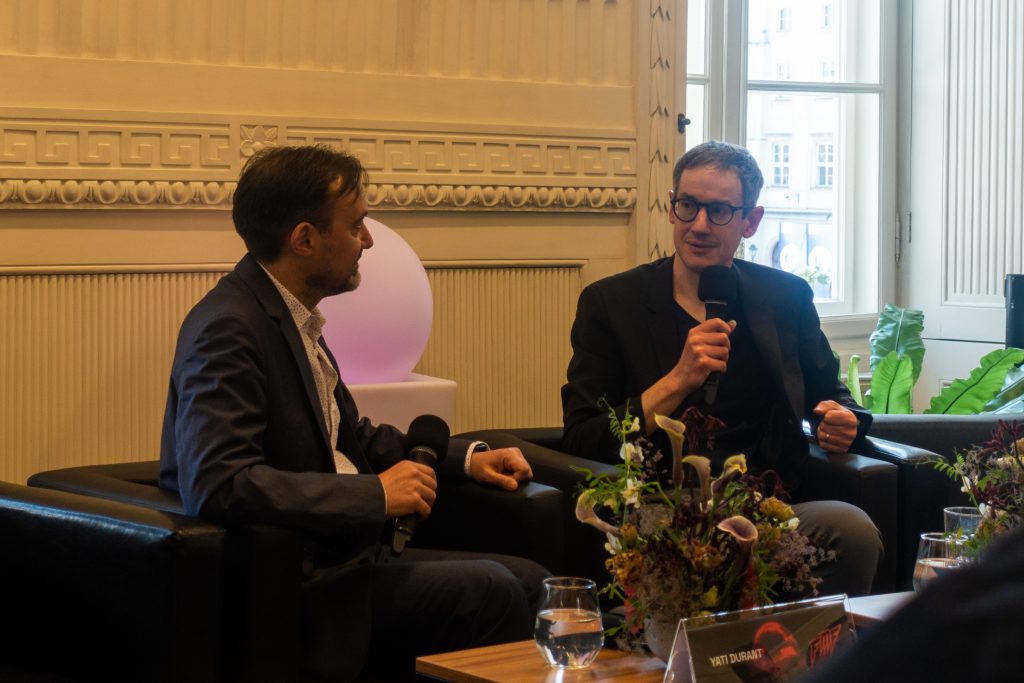 Conclusion
As I've said I have been attending this festival for over a decade and I have had a blast each year. What I love about it is how the festival can introduce film music enthusiasts to brilliant film music concerts. Each year I meet people who come to Krakow for the first time, coming from all over the world, including South America this year. I convinced some new people from the Netherlands this year to join us as well, and it makes me proud to see all their smiling faces. If you read this report and feel envious, why not join us next year for the 2024 edition?
Photos