Each year during July and August, concerts are being held almost daily in 'Het Concertgebouw' in Amsterdam, which, as I have mentioned many times, is one of the best concert venues we have in the Netherlands. These performances are targeted at a wide range of people, who like all kinds of music concerts like jazz, classical, musicals, solo artists and, of course, film music. The main sponsor for these concerts is the 'BankGiro Loterij,' which is one of the bigger lotteries in the Netherlands. People with a lottery subscription get a 50 percent discount on all concert tickets, which made them very interesting for a large group of people who would not usually go to these kinds of events.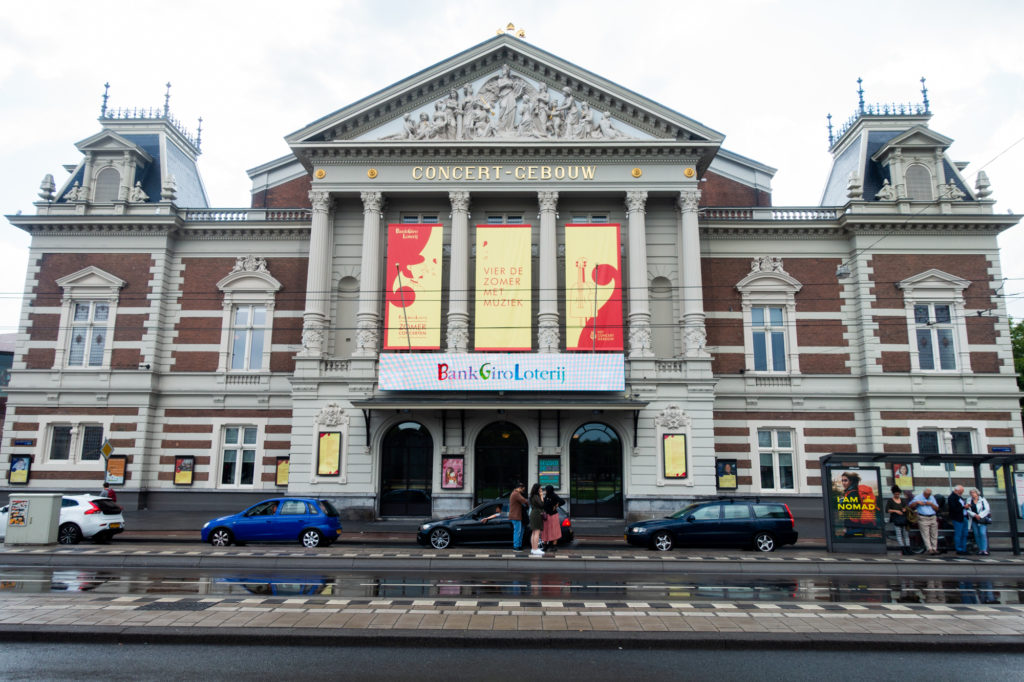 I was a little unlucky this time, as there were not that many concerts involving film music, but there were four concerts on the program that stood out. Of these four concerts I would like to give a summary of two, namely Star Wars: The Empire Strikes Back – Live in Concert and 'With André Kuipers to the Moon' in this article. Regrettably, I was unable to attend Final Symphony II with music from the Final Fantasy games because of the commitments of my regular day job. The remaining concert is 'Classics from TV and Movie with Eric Corton,' which will be held on August 25. Since the same concert will come to my hometown later that week, you can expect a report on that concert at a later date.
Star Wars: The Empire Strikes Back – Live in Concert
Screenings of Star Wars movies with live music are very popular at the moment. After seeing a German dubbed version of Star Wars: A New Hope in Munich, I could finally enjoy Star Wars: The Empire Strikes Back during the 'BankGiro Loterij' concerts. I am quite happy to be Dutch, since we do not dub movies but have Dutch subtitles instead, and that was also the case for this movie. I was especially looking forward to seeing film music veteran Dirk Brossé again. This time he was conducting the Residentie Orkest, which is an orchestra I have heard much about, but I had not been able to attend one of their concerts before.
The concert was exactly what you would expect from a Star Wars movie with live music. What I love about this movie is the introduction of so many iconic new themes, like "The Imperial March" and "Yoda's Theme," and it is also a pleasure to hear pieces like "The Asteroid Field" and the themes for the prequel.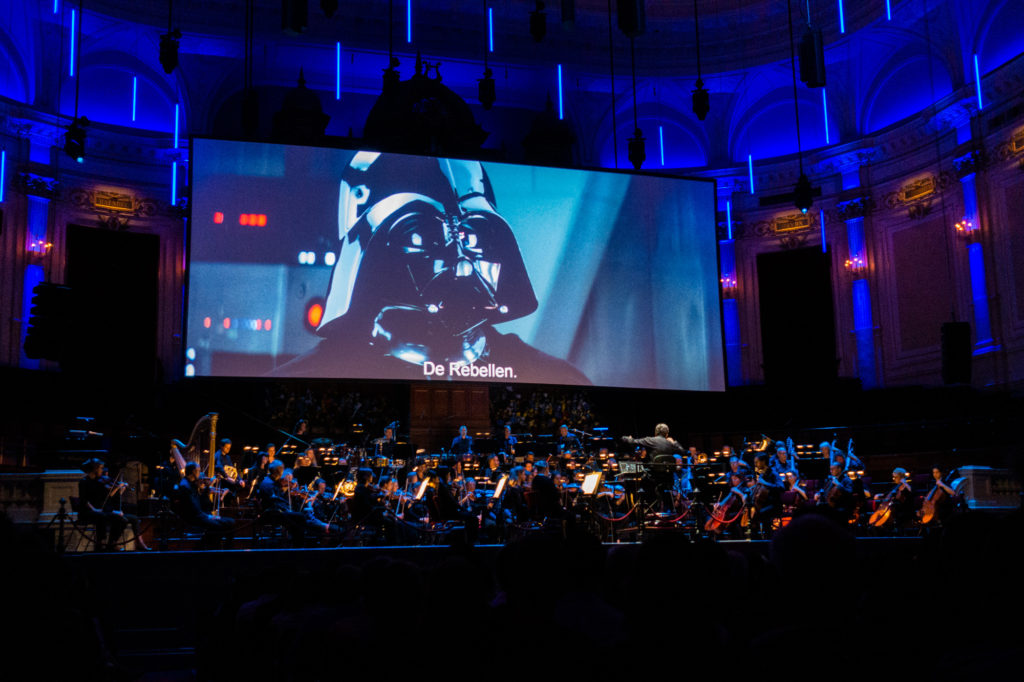 Seeing microphones on stage felt unnatural to me, as they are not needed for regular concerts with an orchestra in this venue. However, I have learned by now that amplification is always required when music is being played together with a movie, and I have to admit that the audio crew did an amazing job, because the amplification was not noticeable at all.
It was also quite interesting to see Dirk Brossé conducting while sitting on a stool during the movie, which I did not expect from such an energetic conductor, but it is totally understandable for a long movie like this. He guided the orchestra marvelously through the whole movie. As an encore, we could listen to a suite with music from the movie, and it was quite a pleasant experience to see Brossé conduct the orchestra without any limitations, like matching images on a screen, mandatory timing notifications on his monitor or the stool.
All in all, a wonderful experience of an amazing movie with a fantastic score by John Williams performed very well by the Residentie Orkest led by Dirk Brossé. I always hope that a high-quality concert like this will draw more audience to film music concerts.
Concert information
Where: Het Concertgebouw – Amsterdam, the Netherlands
When: July 13, 2019
Orchestra: Residentie Orkest conducted by Dirk Brossé
'With André Kuipers to the Moon'
This concert was a celebration of the 50th anniversary of the first moon landing. In the Netherlands there is no one better suited to do a presentation about this than Dutch astronaut André Kuipers, who has been in space for 204 days spread over two trips. He told the audience the complete history of the moon landings using many photos, movies and other images. From the Russians winning the race into space with Sputnik, to a detailed description of the moon landing, to the subsequent Apollo flights. The presentation was concluded with an outlook into the near future and some information on new projects to visit the moon.
As a transition between the different topics of Kuipers's presentation, the Flanders Symphony Orchestra, led by their chief conductor Kristiina Poska played some classical pieces., More images were shown on the big screen and multiple television sets while the orchestra was playing, meant for those in the audience who had not a clear view of the stage.
A while ago I was pitched that this concert would include a significant amount of film music, but only three pieces of film music were performed next to a big amount of beautiful classical pieces, and those were also quite short. We could listen to the theme from Apollo 13 by James Horner, to John Williams's "Flying Theme" from E.T.: The Extra-Terrestrial and to "Hedwig's Theme" from Harry Potter and the Philosopher's Stone.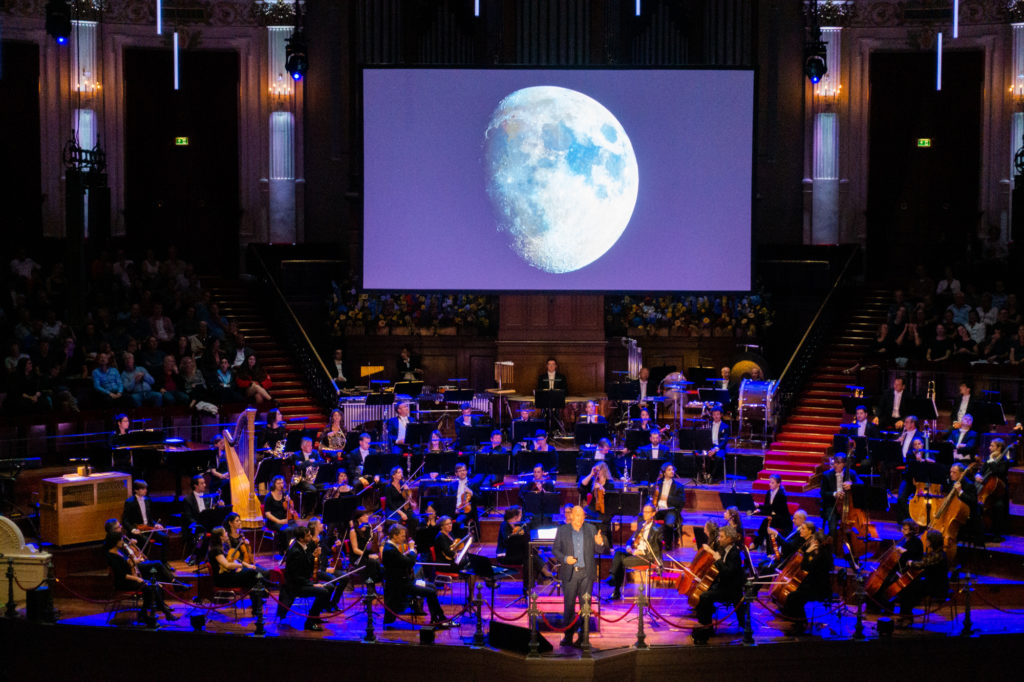 Except for some minor technical difficulties with Kuipers's presentation, which he resolved marvelously, the evening was executed perfectly. You can clearly see that Kuipers is a very experienced speaker and his presentation was very interesting to listen to. The orchestra played their pieces amazingly as well, giving the audience an evening to remember. Personally, I have a small problem when I am attending classical concerts: I am just not fond of classical music. I can appreciate the music and the greatness of the composers creating these magnificent pieces, but it does not grab me emotionally like film music does, which did happen when the three movie themes were performed. I do not mind classical music in film music concerts when it is only a couple of pieces, but the main focus for this concert was on classical pieces, which is absolutely not the organization's fault, but clearly my own for not doing my research properly.
It was a very long concert as well, with the presentation, music and an intermission adding up to more than three hours, but the majority of the audience had a great time. They got the chance to listen to beautiful music, heard an interesting story by an amazing speaker and got to learn something about very important moments in our history. This concert was just not for me, and it is something I need to keep in mind when considering to attend a classical concert like this in the future.
Concert information
Where: Het Concertgebouw – Amsterdam, the Netherlands
When: July 20, 2019
Speaker: André Kuipers
Orchestra: Flanders Symphony Orchestra conducted by Kristiina Poska
Program
Richard Strauss – "Also sprach Zarathustra"
Joseph Haydn – "Die Vorstellung des Chaos" from Die Schöpfung
Antonin Dvořák – "Mesícku na nebi hlubokém" from Rusalka
Engelbert Humperdinck – "Hexenritt" from Hänsel und Gretel
Benjamin Britten – "Dawn: Lento e Tranquillo" from Four Sea Interludes
James Horner – Theme from Apollo 13
Benjamin Britten – "Storm: Presto con Fuoco" from Four Sea Interludes
Johann Strauss jr. – Waltz 'An der schönen, blauen Donau'
Intermission
Michaïl Glinka – Overture from Ruslan and Lyudmila
Charles Ives – "The Unanswered Question"
Igor Stravinsky – "Danse infernale du roi Kastcheï" from Firebird
John Williams – "Flying Theme" from E.T.: The Extra-Terrestrial
Claude Debussy – "Suite Bergamasque" (arranged by L. Caillet)
John Williams – "Hedwig's Theme" from Harry Potter and the Philosopher's Stone