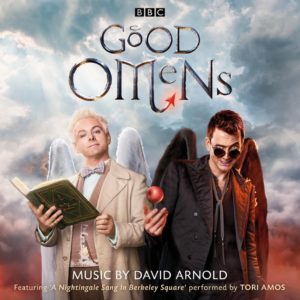 What I love about soundtracks is that music is not always written for movies. Recently, television shows have become more popular. Instead of going to theaters to watch movies, people tend to stay home and watch "on-demand television" like Netflix and Amazon Prime. This results in a better quality of the shows, but also in a better quality of the music. One of the recent examples of high-quality television is the six-episode miniseries Good Omens on Amazon Prime. The show will be on BBC2 later this year. It is a comedy that focuses on a forbidden friendship between an angel and a demon, who together try to prevent the apocalypse from happening when the new antichrist is born.
When I learned more about this show, I thought it had quite a bit of potential. First of all, the show has some amazing actors, especially David Tennant, who I really loved in Doctor Who, and he was even better as the antagonist Kilgore in Jessica Jones. Good Omens is based on a Terry Pratchett book, co-written by Neil Gaiman, who is also the showrunner of this series. Finally, the soundtrack is written by composer David Arnold, who has written quite a few amazing scores, like Stargate, Independence Day, the James Bond movies Die Another Day, Casino Royale and Quantum of Solace. He also composed with Michael Price the music for the very popular tv show Sherlock.
Since the show is based on a book partly written by Terry Pratchett, you know that humor plays a major role, which can be heard straight away in the main theme in "Good Omens Opening Title." The theme is a delightful, happy-sounding waltz, which will be stuck in your mind for hours after you have watched an episode. The melody and instrumentation by a harpsichord and violin make it a delight to listen to, and it fits perfectly to the comedic theme of the show. I also love the fact that the melody is done by two different instruments since the show has a strong focus on the two very different beings: the demon and the angel.
There are a couple of beautiful versions of the waltz that can be heard during the end credits of each episode, except for the final one where the song "A Nightingale Sang In Berkeley Square" plays, performed by Tori Amos. Sadly not all versions of the end credits waltzes made it onto the album: there is a version by a string quartet, one surf music version like a Dick Dale song, and two versions on an organ; one with a street organ and the other on a pipe organ. The only end credits version that made it on the album is a rock, almost metal sounding one with heavy guitars with the name "End Titles – The Theme That Got Left in the Car." Of course, there are many other places where the melody of the waltz can be heard in one form or another. Examples are "Three Card Switch," "Ansaphone," "Ineffable Plan" and "Lawyer With a Box," in which each version sounds very different, but still contains the same basic joyful melody.
In addition to the waltz, there is also a lovely melody sung by a woman in the middle part of the opening titles, and it can be heard on the album a couple more times as well in tracks like "Adam", with the melody done by violins and choir, "Lullaby", played by bells and in "End of This Story", where the melody is used in a different kind of waltz.
The antichrist boy, together with his friends, is accompanied by beautiful melodies performed by an accordion-like sounding instrument, guitars and strings as can be heard in "The Them." The witch Anathema also gets her own theme in "Anathema." Both themes are blended perfectly in the track with the fitting name "Anathema Meets Them," and is a great example of how music can be used to support a meeting between two characters.
While this is a comedy, it also contains darker end-of-the-world and underworld elements. The four horsemen, for example, are accompanied by heavy guitars as can be heard in "Four Horsemen," "Horsemen on the Airfield" and "On Your Bikes." There are also some emotional tracks on the album worth mentioning like the gorgeous violin in "Crucified" that takes me back to David Arnold's beautiful Sherlock music, or the beautiful emotional buildup in "Another Place" with an electronic melody and choir.
The album is quite long with 90 minutes divided over 62 tracks, which makes it difficult to go into full detail about all the different themes and ideas this soundtrack contains. I have probably missed quite a few interesting musical details that needed to be addressed. However, I hope that, with what I have mentioned in this article, it gives a good idea of whether or not this score is worth listening to. The main title is worth mentioning again, since it is an amazing highlight of the album and should be experienced. I have some reservations about the overall length of the album and the number of short tracks. I would have preferred to have some tracks combined. Also, missing out on most of the end credits versions of the waltzes is a bit disappointing, because all of these are delightful. But, these are minor pet peeves. Overall, the score is a fun experience, and listening to it makes me relive this amazing tv show every time.
Listen or buy
Tracklist
The highlights are in bold.
Good Omens Opening Title (2:11)
Chattering Nuns (2:47)
Three Card Switch (2:11)
Warlock (0:29)
Adam (1:16)
Lullaby (1:00)
Hell Hound (1:23)
Wrong Boy (2:51)
We're Doomed (0:31)
End Titles – The Theme That Got Left in the Car (2:03)
Witch (2:18)
Newt (0:46)
Anathema (1:08)
The Them (1:50)
Anathema Meets Them (1:49)
Paintball (1:04)
Anathema Investigates (1:06)
Sleeping Adam (1:21)
I Should Cocoa (2:16)
Crucified (1:57)
The Black Knight (1:12)
The Globe (0:30)
St.James Park (0:56)
Holy Water (1:10)
Adam and Dog (1:00)
We're Not Killing Anybody (1:29)
Atlantis (1:14)
Gabriel (0:44)
Bad Angel Michael (1:39)
Delivery for Pollution (1:46)
Message for Mr Death (0:57)
Aliens! (1:36)
Ambassador Arrives (0:36)
Ansaphone (0:37)
Adam Ascending (1:09)
Shadwell Breaks In (1:16)
Bookshops On Fire (1:20)
Is That You? (1:52)
Four Horsemen (0:32)
Thundergun (0:56)
Adams Changed (1:01)
Horsemen to the Airfield (1:53)
On Your Bikes (1:08)
Requiem for a Bentley (1:53)
The Gathering (0:52)
Despatch the Horsemen (2:11)
Computers Down (1:00)
End of This Story (1:26)
Ineffable Plan (1:26)
They've Told His Father (1:28)
Another Place (1:23)
Life After Death (1:22)
Adams Bedroom (1:22)
Restoration (1:04)
Newt and Anathema Wake Up (1:35)
Hell and Holy Water (2:20)
Lawyer With a Box (2:38)
Shadwell and Tracy (1:00)
Together (1:15)
All's Well that Ends (1:22)
All Change (1:21)
A Nightingale Sang In Berkeley Square (performed by Tori Amos) (3:00)
Total length: 1 hour and 29 minutes
Silva Screen Records (2019)