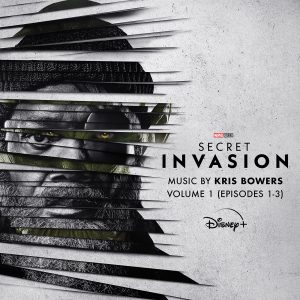 Disney owns many franchises, including Star Wars and most of the Marvel superheroes. Since the launch of their own streaming service, Disney+, they have been increasing their output for these franchises significantly with TV shows. The latest show in the Marvel Cinematic Universe (MCU) is Secret Invasion, in which hero Nick Fury has to stop evil Skrull aliens from secretly invading our planet. The so-called Marvel Fatigue, which means that people are getting tired of watching so much MCU content, is also starting to affect me. I try to watch every show, but the need to do so starts to wear off. One of the reasons to keep returning is the introduction of a new composer to the MCU, as is the case for Secret Invasion, with the music composed by Kris Bowers.
As with many soundtrack releases for Disney+ shows, the soundtrack is divided over multiple albums. This is also the case with Secret Invasion, with Volume 1 containing music from the first three episodes and Volume 2 from the final three. What stands out immediately in the music for this show is its main theme, which can be heard in full in "Nick Fury (Main Title Theme)." It is an orchestral piece with long melody lines, which kept repeating in my head long after finishing listening to the score. This is always a sign of a great theme to me. The theme also fits Nick Fury very well, as he is not really a superhero, but a regular human being who is able to stand on his own. His Skrull adversary has a darker-sounding theme with a more straightforward melody, which can be heard in "Gravik." The last theme I think is worth mentioning is for the Skrull girl Gi'ah. The best version of her theme can be heard in "Super Skrulls," in which it blends well together with the Gravik theme.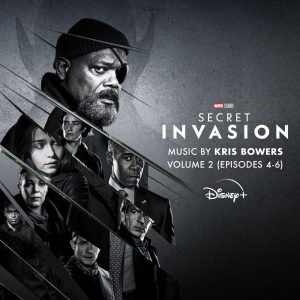 The themes fit perfectly into the mostly orchestral score for Secret Invasion, together with some additional synthetic sounds. Bowers uses the orchestra very well to support the majority of scenes in the show. Not only do the emotional scenes involving love or loss have gorgeous orchestral melody lines, but the orchestra also has a vital role in the action sequences with the use of fast-paced musical patterns.
Overall I think that the score for Secret Invasion is very well executed. The music is more down-to-earth, which is not typical for a show in the MCU, but it perfectly fits Nick Fury as a hero. The total length of both albums is one hour and 40 minutes, so I do not really see why two volumes were necessary, which have to be bought separately. I have listened to many scores that were longer than that as a single release. Also, not all the tracks are for a perfect listening experience because they are meant more for the corresponding scene than your ear. If these tracks were not added to the albums, you could have had a single soundtrack release that would have even been better than Bowers already did for Secret Invasion. It is a solid introduction from him to the MCU.
Listen or buy
Tracklist
The highlights are in bold.
Volume 1 (Episodes 1-3)
Nick Fury (Main Title Theme) (2:03)
He's One of Them (3:02)
Stolen Identity (2:02)
Moscow Madness (4:40)
Child Survivor (3:39)
The Promise (3:19)
They're All Spies (4:16)
Sonya (2:27)
A Need for Vengeance (4:08)
Shootout (2:34)
I Choose Blood (5:34)
Blown Cover (9:24)
Total length: 47 minutes
Volume 2 (Episodes 4-6)
Gravik (1:42)
Ambush (7:01)
Beloved (3:00)
Be Your Enemy (4:47)
Operatives Assembly (3:48)
Hello Skrulls (2:46)
Nothing But a Monster (2:11)
The Harvest (3:56)
Funeral Pyre (1:34)
House Ambush (1:38)
This Is Personal (4:04)
The Last Stand (3:21)
Leave Earth Alone (3:33)
Super Skrulls (5:20)
Come with Me (3:16)
Take Off (2:06)
Total length: 54 minutes
Hollywood Records (2023)