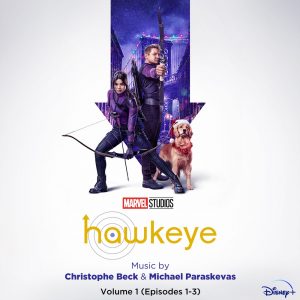 Whenever a superhero is introduced in a movie or TV show, he – or she – gets their own theme most of the time. However the hero Clint Barton, also known as Hawkeye, was introduced way back in Avengers in 2012 and has been in many movies ever since, he never received a full-fledged theme. It took a decade for him to get one, which was introduced in the music for his own Disney+ TV show, Hawkeye, by Christophe Beck and Michael Paraskevas. Beck is a familiar name to me, I had the honor of interviewing him in 2018, and he has written many soundtracks that I know, like Frozen, Ant-Man and recently the Disney+ show WandaVision. In contrast, Paraskevas is a new name to me, and, after looking at his IMDb page, he has apparently worked closely with Beck in the past, including writing additional music. As is becoming a tradition with Disney+ series, the music for Hawkeye has been divided over multiple digital soundtrack albums, on which you can find the music for the show divided in half over two volumes.
Hawkeye is about the archer and superhero Hawkeye, continuing his story from the movies, in which he tries to help fellow archer Kate Bishop in the final days before Christmas, but where he also has to deal with his dark past. The story turns dark in some places, but the series also includes many less serious and heroic moments, which are all reflected in orchestral music with some additional instruments.
Not only does Hawkeye receive his own theme, as can be heard in "Hawkeye's Theme," more themes can be found in the music, including a wonderfully simple but elegant theme for Kate. Her theme can be heard very well in "2012" among others, in which you can find the melody in bell-like sounds. The themes for both archers appear many times in the music. The highlight of the themes can be found in "Give 'Em Hell," in which both themes are performed by the French Horns, until at the two-minute mark both themes are blended as one.
If you are familiar with Beck's work for Ant-Man, you know that he is able to write superb and fun heist music, which also perfectly fits this series. The music for Hawkeye also contains these joyful melodies, including the signature instrument for the heist sound: the bongos. More silliness can be found by integrating popular Christmas songs into the music, with Tchaikovsky's Nutcracker in "A Christmas Peril," and a wonderful version of "Carol of the Bells" can be heard in the "Carol of the Buy & Sells."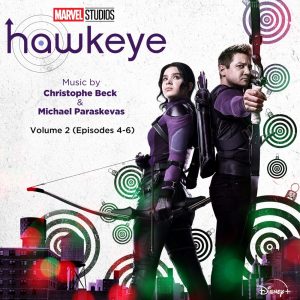 Christmas music was not the only existing music that was reused in the show. More amazing integrations of existing musical cues can be found. When I started to hear music from other Marvel movies at perfect moments in the show, it made my film music enthusiast heart beat faster. Halfway in "Dustup on a Housetop," you can listen to a gorgeous version of Alan Silvestri's "Not Good" from Avengers: Endgame, which can be heard again at the start of "No Words." This is not limited to music from previous Avengers movies, also Lorne Balfe's music from Black Widow has a prominent role. Natasha's theme can be heard a handful of times, including an emotional version in "Natasha." In the same track you can also discover Yelena's lament – also originally composed by Balfe – which appears in different places, including "Arrival and Return."
Before I start my conclusion for this review, I need to say a quick word about the finale of the soundtrack, which is the musical song "Save The City," created by Marc Shaiman and Scott Wittman. It is a wonderful parody of the Avengers story in the form of a song from a musical. While apparently many people hated it as being the post-credits scene, I thought it was rather funny. 
It is always a wonderful thing to see a new composer, who has worked in the shadows for a while, getting credits on a score. Christophe Beck and Michael Paraskevas have created a wonderful musical story. I hope more people will pick up on the idea of reusing existing themes for characters within the same universe. Not only was the perfect integration of existing music a treat, their original material was also a solid fit for the scenes. It was silly where it needed to be and emotional or heroic in other moments. I think that the music for Hawkeye is a wonderful addition to the Marvel universe, and hopefully we can hear more from both composers for this franchise in the future.
Listen or buy
Tracklist
The highlights are in bold.
Episodes 1-3
Hawkeye's Theme (1:48)
Clock Tower Mishap (1:56)
Battle of New York (3:49)
Carol of the Buy & Sells (3:17)
Ronin (1:52)
Sincerity (1:28)
Action at the Auction (3:59)
2012 (2:50)
In Like Clint (2:06)
Molotov Mazeltov (2:01)
Discovery (2:59)
Bows of Holly (0:51)
LARP in the Park (2:31)
Mistletoe to Toe (2:42)
It's Beginning to Look a Lot Like Clint's Mess (2:46)
Maya's Theme (4:10)
Sorry Santa (3:36)
Do You Hear What I Fear? (2:13)
Little Dragon (1:46)
Fighting Over Toys (3:20)
Total length: 52 minutes
Episodes 4-6
Dustup on a Housetop (4:22)
No Words (3:57)
Barton Funk (2:08)
Arrival and Return (3:00)
Tiny Bow (2:55)
Yuletide Fray (4:45)
Bone & Marrow (1:22)
A Christmas Peril (4:07)
Wreck the Halls (4:08)
Star of Wonder (1:50)
Ruckus Around the Christmas Tree (1:57)
Give 'Em Hell (3:02)
I'm Sorry (2:02)
Archer Enemies (2:27)
Natasha (3:20)
Lady Hawk (1:43)
Quiver Bells (1:55)
Save The City (by Marc Shaiman & Scott Wittman) (4:26)
Total length: 53 minutes
Hollywood Records (2021)