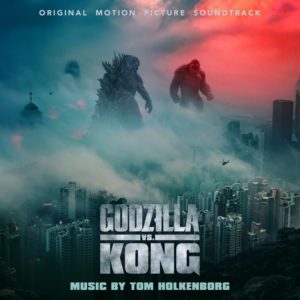 Apparently, Tom Holkenborg has been quite busy during the pandemic. I have already reviewed White Lines back in June 2020, and only a month ago I took a closer look at his music for the highly anticipated movie Justice League. That last movie is not the only high-profile movie Holkenborg has written the music for recently though, so now it is time to take a look at what Holkenborg has created for Godzilla vs. Kong.
Godzilla vs. Kong, part of the big monster franchise with the movies Godzilla, Kong: Skull Island, and Godzilla: King of the Monsters as prequels, was highly anticipated. Fans were anxious to see which of the two big monsters, Godzilla or King Kong, would be the winner of this fight. Holkenborg was responsible for writing the music for that epic confrontation, and since Kong and Godzilla movies have been made since the '50s with a lot of memorable music, it was quite interesting for me to look at Holkenborg's approach.
The themes for Godzilla vs. Kong can be heard in the first two tracks, with each track containing the theme for one monster. In "Pensacola, Florida (Godzilla Theme)" you can hear how Holkenborg transforms the couple of notes from the famous opening statement from the original Godzilla theme into his own version. With only a few notes, he gives the theme its power by enhancing and manipulating the recorded orchestra music to a denser, and bigger sound.
While the track for Godzilla is only about two minutes long, the track for Kong, "Skull Island (Kong Theme)," is five minutes longer. In it, you can hear the theme for the gigantic ape, starting with a big-sounding orchestral piece, followed by a more emotional and delicate part in the middle, in which the theme is performed on a recorder, transitioning into a percussion part, reflecting the monster's love for the jungle, and ending with a big orchestral finale.
In the other tracks on the album, you can hear the two themes integrated into a lot of action music with heavily processed orchestral sounds, percussion and electronics, and if you have read my Justice League review, you know that this is not my kind of sound. If you listen to the melodies of both themes you can hear that they are not overly complex, but that the extra sound enhancements given to them make them the big-sounding pieces, which the Holkenborg fans adore. I am convinced that there is another way to make enhancements to the themes by using the full capability of an orchestra, with the support of some additional instruments and subtle electronic elements. This approach would have given the monsters a bit more soul to represent the animal and even human-like features they both portray. The soundtracks of the prequels went more into that direction, making the music for Godzilla vs. Kong the weakest soundtrack in the series for me.
Listen or buy
Tracklist
The highlights are in bold.
Pensacola, Florida (Godzilla Theme) (2:19)
Skull Island (Kong Theme) (7:25)
Apex Cybernetics (2:01)
A New Language (2:28)
Just Now (1:49)
Tasman Sea (9:29)
Through There (1:24)
Antarctica (2:35)
Hollow Earth (3:47)
The Throne (2:10)
Lunch (1:58)
Nuclear Blast (3:58)
The Royal Axe (4:47)
Mega (7:38)
Hong Kong (13:13)
Total length: 1 hour and 7 minutes
WaterTower Music (2021)