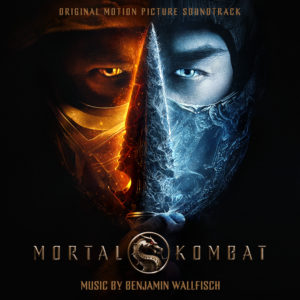 Blockbuster movies are finally starting to come out in movie theaters again, at least in countries where the coronavirus is starting to come under control through rules and vaccinations. In the Netherlands the theaters are still closed, but luckily the movie Mortal Kombat, for which Benjamin Wallfisch has composed the music, is also available on digital platforms. I was quite curious about this movie. It is based on a fighting game from the '90s, which I played as a young teen. New versions of the game are still released, with Mortal Kombat 11 being the most recent. The games are quite famous for their gruesome visualizations when an opponent is brutally murdered after losing the fight.
Mortal Kombat is not the first movie, which has been based on the video game with the same name. Two movies have come out already in the '90s with the okay movie Mortal Kombat (1995) and the terrible sequel Mortal Kombat: Annihilation (1997). I thankfully lost all my memories about the second movie, but I fondly remember some of the music from the first one, and, weirdly enough, I am not talking about the score, which was written by George S. Clinton, but about certain tracks that are used in the movie with the Orbital's "Halcyon + On + On," Traci Lords "Control" and, of course, "Techno Syndrome" by The Immortals.
"Techno Syndrome" is a typical dance track from the '90s and, as it is what people remember the most about Mortal Kombat (1995), it is considered the main theme. What I love about the new Mortal Kombat movie is that Wallfisch has created his own modern take on it in "Techno Syndrome 2021 (Mortal Kombat)." It is also a dance track, but in the style of current dance tracks, and if you listen closely to the main theme in "Lord Raiden," you can hear the melody of the original "Techno Syndrome" track as the foundation for the new theme's melody.
As far as I can tell, Wallfisch has written a lot of music as support for the scenes. There are some melodic cues to be found, as can be heard in "Hanzo Hasashi," "Lui Kang" and "Birthmark," but most of the music is action-driven, containing many musical patterns with orchestral and synth elements, supported by a lot of percussion, and sometimes you can hear a hint to the original or new theme. While these pieces work well in the movie, I do not find them very interesting to listen to them on their own.
What I love the most about the score are the nods to the music for Mortal Kombat (1995), which I think is a beautiful concept, since Mortal Kombat is not a sequel but a reboot. While there are many tracks on the score that I don't particularly care for, there are also some wonderful orchestral pieces on the album, including a simple but very memorable new main theme.
Listen or buy
Tracklist
The highlights are in bold.
Techno Syndrome 2021 (Mortal Kombat) (3:06)
Hanzo Hasashi (7:14)
Lord Raiden (2:24)
Bi-Han (2:42)
Shang Tsung (1:37)
Cole Young (1:41)
Birthmark (2:46)
Sonya Blade (4:22)
Kano v Reptile (2:59)
Liu Kang (5:59)
The Great Protector (2:27)
Sub-Zero (3:01)
Kung Lao (3:13)
Origins (3:08)
Kabal (2:59)
Goro (2:57)
Arcana (3:58)
Jax Briggs (2:34)
The Void (4:12)
The Tournament (5:00)
Sub-Zero v Cole Young (1:18)
I Am Scorpion (3:15)
We Fight as One (2:49)
Get Over Here (3:56)
Total length: 1 hour and 19 minutes
WaterTower Music (2021)