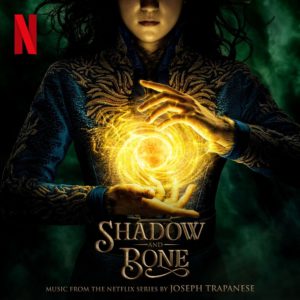 Shadow and Bone is one of the latest television shows produced and released by Netflix. Based on a popular series of fantasy novels by Leigh Bardugo, the series stands on a solid foundation. The world of Shadow and Bone is quite rich, with all kinds of different cultures, mages with powers, and a dark and dangerous void, filled with horrible monsters, that splits their world into two parts. One of the challenges that comes with such a vibrant fantasy world is to write fitting music, and that task was assigned to Joseph Trapanese.
In case you have not heard of Trapanese, he has been composing for film and TV for a while. One of his first movies was TRON: Legacy, for which Trapanese played a major role in assisting Daft Punk in creating their superb score for the movie, kick-starting his career. Afterwards, he wrote some wonderful scores by himself, with his music for TRON: Uprising and the last two Divergent movies being my favorites. As such I was quite curious what he would write for this fantasy world.
When I was listening to the score, in combination with watching the series on Netflix, I could hear that Trapanese has incorporated many thematic ideas into an orchestral score, with four themes standing out. The first one is written for the protagonist Alina Starkov, a young woman who has recently discovered her tremendous latent powers. Her theme focuses on four notes, which when you read it like this, does not necessarily say a lot, but these notes can be found everywhere on the score. Each time you hear them, they are full of emotion and are surrounded by other gorgeous melodies. "Court Demonstration" and "Her Name is Alina Starkov" are outstanding buildup tracks that introduce her theme extremely well, and in "Erase the Past" you can hear a wonderful expanded version of the theme.
The second theme is meant for Alina's love interest Mal, and can be seen as the love theme. A gorgeous version can be heard halfway through "True North", where it surrounds Alina's theme. Like Alina's theme it is an elegant melody, which can be heard multiple times in all kinds of different variations and instrumentations.
For a proper protagonist there should also be an antagonist, and he should of course have his own theme. The album even starts with his theme, a sinister-sounding melody performed by the lower strings, in "Ravka." "Ask the Saints" starts with his theme as well, and after a while the melody is performed by a single cello, giving it a bit more of a personal vibe. The same vibe can be found in "The Heretic," in which the theme is performed by a single violin.
The last theme, I would like to mention, is quite different. It represents a bunch of mercenaries, who are on a job and as such the theme is perfect for a heist movie. You can hear it in "Royal Archives Heist," with a fast but playful pattern performed by the low strings. "Just Ask" starts with the same melody, but performed on a harp this time, which makes the music sound familiar yet different before it transitions into some wonderful fast string play. This part with the mercenaries is based on a different book series by Leigh Bardugo, set in the same universe, and it sounds a bit alien from the rest of the themes, but that keeps the score interesting and fresh.
All these highlighted themes, together with some others that I did not mention, have been wonderfully integrated into a marvelous orchestral score. Particularly Alina's theme is used in the music extremely well. The four notes keep appearing and have been masterfully integrated into the rest of the music. The series itself was quite an interesting watch. It is an extraordinary and interesting world, and the story is also dark in some places, and it is definitely not a fairy tale. You can hear in the music that Joseph Trapanese was inspired by this world, because his music is a perfect fit for the show and pleasant to listen to on its own.
Listen or buy
Tracklist
The highlights are in bold.
Ravka (3:45)
Ask the Saints (6:32)
Court Demonstration (3:09)
True North (6:21)
Royal Archives Heist (4:09)
Face the Truth (4:42)
Erase the Past (2:19)
Memories (8:30)
Hope for the Future (2:10)
Her Name Is Alina Starkov (2:57)
The Heretic (5:04)
Just Ask (5:32)
Shipwrecked (2:32)
A Message (5:46)
Helpful Goat (7:24)
Fight for the Light (5:41)
Five Markers (4:06)
Strike Now (6:12)
Follow (7:29)
Total length: 1 hour and 34 minutes
Maisie Music Publishing, LLC (2021)