"Battlestar Galactica Live"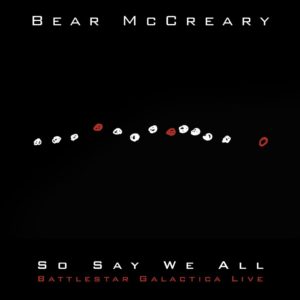 Frequent visitors to this site know that its content can be divided into two major categories. The first and biggest one contains soundtrack reviews and the second one comprises my concert reports. This review is special, because it is a bit of both. When reading my reviews regularly you probably know that I am fond of Bear McCreary's music. That began with his big breakthrough with the music for Battlestar Galactica, a highly successful TV show that aired from 2004 to 2009 and was a remake of the series with the same name from the late '70s.
During the time he was working on the show, he collaborated with many musicians, some of them friends and family, including his wife Raya Yarbrough and his brother Brendan, but also well-known musicians like Tina Guo on cello and M.B. Gordy on percussion. Apparently, they worked so well together that it was quite natural for them to go on tour to perform the music from Battlestar Galactica. Now, more than a decade later, McCreary has gone through the effort to remaster the music from these concerts and to make it available as a brand new album with the title So Say We All: Battlestar Galactica Live.
While the music for Battlestar Galactica has orchestral elements, the concerts were done by a smaller group of musicians, using guitars, ethnic flutes, violins, cello and a lot of percussion, including taiko drums – the signature instrument for the Battlestar Galactica music – and Bear McCreary himself on the keys. On the album you can listen to their interpretation of the original score. All the musical highlights of the show can be heard, including "Prelude to War," "All Along the Watchtower," with a prelude on piano by actress Katee Sackhoff, and my two favorite tracks from the show: "Apocalypse" and "Colonial Anthem / Black Market."
I have seen bits and pieces of these concerts in unofficial YouTube videos and I am quite happy with this official release. What I like about this album is that it does not only present the highlights of four seasons of excellent music, but, as a live recording, it also contains the raw emotions of the performing musicians themselves, which is one of the reasons I like live music so much. Hopefully this album will be successful. Maybe McCreary will do more of these concerts in the future, which I would love to attend. If you are not familiar with McCreary's superb music for Battlestar Galactica, give this album a listen, and if you like it, McCreary has more excellent news for you: Along with this concert album, remastered versions of the original soundtracks from the series have also been released.
Listen or buy
Tracklist
The highlights are in bold.
Distant Sadness (3:59)
Prelude to War (8:10)
Baltar's Dream (6:02)
Roslin and Adama (2:59)
Apocalypse (5:34)
Fight Night (4:03)
Something Dark Is Coming (6:16)
Wander My Friends (5:42)
Lords of Kobol (3:55)
Storming New Caprica (8:02)
Heeding the Call (2:44)
All Along the Watchtower (4:21)
Colonial Anthem / Black Market (7:29)
Total length: 1 hour and 9 minutes
Sparks & Shadows (2021)