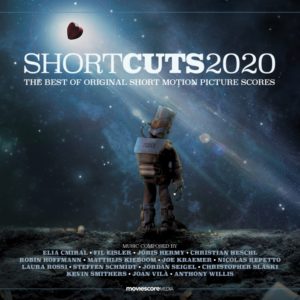 Soundtrack albums can be found for all kinds of music written for media. It started, of course, with film music, but nowadays you can find many albums with music for television and video games as well. For these kinds of media there is often enough music to make an interesting selection for an album, but this can be a problem for short movies, since even when there is music from start to finish, there is not enough material to fill a regular length album. Record label MovieScore Media found a solution to this by producing an annual compilation album, Short Cuts, containing a selection of wonderful music composed for shorts from that year. When I saw the tracklist for their latest album, Short Cuts 2020, I noticed that it contained a lot of music from composers that I know, which is a good reason for me to have a closer look at each track.
The first, and longest, track on the album is "Cosmic Fling" by Jordan Seigel. The track starts off uplifting, with a delightful melody performed by a whistler, supported by some strings and an acoustic guitar. It transitions into a beautiful waltz performed by a piano, supported by rapid notes by a flute. The rest of the suite is a continuation of these melodies, resulting in a joyful start to the album. The next track is "The Cloudmaker," which is written by my dear friend Matthijs Kieboom. I am quite familiar with his music, and I am not that surprised that he wrote a gorgeous orchestral piece, supported by acoustic guitars and containing wonderful long lines performed by the strings.
When I was listening to "Camaleón" by Christopher Slaski, I could definitely hear Ennio Morricone's influences, since the music has similarities with his material from the '70s. It contains a wonderful solo for a trumpet, supported by all kinds of different instruments like a flute, bassoon, piano, female voice and bass guitar. The music in "Bound," written by Nicolas Repetto, is more eerie because the strings play mysterious-sounding lines and patterns in it. The next track "Girl Tuesday" is quite a contrast, as Laura Rossi has written an elegant piece, mainly performed on the piano with some additional instruments. "A Father's Job" by Robin Hoffman is one of the shorter tracks on the album, containing a beautiful piece performed by a string ensemble, creating a wonderful atmosphere of tranquility.
I had not heard about Fil Eisler before I wrote my review of his music for Thunder Force, but I have been introduced to another piece of his music through the track "The Last Starship." The music is meant to set a mysterious atmosphere using synth elements and an acoustic guitar. In "Solution for Sadness" by Joan Vila, the main focus lies on the piano, with the support of strings and harp. You can hear some sadness in the music, but in some parts it is uplifting as well.
While I have briefly spoken to Joris Hermy when we were sitting next to each other at the James Newton Howard concert in Antwerp, I had never heard his music before I listened to "Le Petit Contrat." It is a beautiful piece with a mysterious start until it transitions into a faster-paced middle part and ends with a solid musical conclusion. One of the bigger names on the album must be Joe Kraemer with Mission Impossible: Rogue Nation as his best known score. His contribution to the album,"Sclera Absentia," is focused on providing context to the images of the short with many tense moments. On its own, the music is not that interesting to listen to.
In "The Beast" by Kevin Smithers, you can hear a collaboration between a full orchestra, with extra percussion, and some Spanish guitars, creating a wonderful balance between epic orchestral moments and the romantic melodies by these guitars. "Boat Boy" is written by Anthony Willis, whose name I have heard a lot recently. He is said to be an excellent composer, and I can see why, since this track is a gorgeous collaboration between a piano and strings, creating a wonderful and emotional-sounding cue.
"Endless Beauty," which is written by Christian Heschl, is a beautiful orchestral piece building on a simple melody. The next track, Elia Cmiral's "Altered Mind of 20-20," makes for quite a contrast with the previous one, because it contains static and erratic patterns performed by a string ensemble, and does not really contain any melodies. The last track is "Javelina Run" by Steffen Schmidt, a piano track that must be very heavily influenced by Joplin's "The Entertainer," and it is a joyful finale of this compilation album.
Overall, the album contains a wide range of music and each piece is very interesting to listen to in its own way. I am quite happy that MovieScore Media provides a platform for these composers to shine with their short movie compositions. I love soundtracks in general, and, since they can be written for all kinds of media, including short movies, these Short Cuts albums are a fantastic way to explore some of these highlights.
Listen or buy
Tracklist
The highlights are in bold.
"Cosmic Fling" – Jordan Seigel (8:47)
"The Cloudmaker" – Matthijs Kieboom (4:06)
"Camaleón" – Christopher Slaski (5:26)
"Bound" – Nicolas Repetto (3:40)
"Girl Tuesday" – Laura Rossi (5:17)
"A Father's Job" – Robin Hoffmann (2:44)
"The Last Starship" – Fil Eisler (6:34)
"Solution for Sadness" – Joan Vilà (4:27)
"Le Petit Contrat" -Joris Hermy (3:23)
"Sclera Absentia"- Joe Kraemer (6:03)
"The Beast" – Kevin Smithers (2:48)
"Boat Boy" – Anthony Willis (2:52)
"Endless Beauty" – Christian Heschl (3:19)
"Altered Mind of 20-20 – Elia Cmiral (8:06)
"Javelina Run" – Steffen Schmidt (2:59)
Total length: 1 hour and 10 minutes
MovieScore Media (2021)