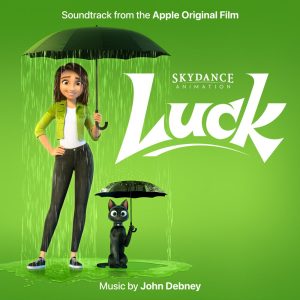 John Debney is a composer who has been writing for film and television for many years. He has written many scores, including the music for Jungle Book and the television show The Orville in recent years. His latest soundtrack is the music he wrote for the Apple animated movie Luck. Since he has been a well-established film composer for many decades, and I have never reviewed any of his music, it was time for me to have a look.
Luck is a movie about the young adult Samantha, who has always been unlucky her whole life until she accidentally lands in the magical world of Luck together with the cat Bob. The movie is mainly meant for children, and the music reflects that gorgeously as it can help the young audience into the right mood for each scene. To achieve the task of getting those emotions out, Debney went for a purely orchestral score with gorgeous and mostly uplifting melodies. Since the movie has elements of Irish folklore, some Irish instruments are also integrated into some parts of the score.
Another approach to musically supporting a story is by developing recognizable themes that are integrated into many spots in the soundtrack in various variations. Two of these themes stand out with their joyful melodies. The first theme is the Luck theme. In "Land of Luck," the theme is present in its most orchestral glory. The second theme I would like to mention is the music for Sam. In "Samantha's Theme," you can listen to a beautiful version of it, performed on the piano before the orchestra takes over.
What I love about the music for Luck is its delightfulness. There are some darker moments in the movie, but they are never genuinely harmful in a musical way; it is a children's movie, after all. The music for Luck is an excellent score from start to finish and should lift your spirits when you are listening to it.
Listen or buy
Tracklist
The highlights are in bold.
Samantha's Theme (2:08)
Sam and Hazel (0:51)
Good Luck All Day Long (3:22)
Unlucky Day (2:13)
Bob the Cat (1:44)
A Great Job (0:27)
A Penny Lost (1:13)
Chasing a Cat (2:51)
Sam Meets Bob (1:54)
Land of Luck (2:47)
Hazmat Bunnies (2:16)
Making Good Luck (2:05)
Good Morning (1:56)
Randomizer (2:24)
I Got This (0:47)
Bunny Drone Activation (1:17)
Lucky Star (1:16)
A Lift in Between (4:35)
Anything is Possible (2:19)
Bad Luck in Between (2:20)
Bad Luck, Bad Cat (2:45)
She Has You (2:47)
Meet Rootie (2:03)
With These Two Stones (2:51)
Bad Luck is Good / Fixing the Randomizer (5:04)
A Forever Family (3:28)
One Year Later (2:44)
Luck Theme (1:54)
Luck Teaser (1:15)
The Penny Depot (1:42)
Total length: 1 hour and 7 minutes
Milan (2022)