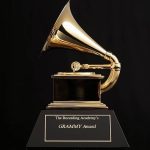 On Feb 5, 2023, one of the most prestigious music awards, the GRAMMY Awards, have been announced. In the many categories, they also include some awards in the media category, including a new one for video games. Here you can find the list of nominees with the winner marked in bold.
Best Score Soundtrack For Visual Media (Includes Film And Television)
The Batman – Michael Giacchino
Encanto – Germaine Franco
No Time To Die – Hans Zimmer
The Power Of The Dog – Jonny Greenwood
Succession: Season 3 – Nicholas Britell
Best Score Soundtrack for Video Games and Other Interactive Media
Aliens: Fireteam Elite — Austin Wintory
Assassin's Creed Valhalla: Dawn of Ragnarök — Stephanie Economou
Call of Duty: Vanguard — Bear McCreary
Marvel's Guardians of the Galaxy — Richard Jacques
Old World — Christopher Tin
Best Song Written for Visual Media
"Be Alive" [from "King Richard"] — Beyoncé & Darius Scott Dixson
"Carolina" [from "Where the Crawdads Sing"] — Taylor Swift
"Hold My Hand" [from "Top Gun: Maverick"] — Bloodpop & Stefani Germanotta
"Keep Rising (The Woman King)" [from "The Woman King"] — Angélique Kidjo, Jeremy Lutito & Jessy Wilson
"Nobody Like U" [from "Turning Red"] — Billie Eilish & Finneas O'Connell
"We Don't Talk About Bruno" [from "Encanto"] — Lin-Manuel Miranda
Best Compilation Soundtrack For Visual Media
Elvis – (Various Artists)
Encanto – (Various Artists)
Stranger Things: Soundtrack from the Netflix Series, Season 4 (Vol 2) – (Various Artists)
Top Gun: Maverick – Harold Faltermeyer, Lady Gaga, Hans Zimmer & Lorne Balfe
West Side Story – (Various Artists)
Congratulations to the winners!