With the launch of The Mandalorian as the first live-action Star Wars TV show on Disney+, the popularity of Star Wars TV shows grew dramatically. For people like me, it was more of a continuation of what was already there since I had been following Star Wars on TV since 2008. The only difference was that shows like Star Wars: The Clone Wars and Star Wars: Rebels were animated, making them perfect for telling a great story in gorgeous worlds on a smaller budget. While the shows were children-friendly, the story was surprisingly well-fleshed out and suited for all ages by not only giving existing characters like Anakin Skywalker, Yoda and Obi-Wan Kenobi more background story, but also introducing new characters, like Anakin Skywalker's Padawan, Ahsoka Tano, for example. I have seen Ahsoka grow from becoming an adult in The Clone Wars, getting her famous white twin lightsabers by reading the book Ahsoka, to being a leader of the rebellion in Rebels. Her story continued in Ahsoka, the most recent live-action series in the Star Wars universe.
Many characters from the Rebels animation make their appearance in the new show, portrayed by different actors for these roles, like Rosario Dawson playing Ahsoka and Mary Elizabeth Winstead as Hera. What also excites me is that a voice actor in the animation, Lars Mikkelsen, is allowed to play the live-action counterpart of Grand Admiral Thrawn, who is considered one of the most evil persons in the Star Wars universe next to Darth Vader and the Emperor. Another significant person who was allowed to return to Ahsoka, after working so long on both The Clone Wars and Rebels, is composer Kevin Kiner. While he is credited as the sole composer on this project, it is not a secret that he had a lot of help from his children, Sean Kiner and Deana Kiner.
As with many releases for Disney+ shows, most of the music played in the show is released in multiple volumes, with more than five hours of music divided over two volumes for Ahsoka. When there is so much music to be explored, I look at the music in a broader sense instead of getting into the details of each track. You can clearly hear that Kiner had more to work with for Ahsoka than he did for the animated shows. Not only can you listen to lots of orchestral music, but there are also many other instruments and artificial sounds to be heard. The Kiners said in an interview that they had more time to flesh out the music than they had with the animations, and I can hear that is the case. Not only by choosing the right sounds for the right moment but also by integrating the many themes into the score.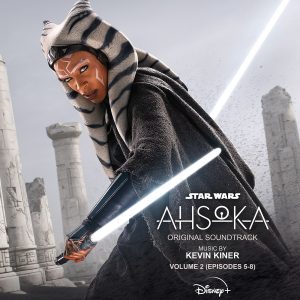 These themes are why I wanted to write about this score. Many characters and ideas have their theme, and what I like the most about them is their legacy. There are new themes to be found, like the theme for Lord Baylan in "Master and Apprentice," for example, by piano and orchestra, but many themes are much older than that, because these themes originate from the animated predecessors. The most glorious example is the "Ahsoka – End Credits," which starts with the newly created Ronin theme for the series, with a very recognizable rhythm on the low strings. The first theme afterwards is a wonderful version of Sabine's theme before it transitions to a majestic rendition of the Ahsoka theme, a theme that was created more than 15 years ago. After hearing this excellent version of her theme that showcases how much more experienced and powerful she has become, we can listen to a gorgeous version of Hera's theme.
Two other existing themes are definitely worth mentioning. One is for Ezra Bridger, which gets its full melodic treatment in "It Worked, Didn't It?" beautifully performed by the French Horns. The other theme is for Grand Admiral Thrawn, with a big emphasis on the pipe organ to enhance his evilness, as can be heard in "Grand Admiral Thrawn" and "Thrawn's Arrival."
As I said, there is a lot of music to go through, and many tracks on both volumes work perfectly for the show, but they lose some of their strengths without their corresponding images. These two volumes are perfect for someone who really likes to dissect each track to find all the themes. I love a more curated, shorter list with the highlights from the series, since there are quite a few tracks on both volumes that are wonderful on their own. While the amount of music is too much for me, Kevin Kiner and his children have established a rich world of music and themes for the show, perfectly fitting the continuation of the animations into live-action in a more grown-up fashion. I am glad that Kiner was allowed to write the music for Ahsoka since he is so tightly connected to her story, and I would like to hear more in the future.
Listen or buy
Tracklist
The highlights are in bold.
Volume 1 (Episodes 1-4)
The Update (4:49)
Master and Apprentice (2:19)
The Map (5:17)
Assassin Ambush (2:36)
The New Republic (4:55)
Where Is Sabine? (1:35)
Igyah Kah (2:50)
Ezra's Recording (2:24)
Witch Ruins (2:35)
Should Have Been a Good Jedi (5:42)
Like So Many Jedi (2:37)
Studying the Orb (4:25)
Ahsoka and Hera (2:00)
Shin and Sabine (4:19)
Ahsoka – End Credits (3:43)
Secrets of the Map (1:24)
Done Enough (1:15)
Opening the Map (2:09)
Searching the Room (2:30)
Bypass (2:57)
Morgan and Baylan (4:41)
Corellian Shipyard (6:05)
Loyalists (1:33)
Sabine's Armor (5:45)
The Eye (2:02)
Enemies Are Multiplying (1:26)
More Than Just Your Eyes (3:43)
Briefing the Senators (3:13)
Not Gifted (2:24)
You Don't Know That (5:35)
I Shall Deal with Them (3:05)
Stepping Out (2:13)
The Whale Pod (3:20)
Hunt Them Down (2:01)
Not the Time for a Lesson (1:00)
Can I Count on You? (3:17)
Move In (2:55)
Huyang Cuts the Power (1:31)
Watch Me (2:18)
Meet Up with Baylan (2:22)
Fight in the Woods (3:52)
Ahsoka and Baylan (4:05)
Do It (3:11)
Can't Follow Us (5:23)
Something Familiar (0:54)
Igyah Kah (demo) (2:40)
Total length: 2 hours and 23 minutes
Volume 2 (Episodes 5-8)
Death and Destruction (1:48)
Searching (4:10)
A Chance (1:37)
I Can Feel It (3:42)
From the Mist (2:34)
Teaching You How to Lead (4:15)
Searching for the Shoreline (1:05)
You're a Warrior Now (3:59)
Floating (4:12)
Awakening (2:16)
Listening to the Force (3:08)
The Space Whales (4:49)
Communing (1:47)
The Hyperspace Jump (3:12)
Loyalists (Extended Version) (5:17)
Prepare for the Worst (1:11)
Far, Far Away (0:34)
To the Surface (4:56)
Something Wicked (3:30)
Baylan's Plans (3:15)
Grand Admiral Thrawn (5:52)
Sabine Rides Off (2:24)
Stranded or Killed (2:14)
Coward (2:12)
That's a Rock (2:46)
I See Bandits (2:39)
It Worked, Didn't It? (4:29)
Another Is Coming (1:55)
Thrawn's Arrival (3:47)
Primary Objective (1:36)
Senate Hearing (1:41)
Don't Be Afraid (2:14)
Field of Bones (5:50)
Getting Home (3:18)
They're All Connected (1:44)
On Her Own (3:17)
Circle Up (2:31)
Not This Again (2:45)
Baylan's Decision (3:16)
What I See (3:37)
Clearly I Was Wrong (2:47)
It's Complicated (1:27)
Never Again (5:27)
I Have a System (3:14)
I'll Be There for You (2:22)
Only If We Let It (1:41)
Prepare (1:27)
Rain Hellfire (2:47)
This Is New (2:02)
I Understand (1:37)
I'll Handle This (2:08)
Use the Force (2:03)
What Was Required (2:45)
Open Fire (1:19)
A Ronin (2:17)
Epilogue Part I (3:19)
Epilogue Part II (5:06)
Total length: 2 hours and 45 minutes
Walt Disney Records (2023)