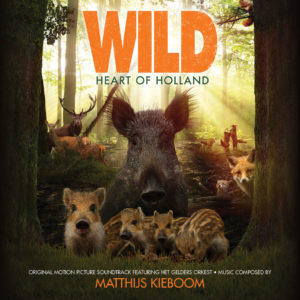 If you are a regular visitor of this site, you may have noticed that we have been following the Dutch movie Wild and its composer Matthijs Kieboom closely over the year. We were present at the soundtrack recording session and have interviewed Kieboom about his thoughts behind this score, which is also an interesting read with a lot of extra information about the music. Before I continue this review, I have to mention that I have known Kieboom for a couple of years now and I consider him a friend, making this review prone to some bias from my side. If you decide to skip this review for that reason, I will have no hard feelings, however, if you do, I urge you to give this score a listen and to make up your own mind.
Many movies made in the Netherlands are romantic comedies, and Kieboom is often asked to compose music for them. Wild, on the other hand, is a totally different movie because it is a movie about the Veluwe, which is a National Park in the Netherlands. It is not a documentary. as Kieboom mentioned in his interview, but a feature movie in which the animals are treated as actors. With that being said, that does not mean the score is just a standard movie score. The score starts very strong with "The Veluwe" that introduces the only theme the score has, which is a beautiful melody, played by the violins. The theme returns a couple of times: For example in "A Change of Seasons: Part 1 – Spring" where the theme is accompanied by some jumpy patterns in the flute, making it sound like birds that are returning for spring. The theme is brilliantly integrated into the action music that can be heard in "The Hunt: Part 1 – Playing Deers," where it is played by the French horns before it transitions into the elegant music representing the deer. In "The Longest Day, the Shortest Night," a beautiful hint to the theme can be heard, together with the awesome toy vacuum cleaner hoses — which Kieboom mentioned in the interview — creating a very mysterious effect. Since the movie has a span of a year and starts and ends with winter, it is logical for the movie to also end with the theme, as can be heard in "A Change of Seasons: Part 4 – Winter," leaving only "Wild Credits," which is not an exact repetition of music of the score, that you often see in end credits, but its own beautiful thing.
I have listened to quite some scores from blockbusters lately, which illustrate action sequences with the same endless droning, percussion and other sound effects, creating a soulless piece of music. The music that Kieboom has written for the action scenes is everything but that. "Lucanus Cervus" is an example of a fight between two stag beetles: it is done by a fast pattern in the strings with support of the brass over it. This results in beautiful background music for a fight scene, which is such a relief after all the droning we hear from Hollywood. The same principle has been applied to "Measuring strength."
When I am reviewing a soundtrack, I often pick tracks here and there to tell something about them. With Kieboom's approach to not give emotion to the animals but instead using the music to tell what is happening on the screen makes that a bit difficult. The other challenge that I am facing, is to pick the highlights of this score. The reason for this is that no two tracks sound the same. Each track has its own melodies and instruments. You can hear the local orchestra (Het Gelders Orkest) together with percussion, guitars, a ney (played by Siran Arat, who also participated in other scores by Kieboom), toy hoses and a piano, creating a full package of all gorgeous tracks. Instead of listening to separate tracks, just sit and listen to this score from start to end. Even better, try to find the film and enjoy this beautiful music together with the stunning images on the screen. I can fully recommend this score. I am even convinced that I would have given the same recommendation, even if Kieboom was not a friend. But that is something we will never know.
Listen or buy
Tracklist
The highlights are in bold.
The Veluwe (4:02)
Bathing Birds (1:32)
The Winter Hunt and The Deers (2:50)
Antler and Father Boar (2:16)
Squeakers (1:58)
Dung (1:07)
The Wild Boar (1:50)
New Life (2:27)
A Change of Seasons: Part 1 – Spring (1:07)
Lack of Attention – Death (2:19)
The Hunt: Part 1 – Playing Deers (2:53)
Fishing (1:40)
Family Fox (2:11)
Young and Vulnerable (1:06)
Flies and Dragonflies (1:43)
A Change of Seasons: Part 2 – Summer (0:46)
Catching Ants (1:23)
The Hunt: Part 2 (1:24)
The Longest Day, the Shortest Night (2:11)
The First Flight (2:17)
Antlers Dance (1:22)
Berries and Spreading Wings (3:04)
Lucanus Cervus (1:40)
Falling Acorn (1:07)
Hatching Eggs and Leaving the Nest (3:06)
A Change of Seasons: Part 3 – Autumn (2:59)
Measuring Strength (3:57)
Seduction (2:49)
A Change of Seasons: Part 4 – Winter (2:26)
Wild Credits (3:21)
MovieScore Media / PV Pictures Music Records (2018)