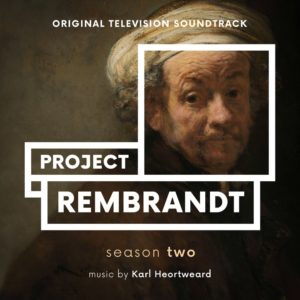 It is quite interesting to see how I get introduced to new soundtracks sometimes. While I was rounding up my latest review and started looking for a new one, Dutch film music magazine Score Magazine posted an interview with composer Karl Heortweard (Dutch only). This intrigued me, since I had never heard of Karl Heortweard, even though he is from the Netherlands, just like me. After reading the interview, I opened my Spotify account and started to listen to his music for Project Rembrandt: Season Two, a Dutch reality television show, in which amateur painters are learning to paint like the famous Dutch painter Rembrandt van Rijn.
The album consists of many short tracks, with each one around a minute in length. For most of them Heortweard wrote a very melodic piece that is performed by a string orchestra with some added woodwinds and percussion. What I like about all these tracks is that they are pleasant to listen to and have uplifting melodies. But what really stands out is the focus on the cello, which has a prominent role in almost every track. I love the concept of having only one instrument as the focal point, as it connects all the music together without sharing any themes. In addition, it also adds a soul to the music, since you can hear the musician in the melodies on the cello.
The second season of this show has not started yet, but, after seeing clips of its first season, I can imagine that the music fits very well. On the other hand, you do not really need to watch it, since the music stands perfectly on its own. I will be keeping my eye on Karl Heortweard from now on. His music for this show is quite melodic and refreshing.
Listen or buy
Tracklist
The highlights are in bold.
I'm Going to Win This Thing (1:12)
Difficult Times (1:08)
A Bright New Day (1:02)
The Game is On (1:08)
Making a Start (1:07)
Quickly Now (1:01)
The Beginning of the End (1:12)
Borrowing Without Permission (1:09)
Constructive Criticism (1:24)
High Hopes (0:52)
Polishing a Turd (1:01)
Easy Peasy (1:04)
A Touch of Mystery (1:05)
It Does Look Better Upside Down
Mischievous Little Thing (1:12)
A Tiny Miracle (1:10)
Painting With the Soul (1:02)
This is My Thing (1:02)
Perhaps Later (0:55)
This is the Day (1:14)
I'm Taking This (1:10)
It's Me (1:16)
There at Last (1:20)
Painted Into the Corner (1:08)
This Has To Go Right (1:08)
I Am Invincible (1:04)
Failure is the Best Way to Learn (1:14)
Hope Rekindled (1:02)
Say Something Nice (1:24)
Getting Your Hands Dirty (1:12)
With Gut Feelings (1:21)
Small Beginnings (1:08)
A Painted Garden (1:04)
I'll Get There (1:07)
In Need of Assistance (1:10)
Eternal Glory (0:47)
Total length: 40 minutes
Helder Music Records (2020)