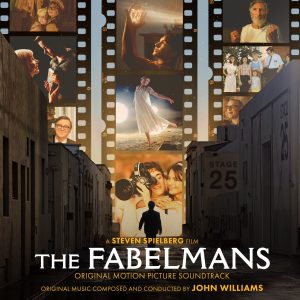 Hollywood knows many longtime collaborations between people working on a movie, with director Steven Spielberg and composer John Williams as the best-known example. They have been working together for 50 years, and their 29th collaboration, The Fabelmans, will likely be their last. The movie is officially fiction, but it is loosely based on Spielberg's personal experiences as a young filmmaker. Such a story is nothing like a tale about aliens, dinosaurs, adventurers or big fantasy worlds. This deviation is reflected in the movie's release since while it is already out in several places across the world, its release in the Netherlands will be in early 2023. Still, this being a score by John Williams – the world's most significant film music composer – I cannot wait that long to write about it.
The album for The Fabelmans is surprisingly short, containing only 31 minutes of music, and that includes some existing classical pieces which John Williams did not write. What is composed by him, though, is beautiful and different. When I think about Williams's music, his masterful orchestral scores come to mind. Still, the music for The Fabelmans is more intimate, with mainly a piano, strings, and a handful of others. One of the other impressive strengths of Williams is his superb theme writing, and two main themes are present in the music for The Fabelmans. The first can be heard in "The Fabelmans," gorgeously performed on just a piano. The second theme is performed on a different instrument that can produce bell-like sounds. The melody for that second theme is performed on that instrument and can be listened to in "Mitzi's Dance." These themes have been integrated wonderfully into the rest of the score, with "The Journey Begins" as the finale and the highlight of this score.
As I mentioned, the music is different than I expected, but the intimate score for The Fabelmans is genuinely a remarkable conclusion to the lifetime collaboration between Spielberg and Williams. I am a bit sad that this score is probably one of the last that Williams will write, but with the music sounding so delicate but also personal, it makes it feel like more of a beautiful and warm goodbye than a sudden farewell.
Listen or buy
Tracklist
The highlights are in bold.
The Fabelmans (2:13)
Mitzi's Dance (2:05)
Sonatina in A Minor, Op. 88 No. 3: III. Allegro burlesco (1:51)
Midnight Call (2:23)
Reverie (1:44)
Mother and Son (2:28)
Sonatina in C Major, Op. 36 No. 3: Spiritoso (1:58)
Reflections (2:02)
Concerto in D Minor, BWV 974: II. Adagio (3:46)
New House (2:28)
The Letter (2:08)
The Journey Begins (includes excerpt from Joseph Haydn: Sonata No. 48 in C Major, HOB. XVI: 35: I. Allegro con brio) (6:08)
Total length: 31 minutes
Sony Classical (2022)