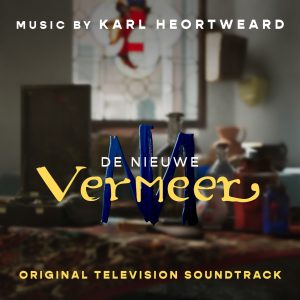 Johannes Vermeer is one of the most famous Dutch painters from the 17th century. He has created magnificent world-famous pieces, including The Milkmaid and Girl with a Pearl Earring. In a Dutch TV show called De Nieuwe Vermeer (The New Vermeer), creative minds try to revive lost Vermeer paintings by making their own art, but in the spirit of the famous painter. Dutch composer Karl Heortweard was responsible for providing the music for this show. He is familiar with television and art because he also wrote the music for Project Rembrandt, of which I have reviewed the second season's soundtrack.
As mentioned in my review of Project Rembrandt, I was pretty content with the collection of delightful tunes Heortweard had written for that series, and I hear the continuation of that trend in the music for De Nieuwe Vermeer. On the album, you can find 31 short tracks. Each is a standalone piece containing uplifting melodies and orchestral elements, mainly with strings and woodwinds, combined with additional instruments and other sounds.
Because the artists do not have to perfectly recreate a painting in the style of Vermeer, all kinds of different art can be seen. This concept is also applicable to the music for De Nieuwe Vermeer. In a way, "The Great Expedition" can be seen as an original Vermeer painting, with the orchestral theme being gorgeous but also traditional in sound, while many other tracks can be seen as different kinds of musical art. "Figuring it Out" and "Moments of Bliss" with synth sounds, for example, make the music more futuristic. Tracks like "Wonder," with the beautiful cello solo and "Ripening the Idea," with the sound of rubbing the tops of glasses with a wet finger, make the music, in contrast, more human.
As with Project Rembrandt, the soundtrack is a wonderful listening experience with all kinds of different and exciting melodies. The TV show is all about discussing art and the famous painter. With all that dialogue going on there is sadly little room for Heortweard's music to shine and it can often only be heard quietly in the background. Luckily for us, we still have this excellent album to listen to.
Listen or buy
Tracklist
The highlights are in bold.
The Great Expedition (1:32)
Swimmingly (1:35)
Trial and Error (1:17)
Messing Around (1:54)
Figuring it Out (1:36)
Wonder (1:26)
Making Steps (1:50)
Peeling Off the Layers (1:24)
Working on Sunday (1:25)
A Fruitful Search (1:39)
Cracking the Code (1:31)
I'm Losing It (1:33)
Like a Breeze (1:48)
I Found Something (1:31)
It's All in the Details (1:50)
Almost Done (1:15)
Distractions (1:19)
Gone Missing (1:42)
Dreaming of Pearl Earrings (1:39)
Moment of Bliss (1:23)
Time's Up (1:05)
Looking for Answers (1:39)
With Some Resistance (1:52)
On a Mission (1:23)
Ripening the Idea (2:13)
All Rise for the Jury (1:28)
The Master's Test (1:42)
Hidden Depths (1:41)
Bright Strokes (1:24)
Rising to the Occasion (1:43)
Getting Somewhere (1:43)
Total length: 49 minutes
Heortweard (2023)