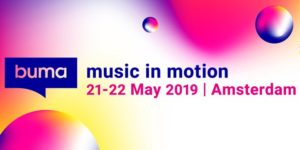 The Buma Awards for Music in Media Categories are part of the Buma awards that were awarded during a special ceremony back in March. These Buma Awards were presented during
Buma Music in Motion held on May 21st in Amsterdam. The nominated composers and producers have been selected by a 27-person jury made up of industry experts and composers.

Here are the nominees with the winners in bold:
Best Original Composition in Film
Daniel Tuparia and Zbigniew Wolny for Catacombe
David Dramm for My Foolish Heart
Merlijn Snitker for Bankier van het Verzet
Best Original Composition in Television Series
Martijn Schimmer for Mocro Maffia
Merlijn Snitker for De 12 van Oldenheim
Stavros Markonis for Ik Weet Wie Je Bent
Best Original Composition in Documentary, Short Film, Telefilm and Animation
Jesse Koolhaas for Sanatorium
Roy Bemelmans for Schapenheld
Wouter van den Boogaard for In de Zomer
Buma Music in Motion New Talent Award
Gijs Knol and Rinkie Bartels for Anne Frank Stichting
Marco Bakkenhoven and Marcoen Verrest (as SIDE-AND-CHAIN) for "Pharsalus" in the Netflix' Extinction trailer
Stavros Markonis for Ik Weet Wie Je Bent
Congratulations to the winners! There are some winners in other categories, which can be found on their site.