Concerning spoilers: I avoided mentioning story plots in this review, but when talking about John Williams's music I have to address some themes from which you may be able to draw some conclusions that you may not want to know.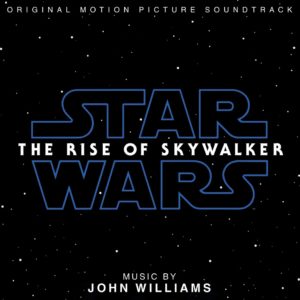 Many people fell in love with film music after watching the first Star Wars with its wonderful music. It was not the movie for me, but certainly one of them that made me aware of the brilliance of film music. With the ninth episode, Star Wars: The Rise of Skywalker, not only the saga about Luke, Leia and Han will end, but it is also the last Star Wars soundtrack by John Williams, after being an important part of the saga for more than forty years.
For each Star Wars episode, Williams wrote at least one new piece in addition to the many masterful ones he has written for previous episodes. For The Rise of Skywalker, he composed the concert piece "The Rise of the Skywalker." When I see a word like 'rise' in a track title, the first thing that comes into my mind is a fanfare, more heroic like music, but instead, it is a gorgeous and melodic piece in the style of "Yoda's theme", "Force Theme" and "Leia's Theme." When you think about it, this melodic music makes more sense, since all these themes have the element of The Force in common. This piece feels like 'saying goodbye' by Williams: his final musical gift from the Star Wars universe. I expect this concert piece to be performed on many film music concerts in the future, because it is that amazing. Another stunning new concert piece is "Anthem of Evil" which represents the dark side. It is a beautiful choir piece, that is unnerving-sounding at the same time. Halfway, the orchestra takes over from the choir with amazing brass sounds to give the piece a solid ending.
The implementation of the music in The Rise of Skywalker is exactly what I was expecting. The movie starts traditionally with the main theme, while yellow sentences are scrolling over the screen, which can be heard in "Fanfare and Prologue." After the main theme, it transitions into very dark music with a pattern of fast notes and timpani, representing the new improved Kylo Ren and his knights of Ren, together with his old theme, played on the French Horns. There is even a hint of an older darker theme in that track. This cue is a good example of what to expect of the rest of the music, with many themes and leitmotifs transitioning into each other, done so masterfully that you hardly notice it. Williams has a large music library of Star Wars themes at his disposal to tell the same story you see on screen musically until we reach "Finale" where, traditionally, you can hear the famous main theme again to end the episode. Between both main themes, there is a lot of music to explore. Each track is not only a pleasure to listen to, but most of them are also full of marvellous versions of different themes and fluent transitions from one theme (or smaller leitmotif) to another. I can go into more detail about these leitmotifs, but there are simply too many. If you are curious about the massive collection of small leitmotifs in Star Wars music, I can recommend the Complete Catalogue of the Musical Themes of Star Wars by Frank Lehman. It is a free e-book describing and explaining each and every small music pattern in Star Wars music.
While each track on the album is a true gem, I would like to mention a couple of them separately. One of these tracks is "The Speeder Chase," which is a fast-paced piece with speedy patterns and a fun melody on top. Unfortunately, it cannot be found in the movie, because it was apparently cut at the last moment. "Destiny of a Jedi" is an amazing mashup of the Force, Leia and Skywalker themes, and concludes gloriously with "Yoda's theme." That musical ending is a perfect fit for what was happening on the screen, which probably only the die hard film music fans have noticed. Finally, without going into full detail about the music in the tracks, I recommend giving "The Force Is With You," and "Farewell" a good listen. These two tracks are marvellous examples of how Williams uses music and themes to tell the story.
For each review, I would like to conclude with my thoughts on if a soundtrack is good or not. But for this one that would be very weird since I am reviewing a Star Wars score by John Williams. Not only are all Star Wars scores masterpieces in my opinion, but they are also written by one of the best film music composers (arguably the best film composer) we ever had. So yes, it is an amazing score.
One of the things I liked about writing this review is that I had no idea how detailed every second of the music is. If you had asked me three years ago what I thought about Star Wars music, I would have said that the themes were masterpieces, and that the music for all the action sequences was interesting, but that I did not care much for it. But with the knowledge I have now, I want to explore all the other Star Wars scores again and see if I can find more amazing uses of patterns, leitmotifs and full themes in the music, and how well they work with what is happening in the scenes themselves.
This is the last Star Wars score by John Williams. The franchise will no doubt continue for a long time, with many wonderful and interesting scores, but the era of a full Star Wars score by Williams has come to an end, which makes me both a bit sad and thankful, since he leaves a magnificent legacy behind. His music for Star Wars has inspired so many composers and film music lovers, including me, all over the world, and we will be talking about his music for Star Wars for decades to come. The music of The Rise of Skywalker is an amazing conclusion of this Star Wars story. To be honest, I had already made up my mind which score would be my number one of 2019 before I heard this one, but my mind is now in serious conflict because this soundtrack is very close to perfection.
Listen or buy
Tracklist
The highlights are in bold.
Fanfare and Prologue (4:34)
Journey to Exegol (2:49)
The Rise of Skywalker (4:18)
The Old Death Star (3:16)
The Speeder Chase (3:21)
Destiny of a Jedi (5:12)
Anthem of Evil (3:23)
Fleeing from Kijimi (2:51)
We Go Together (3:17)
Join Me (3:42)
They Will Come (2:50)
The Final Saber Duel (3:57)
Battle of the Resistance (2:51)
Approaching the Throne (4:16)
The Force Is with You (3:59)
Farewell (5:14)
Reunion (4:05)
A New Home (1:47)
Finale (10:51)
Total length: 1 hour and 16 minutes
Lucasfilm Ltd (2019)