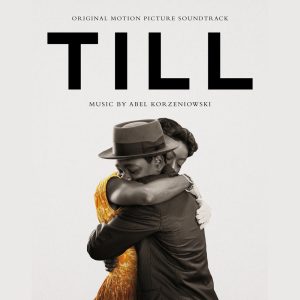 Something weird is happening with movies for which Abel Korzeniowski has written the music. As can be read in my review of The Courier, that movie was released in several places worldwide, but it took many months for it to appear in Dutch cinemas. Apparently, this trend continues with the film TILL: the most recent movie Korzeniowski scored, which will officially be released in the Netherlands on February 23, 2023. Luckily, one of his strengths is that he writes gorgeous music that can be enjoyed without the images from the film.
When it comes to the music for TILL, I hear similarities with some of Korzeniowski's previous scores. The main reason is the choice of instrumentation: using strings, the piano and some additional instruments, or artificial sounds, to add color to the music. I love how he is able to make great use of the musicians performing his wonderful melodies and how they all work together. In many tracks, you can hear one group of musicians providing the foundation for others to play their melodies over. They also switch roles during many cues, giving each instrument a place to shine, and keeping the music flowing and exciting at the same time.
There are also some differences between Korzeniowski's previous scores and the music from TILL, since the overall sound of the score is a bit sadder than I am used to from him. I can imagine this is due to the movie's darker and more tragic story. It does not make listening to the music an unpleasant experience though, because Korzeniowski's emotional melodies and repeating patterns are comforting and still give you an incredible listening experience.
I am always looking forward to listening to new music from Korzeniowski because his musical style and melodies excite me and put me in a good mood. Especially after listening to some big bombastic scores from blockbuster movies, or big 'Triple A' video games, his music always reminds me that you do not always need a big orchestra and choir to support a story in a film. Often, less is more, which is undoubtedly the case for the film music Abel Korzeniowski wrote for TILL. It would be nice though, to experience his music in the theater when a new score with his music is released.
Listen or buy
Tracklist
The highlights are in bold.
Through the Tunnel (1:42)
Chicago (1:44)
Watch (1:19)
Wolf Whistle (0:44)
They've Come for You! (4:36)
A Perfect Baby (2:49)
The Tallahatchie River (2:09)
Why Is This Happening? (3:28)
Threnody (1:48)
This Is My Boy (4:45)
The Story Must Continue (1:49)
Money, Mississippi (2:24)
Witness (1:53)
We Do the Best We Can (1:46)
I Know What the Verdict Is (1:14)
I'm Ready To Go (4:09)
Emmett's Room (4:01)
Total length: 42 minutes
Mercury Classics Soundtrack & Score (2022)