"Le Mejor Musica de Cine – en Concierto"
I have been following film music on social media for a while now, and one of the things that keeps appearing on multiple timelines are concerts by the Spanish Film Symphony Orchestra (FSO), which is an orchestra dedicated to film music that has been touring through the major cities in Spain and Portugal for many years. I have been curious about their performances for quite some time, and when I saw that they were having a concert on a Saturday in Barcelona, a city I still wanted to visit, it was time to give in to my curiosity.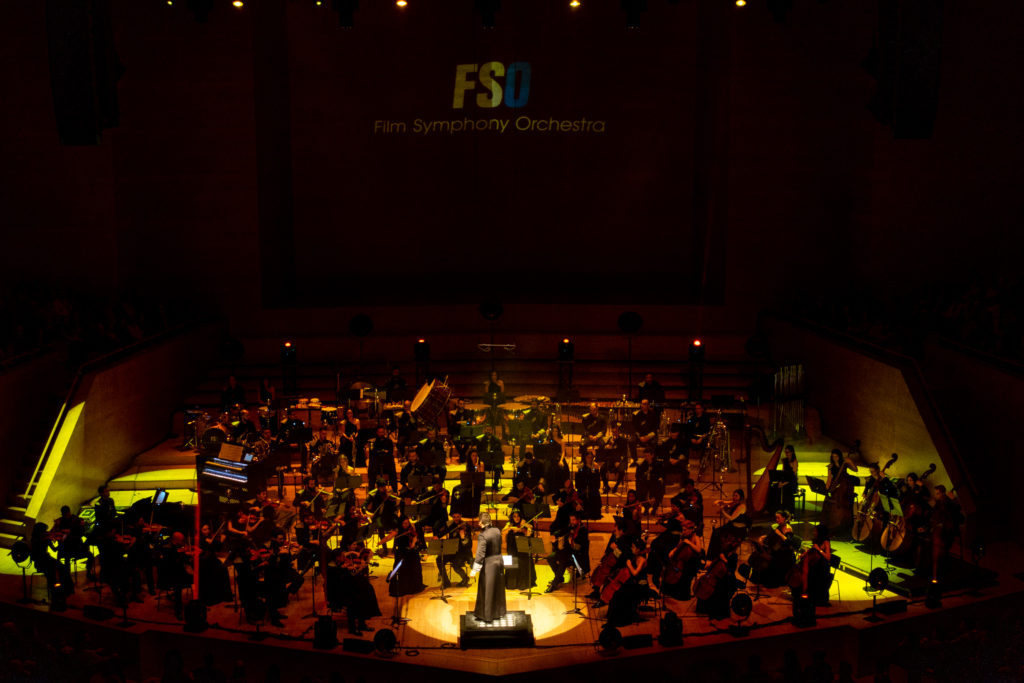 It only took a couple of minutes to notice that I was going to experience something unexpected. The main reason for this was the director Constantino Martinez-Orts' entrance on the stage in a long black robe. As the host of the evening, he also had a microphone attached to his cheek, which he used to talk in fast Spanish while turning around, in order to speak to the audience in all four directions of the venue. He was not the only one who paid a lot of attention to his clothing, because all the members of the orchestra were wearing a grey shoulder pad.
The clothing was just one aspect of providing entertainment to the audience and to convey the message that this orchestra is not a regular orchestra for classical music, but that they are modern with a strong focus on film music. Not only was the clothing different from other concerts I regularly attend, but there was also a strong emphasis on lighting effects while the music played, with large beams of light and even the small stage Martinez-Orts was standing on bathed in all kinds of light.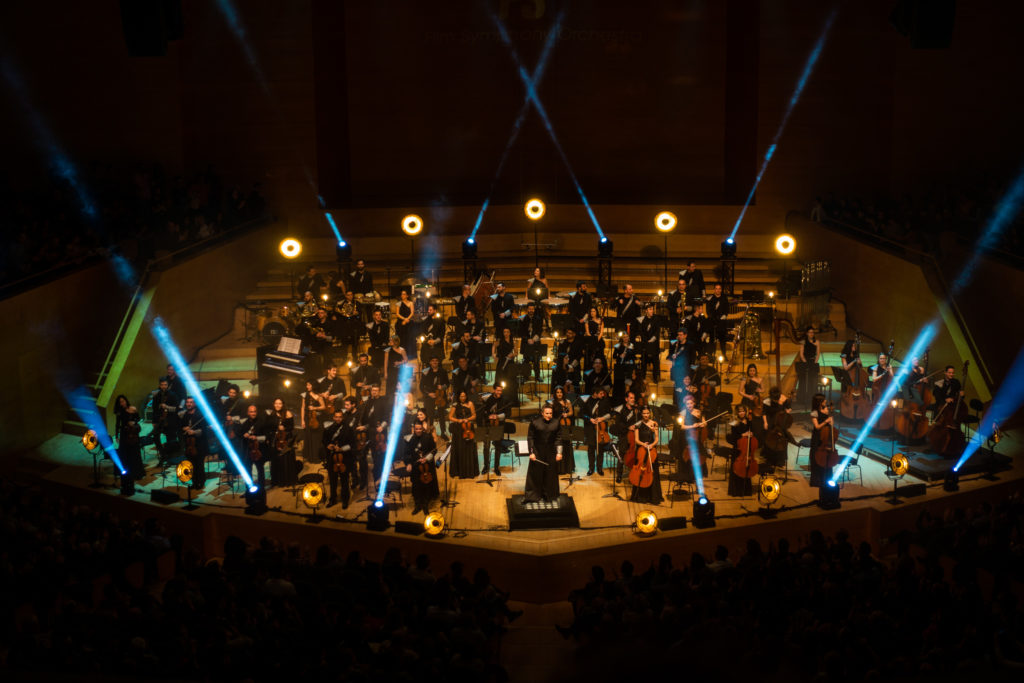 All this extra flair does not really have any effect on me. There is only one thing that matters to me while attending a concert, and that is the music. In this case that was a pleasant surprise to me, because I was quite impressed by the quality of their play. This probably had to do with having a lot of experience from touring with the same program from city to city, because the orchestra really understood film music and played all the pieces brilliantly. The choice of the program was amazing as well. They played all kinds of pieces from film music's golden age, with the fanfare from Erich W. Korngold's King's Row, to music from films that came out last year, with "The Adventures of Han" from Solo: A Star Wars Story by John Williams, and also "Main on End" from Alan Silvestri's Avengers: Endgame. There was also a good variation between the popularity of the music. They played well-known music, like "Ecstasy of Gold" from The Good, the Bad and the Ugly, with a gorgeous solo by an uncredited woman, but the orchestra also played lesser-known music, such as "The Riddle Solved" from Young Sherlock by Bruce Broughton.
Not only were the musicians masters of their main instruments, but some of them also played a different instrument very well for some pieces. The bassoon player switched to the accordion for the suite from Amelie, and one of the violinists played the important organ part from Interstellar. The other members of the orchestra were allowed to shine as well, because after the last piece of the program, which was a suite from Back to the Future, Martinez-Orts pointed to each of them to receive thanks from the audience. Each section responded by doing something silly, from just doing a simple bow in sync to getting together quickly for a selfie. The two encores were pieces to entertain the audience, but also for the musicians to entertain themselves by moving around, and dancing to "Mambo" from West Side Story, and "Cantina Band" from Star Wars, in which all their bows were illuminated to look like lightsabers.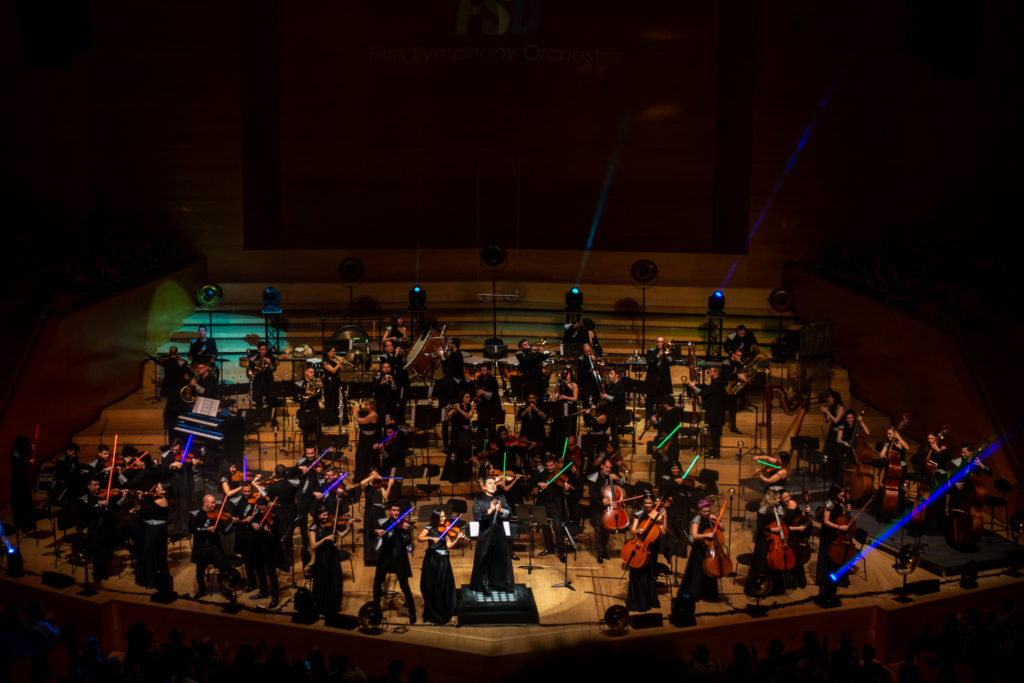 I was quite surprised by this concert. The entertainment factor was a bit too much for me, but the performance of the music was just outstanding. I love the fact that the FSO is able to fill so many venues with people listening to all kinds of film music. Not only with the classics that everyone knows, like Star Wars and Pirates of the Caribbean, but with other amazing pieces that I don't hear so often, and I applaud them for that. I will definitely keep an eye out for them, as they really showed me that it is possible to play lesser-known film music and still keep an audience intrigued. I am not sure whether the high entertainment factor of the lighting and the clothes or the music was the main reason for this, but if it means that more people will enjoy amazing film music pieces, then who am I to complain. FSO: keep doing what you do, and spread the love for film music to as many people as possible. I really wish we had an orchestra like this in the Netherlands, to spread passion for my favorite music genre to a wider audience.
Concert information
Where: L'auditori in Barcelona, Spain
When: January 18, 2020
Orchestra: Film Symphony Orchestra conducted by Constantino Martinez-Orts
Program
"Fanfare" from King's Row – Erich W. Korngold
"The Riddle Solved" from Young Sherlock – Bruce Broughton
Suite from King's Speech – Alexandre Desplat
Theme from Willow – James Horner
Suite from Jurassic World – Michael Giacchino
"The Adventures of Han" from Solo: A Star Wars Story – John Williams
Suite from Aladdin – Alan Menken
"The Ecstacy of Gold" from The Good, The Bad and The Ugly – Ennio Morricone
Intermission
Theme from North and South – Bill Conti
Suite from Amelie
Suite from How to Train Your Dragon – John Powell
"For Always" from A.I.: Artificial Intelligence – John Williams
Suite from Interstellar – Hans Zimmer
"Main on End" from Avengers: Endgame – Alan Silvestri
Suite from Pirates of the Caribbean – Klaus Badelt
Suite from Back to the Future – Alan Silvestri
"Mambo" from West Side Story – Leonard Bernstein (encore)
"Cantina Band" from Star Wars – John Williams (encore)