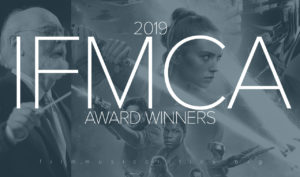 Each year the International Film Music Critics Association have their own awards. These awards do not have the grandeur of an Oscar or a Golden Globe, but they are handed out by film music enthusiasts who live and breathe film music. This makes them very interesting since you can count on all the scores of the nominees and the winners being extremely good.
Below are the nominees for their two main categories with the winner in bold.
Score of the Year
Composer of the Year
Alexandre Desplat
Hildur Guðnadóttir
Bear Mccreary
Thomas Newman
John Williams
These are not all the categories, they have many more subcategories. You can find the rest at IFMCA Award Winners 2019. Or watch the Youtube movie:
Congratulations to all winners!