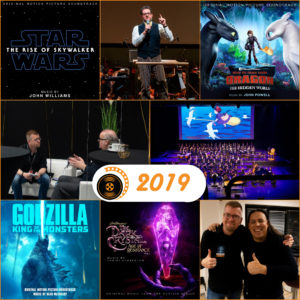 The start of a new year is always a good opportunity to reflect on the previous year. I launched Soundtrack World in January 2017, making this the third time writing an article like this after writing one for 2017 and 2018.
This year was a bit different than other years, because I did not attend as many concerts, but this provided me with a good opportunity to focus more on writing soundtrack reviews. While the number of concerts I attended was lower, the ones I did see still make for an amazing year. I especially like a concert where the composer himself is conducting his own music, or is the host, like Alexandre Desplat at the FMF in Krakow and Michael Giacchino in Dublin, but I also attended two different concerts of Japanese composer Joe Hisaishi in Paris and in Prague.
Another amazing concert experience I would like to mention is The World of Zimmer Concert in Amsterdam, where I was allowed to go backstage and meet some of the band members after a marvelous concert. This was made possible by the efforts of SoundtrackFest and the organization of the tour, for which I am grateful. It was interesting to get a small glimpse of how the musicians interact with each other and to have a small peek into their creative minds.
Unfortunately, I was not able to attend MOSMA and Fimucité this year, but I was able to go to Film Music Prague and the Film Music Festival in Krakow. Especially in Poland I had an amazing time attending concerts, but I was also able to once again speak with people from the film music industry and to conduct some interviews with amazing composers. Our interview with the wonderful Craig Armstrong has already been published, and the interviews with Don Davis and Polish composer Bartosz Chajdecki will follow soon.
In my reflection article from last year, I mentioned that the quality of the big blockbuster scores was a bit disappointing. In 2019, I was quite surprised by the music of all the movies that I have watched. The year started extremely strong with John Powell's How to Train Your Dragon: Hidden World, in the middle of the year we received an amazing score from Avengers: Endgame by Alan Silvestri, and the year concluded with John Williams's masterpiece from Star Wars: The Rise of Skywalker. One other score I would like to mention is the amazing work Bear McCreary has done for Godzilla: King of the Monsters. His music with all the themes was an amazing example of using music to tell a story.
Music from other media had some nice surprises as well. Daniel Pemberton has written a wondrous score for the television show The Dark Crystal: The Age of Resistance, and the same goes for Lorne Balfe for his work on His Dark Materials. For games, we reviewed fantastic scores for A Plague Tale: Innocence by Olivier Deriviere and Trine 4: The Nightmare Prince by Ari Pulkkinen.
Overall, it was another fantastic year for soundtracks and film music concerts. 2020 is already looking amazing as well as can be seen on our concerts page.
Special thanks
While most content on this site is written by me, I could not have offered you well-written articles without the help of my amazing group of proofreaders, which are:
Chris Broekema
Dennis van der Laan
Erik Schreiber
Gerard Aalbers
Johannes Oudolf
Ola Ziółek
Ronald Wijlens
Saskia Schreiber
Stefan Bosman
I would also like to thank the organizations of the festivals that I attended last year, publicists and other people in the film music industry for their cooperation in helping each other to promote film music and music from other media. Of course, I would like to thank the websites StreamingSoundtracks, SoundtrackFest, ScreenSoundRadio and Movies in Concert for another year of friendship and collaboration.
Favorites of 2019
As is tradition, it is time to share my personal favorites of 2019.
Favorite concert: "A Celebration of the Music of Michael Giacchino" in Dublin
This concert with music from Michael Giacchino was a once in a life-time experience. Not only is his music amazing, but during the second half he was also conducting and hosting the concert. Especially his stories were amazing. I really hope he will be doing a concert like that again in the near future. You can read all about this concert in the Michael Giacchino in Dublin report.
Favorite encounter: Meeting Michael Giacchino after the concert in Dublin
Related to my favorite concert of 2019, meeting the composer himself afterwards was just as great. I love his work and to have a small chat with him together with film music fans whom I know, was a wonderful experience. The runner up favorite encounter would be meeting the musicians of The World of Hans Zimmer Tour backstage.
Favorite track from a soundtrack: "Portals" from Avengers: Endgame by Alan Silvestri
This category was a tough one to choose from. I really love "Rodan" from Godzilla: The King of Monsters by Bear McCreary. I think that I played that track a bit more than "Portals," but this track from Avengers: Endgame is not only amazing music, it also had a magnificent impact in the corresponding scene. Without the music that particular scene would have not been as memorable. For more information about this track and all the other amazing ones on this album, please see my Avengers: Endgame review.

Favorite soundtrack: Star Wars: The Rise of Skywalker by John Williams
I was under the impression that this category would be an easy win for John Powell's How to Train Your Dragon: Hidden World. When that score came out in the beginning of 2019, I already said that it would be my score of the year – it is that good. I also said that if one score would be able to take its place, it would be John Williams's music for the last Star Wars episode of the current trilogy Star Wars: The Rise of Skywalker, and it delivered. There is so much detail going on in the music, it is mind-boggling. The implementation of old and new themes together with all the small leitmotifs makes this score a masterpiece and shows that John Williams is a composer like no other.
Pictures
Here are some of my favorite pictures of 2019.